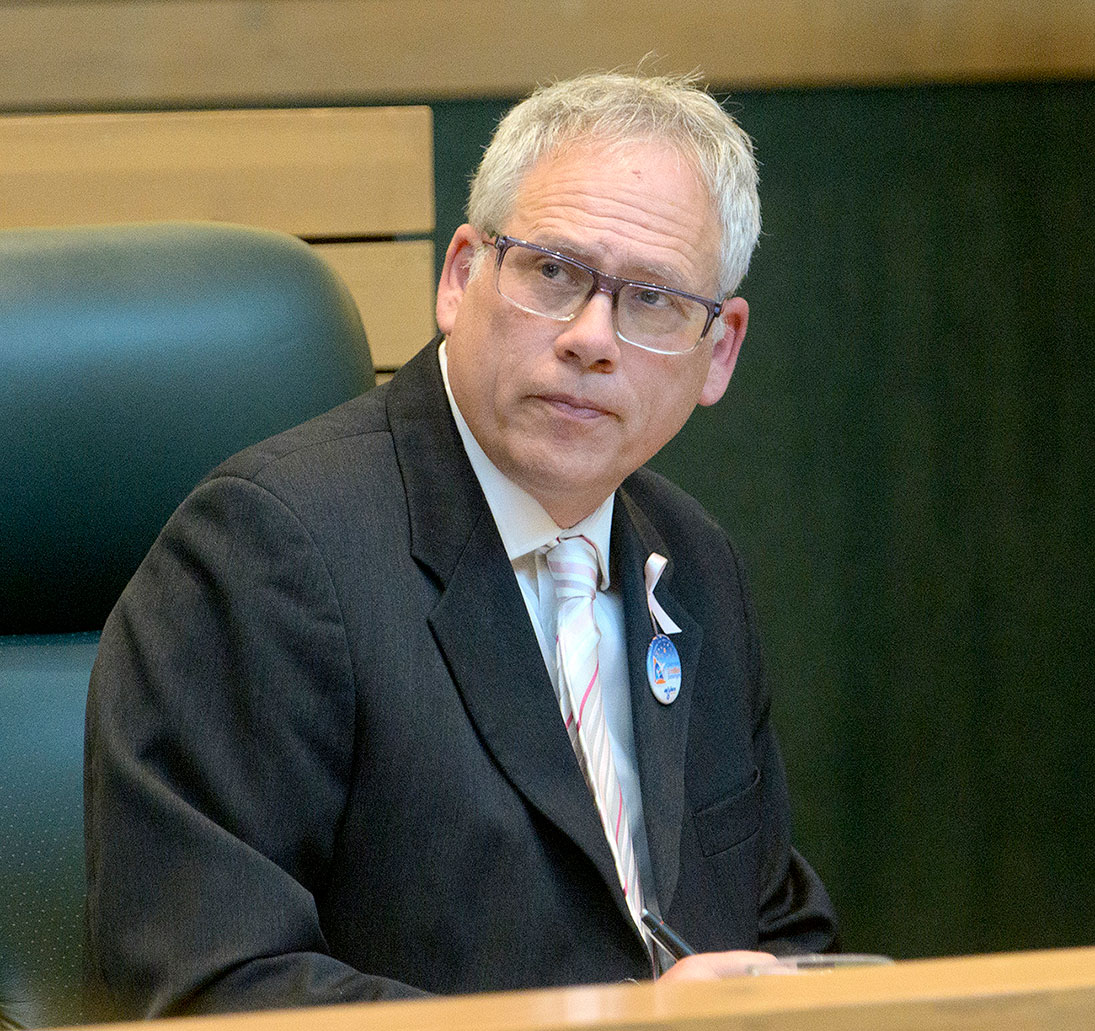 Photo by Whitehorse Star
Energy, Mines and Resources Minister John Streicker
NDP dissatisfied with work on wetland policy
The Yukon's wetland management policy is supposed to be finalized before the year's end, but government research on how wetland development disturbs stored carbon will take much longer.
The Yukon's wetland management policy is supposed to be finalized before the year's end, but government research on how wetland development disturbs stored carbon will take much longer.
That has the territory's NDP worried the new policy won't help the territory meet its emissions reductions targets.
Disturbing peatlands through mining or development – peatlands are natural carbon sinks that form in wetlands over millennia – could release a massive amount of carbon into the atmosphere, according to an NGO report published earlier this month.
That could hinder the territory's efforts to reduce greenhouse gas (GHG) emissions by 45 per cent by 2030.
The report, from the Yukon chapter of the Canadian Parks and Wilderness Society (CPAWS), was cited by NDP MLA Emily Tredger in question period Wednesday.
She asked the government what will be included in the upcoming wetland policy to ensure carbon-storing peat isn't overly disturbed through mining operations and development on wetlands.
"The last draft of the wetlands policy made no mention of tracking carbon emissions from the destruction of peatlands," Tredger said.
"That policy has been in the works for years, and in the meantime, the minister has continued to allow the destruction of wetlands with no consideration for greenhouse gas emissions."
The CPAWS report, she noted, estimates that carbon released from wetlands through mining disturbances could negate all GHG reductions from government plans to improve public and active transportation.
The report looked at the effects of placer mining on peatlands in the Indian River watershed specifically.
It estimated nearly 600 kilotonnes of carbon dioxide could be released into the atmosphere over the next century – the same that would be emitted if the Yukon's liquefied natural gas plant ran around the clock for a decade – based on current and projected placer mining in the area.
Beyond the numbers, the report states that "keeping the carbon stored in peatlands safely underground could be one of the Yukon's biggest contributions to global efforts to control climate change."
But Energy, Mines and Resources Minister John Streicker said Wednesday the report isn't "authoritative science," something the report itself acknowledges to a degree.
"We aren't soil scientists or climatologists—and researching this report proved to be a steep learning curve," it reads in its opening pages.
Streicker said the government will fund more thorough research, undertaken with industry and non-governmental organizations, to examine how development in wetlands could release carbon.
He said he's also open to tracking carbon emissions related to mining on wetlands, a recommendation in the CPAWS report.
But that research isn't underway yet, and the wetland management policy should come out long before it's finished – possibly before it's even started.
"(The wetland management policy) wasn't ever really motivated around greenhouse gas emissions," Streicker told reporters Wednesday afternoon.
"It was always motivated around trying to understand critical habitat and how to protect that critical habitat."
He said once this research is done, the policy could be adjusted to include more protections against wetland disturbances that could emit greenhouse gases.
He said he also wants research on how mining companies could overcome carbon emissions through reclamation work after lands have been disturbed. That work, he said, is already being done by placer mining companies.
Placer mining requires soil, sometimes peat, to be moved to extract gold.
If the carbon in that peat oxidizes when it's disturbed, it's released into the atmosphere, where it adds to the warming of the planet.
The two best ways to avoid emitting carbon in wetlands are to return the peat to the earth before oxidization, thereby limiting what carbon is released, or simply not to disturb it at all.
Tredger asked Streicker to halt all mining and development on wetlands until that research was undertaken on how to limit and track carbon emissions from work on wetlands. She told reporters she was frustrated.
"We've been having this conversation about wetlands with the minister for about a year and a half now," she said.
"They say we need to wait and see for more information. Well, waiting and seeing doesn't mean digging up wetlands.
"They say they don't have enough information to protect the wetlands, but they apparently have enough information to disrupt them."
She said she appreciated CPAWS "stepping up" to do the research in lieu of the government, though she acknowledged it's just an estimate. 
That estimate, Streicker said, would mean six kilotonnes of carbon would be released each year from mining activities in the Indian River watershed area. While Streicker said that number isn't trivial, he said there are more pressing emissions concerns.
"We've got a whole bunch of issues in the territory," he said. "And that's not the biggest one when it comes to greenhouse gas emissions."
And that's assuming the science is accurate, he noted.
The Klondike Placer Miners' Association (KPMA) has also questioned the CPAWS report.
The association issued a response to the CPAWS findings last week, titled: "How selective extrapolated data and opinion divides people, and why playing climate politics moves us further away from humanity's real climate action goals".
In it, the KPMA says NGOs like CPAWS have ignored invitations to tour placer gold mines – and have missed out on valuable information from industry when calculating the risks of disturbing wetlands and peat.
"Rather than have (environmental NGO) staff who admittedly 'aren't soil scientists or climatologists' use complicated carbon equations with out-of-province data and exaggerated parameters, we suggest a more effective and collaborative approach would be to work with government and industry to ensure scientific research is performed by independent researchers," the KPMA response reads.
It states that of the known planning regions for placer mines, 58.7 per cent of those lands are wetlands, and 0.56 per cent are covered by placer mine claims.
While CPAWS' numbers are disputed, certain claims in the report are harder to argue.
"Peatland disturbance is a major source of greenhouse gases, and the Yukon doesn't have a plan to limit these emissions—or even track them," the report reads.
It is true that the government doesn't currently have a plan to limit or track carbon emissions from peatland disturbances; those plans are supposed to come from proposed future research. 
"It's time for the Yukon to take action to protect peatland ecosystems, and the carbon they hold," the report continues.
The government gave no timeline for conducting future research on wetlands and carbon storage.
Streicker told media it's too early to give a date. But he did say the wetlands management policy is still slated to be finalized by the end of the year. 
"If we see new things, new trends happening, we can update our existing policy tools," he said, talking about how future carbon research could be included in the upcoming policy. "That's why it's good to get the strategy in place."
Yukon Party Leader Currie Dixon told reporters his party thinks it's important to look at carbon storage in wetlands, but it doesn't want that research done without, or at the expense of, the mining industry.
The Indian River Watershed is just one of multiple regions where placer mining and wetlands meet.
The area covered by the drafted Dawson Regional Land Use Plan, for instance, is 10 per cent wetlands. More than 1,900 kilometres of placer mining streams are found in that planning area.
Streicker said those lands have been taken into consideration while the government is finishing its wetland management policy.
Add your comments or reply via Twitter @whitehorsestar
In order to encourage thoughtful and responsible discussion, website comments will not be visible until a moderator approves them. Please add comments judiciously and refrain from maligning any individual or institution. Read about our user comment and privacy policies.
Your name and email address are required before your comment is posted. Otherwise, your comment will not be posted.