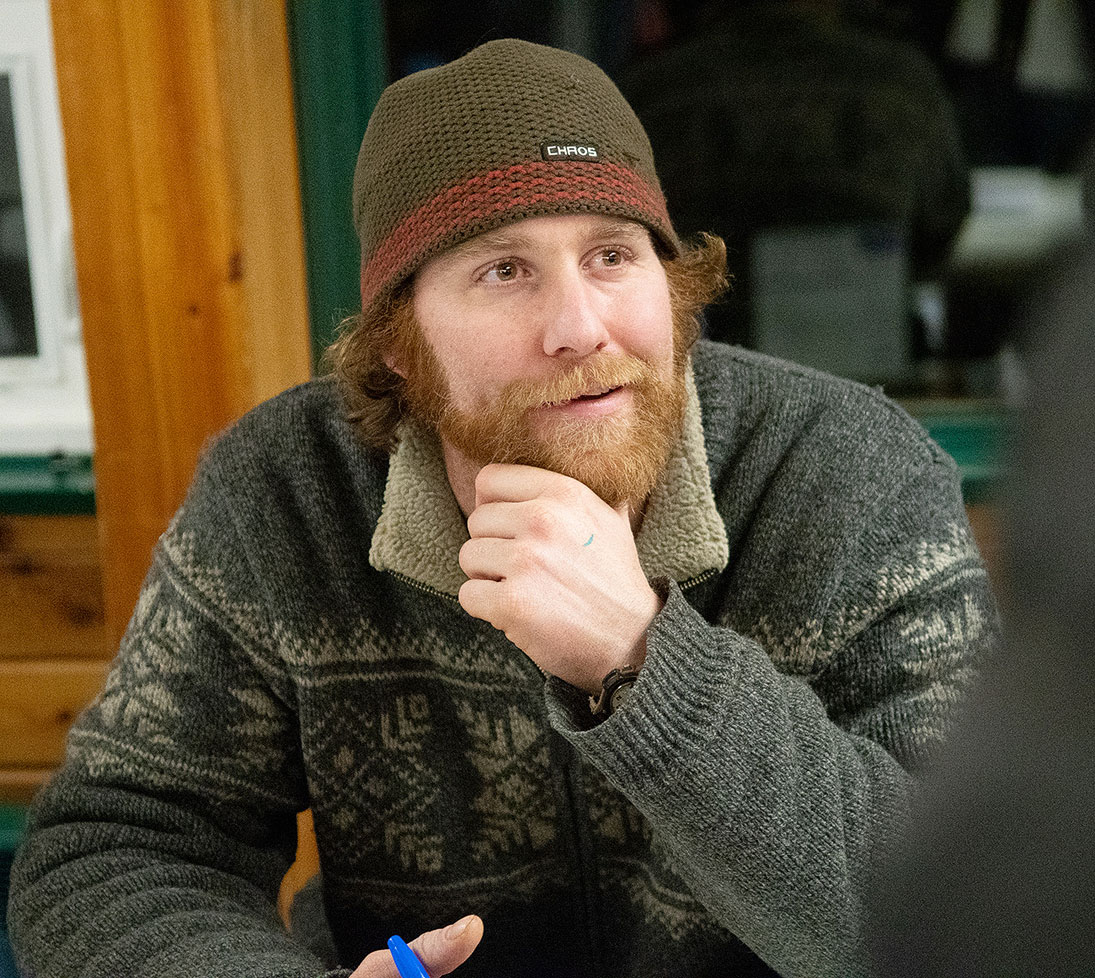 Photo by Whitehorse Star
Chase Tingle
Musher tells how he was tailed by wolf
Although he sits near the back of the pack, Chase Tingle, a rookie Yukon Quest musher, had a close call with a wolf a few miles out from Dawson City.
DAWSON CITY – Although he sits near the back of the pack, Chase Tingle, a rookie Yukon Quest musher, had a close call with a wolf a few miles out from Dawson City.
Tingle was the 25th musher out of 30 to reach Dawson on Wednesday.
"Just ran 210 miles from Pelly to Dawson, beautiful trail," said Tingle.
"Last (Tuesday) night, I camped about 60 miles outside of town, a cool spot you could hear the wolves howling way off in the distance. We are in the Yukon, you should be able to hear that kind of stuff." 
On Wednesday morning, Tingle packed up camp before completing the last run into Dawson. It was close to town when his team realized that something was off. 
"In the morning, I set up the team and rode into town," said Tingle.
"Literally 10 miles from town, my dogs started acting funny. They were picking up on something. I was eating a bag of trail-mix, and they started to speed up, and their ears perked up. 
"I thought maybe there was a team ahead of us so I put the trail-mix down and thought I better hold onto the sled," Tingle continued.
"I went down a little hill and they all looked at me. I look behind me and go, 'what's that?' There is a big dog coming towards me, and pretty close." 
Tingle's first thought was that it was one of the Greenland dogs being used by Hendrik Stachnau, the musher who was behind him. 
"I was thinking, 'maybe it was one of Hendrik's big Greenland dogs; maybe it got loose,'" said Tingle.
"'That's not a Greenland – that's a big grey wolf!' 
"This wolf ended up…I don't want to say chasing, but he was following intently. He wasn't out to get us, but he was curious. This went on for a half-mile.
"I did everything I could to spook him off. I banged my snow hooks, I grabbed my axe and was waving it and banging it on stuff.
"I even thought about lighting my fuel bottle and making a Molotov cocktail just to make an explosion and spook him away." 
A few tourists were out taking pictures including some using a drone. They said they flew the drone close to the wolf to get scare it away. Tingle didn't know what caused the wolf to depart. 
"I don't really know," said Tingle. "He would follow and stop, follow and stop.
"I'd yell out, 'get out of here, wolf!' and he stopped and didn't continue. There was a tour group a little up ahead, so maybe he sensed more people. 
"That could have been it," Tingle said when he was told about the drone. 
The dogs kept looking back, he added, but he was relieved he hadn't pushed the team too hard. 
"I was glad I had some gas in the tank," said Tingle. "It's the only time I've called them up this whole time, I said, 'let's get out of here!' 
Tingle said he has had a lot of wildlife incidents, but none quite like this experience. 
"I definitely had a tingle," Tingle laughed, when asked if he felt a tingle while being chased.
"I've had a lot of wildlife encounters but I've never had one look at me that way.
"I've seen bears, and there is a mutual agreement to go our own way, but to be chased by the animal is something new to me." 
Besides the run-in with the wolf, Tingle said his run from Pelly to Dawson was smooth. 
"When I was coming down the river, I got my camera out and took a picture," he said.
"I thought, 'man, I'm running sled dogs into Dawson City. This is something I dreamed about when I was a kid,' like a Jack London story." 
Tingle said his dogs had a great run, but he was particularly proud of one of them. 
"They all did fantastic, every single one of them," said Tingle.
"Even with the wolf, they didn't even look at it; they just went forward, which is so important, they didn't chase it. 
"But also, I had one of those moments there. I looked up at my dog Comanche there and thought, 'man, what a dog.'
"She was very, very sick a few years ago; we almost lost her from an infection that ran through her body. Here she is leading into Dawson City in the Yukon Quest." 
Now in Dawson with a mandatory 36-hour layover ahead of him, Tingle said he would probably take a nap.
Add your comments or reply via Twitter @whitehorsestar
In order to encourage thoughtful and responsible discussion, website comments will not be visible until a moderator approves them. Please add comments judiciously and refrain from maligning any individual or institution. Read about our user comment and privacy policies.
Your name and email address are required before your comment is posted. Otherwise, your comment will not be posted.