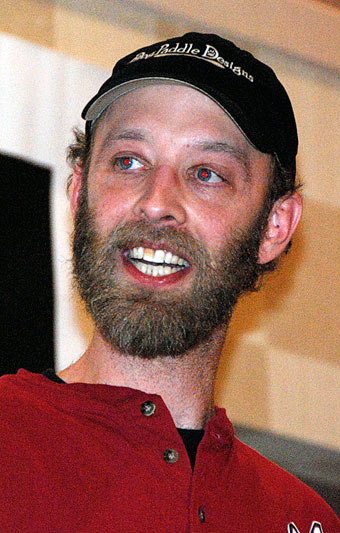 Photo by Whitehorse Star
Mike Ellis
Musher distraught after forced exit
Mike Ellis, a veteran musher from Two Rivers, Alaska, has scratched from the Yukon Quest.
CENTRAL, Alaska – Mike Ellis, a veteran musher from Two Rivers, Alaska, has scratched from the Yukon Quest.
Ellis filed his paperwork with race staff at about 9:00 Sunday night at the Central checkpoint.
Ellis, wearing bib No. 18, had been running in the Quest for the fifth time. His best finish came last year, when he placed eighth overall.
Ellis lost control of his sled near the Eagle Summit and fell into an ice patch. The weight of the impact dislocated his left shoulder.
"We were down in the trees and we hit one of those glacier spots on the side of the hill," Ellis said.
"I was trying to keep the sled out of the trees, and it was just a wipe-out.
"The weight of the sled and the weight of me just hit everything all in one spot and into the back of my shoulder blade. It dislocated my shoulder out in the front."
The distraught Ellis managed to make it into the checkpoint at around 3:23 p.m.
He said he was able to sling his arm inside his coat, but unable to fully zip up his parka.
"I think that may have actually helped," he said. "Because my whole left side just kind of went numb."
Ellis said he was forced to pop the shoulder back into place.
"I couldn't move it the way it was; I had to deal with it," he said.
The decision to scratch was the rational choice to make, he added.
"I just can't do the things I need to do to get down the trail and take care of my dogs," he said.
Ellis had dropped one dog at the Mile 101 dog drop but other than that, he said the team was running strongly.
"It's not very much fun to put 15 healthy dogs in the dog truck, especially after a year's worth of work," he said. "This is our main event."
He said the dogs were aware that something had gone wrong, despite his efforts to remain calm.
Ellis said he had no plans about future races – his focus is just getting the dogs home.
"I've got an awful lot of friends on this trail from officials, to mushers, to handlers.
"I mean, it's our family, and I've gotten a lot of nice support in the last couple hours since folks found out I was hurt," he said.
"It is what it is; time will heal, but right now, it sure stings."
Add your comments or reply via Twitter @whitehorsestar
In order to encourage thoughtful and responsible discussion, website comments will not be visible until a moderator approves them. Please add comments judiciously and refrain from maligning any individual or institution. Read about our user comment and privacy policies.
Your name and email address are required before your comment is posted. Otherwise, your comment will not be posted.