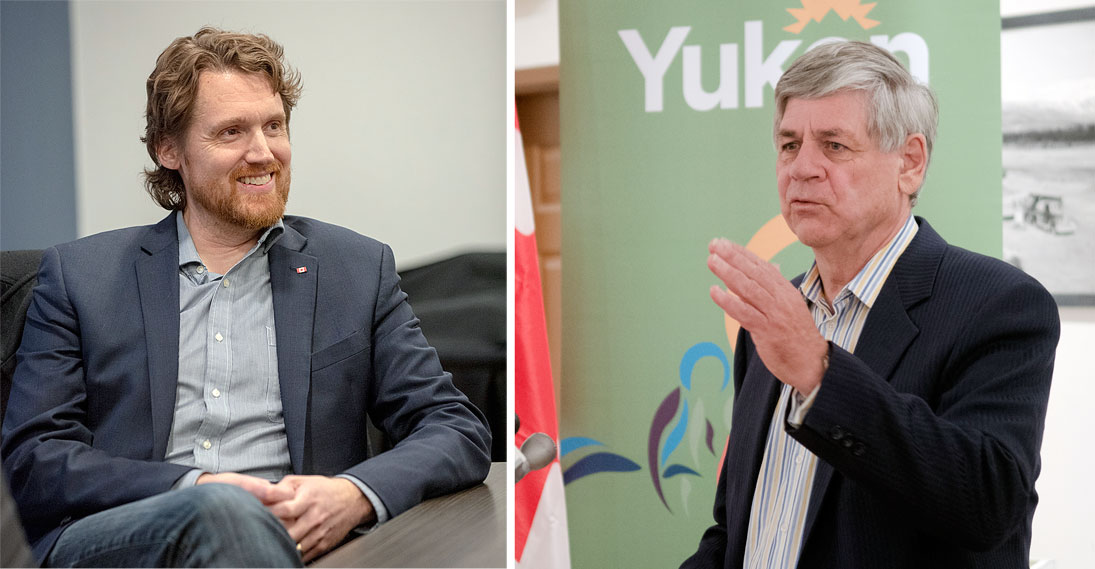 Photo by Whitehorse Star
Jonas Smith and Larry Bagnell
MP, challenger assess latest SNC-Lavalin twist
Jonas Smith, the Yukon's Conservative candidate for the coming federal election, is calling on Yukon MP Larry Bagnell to clarify where he stands on the latest instalment of the SNC-Lavalin saga.
Jonas Smith, the Yukon's Conservative candidate for the coming federal election, is calling on Yukon MP Larry Bagnell to clarify where he stands on the latest instalment of the SNC-Lavalin saga.
Bagnell, meanwhile, says he's happy with Prime Minister Justin Trudeau's acceptance of the report Ethics Commissioner Mario Dion released Wednesday.
The report concluded that Trudeau broke the Conflict of Interest Act by attempting to interfere in a criminal investigation involving the company.
Dion cited a series of "flagrant attempts to influence" then-Justice minister and then-Attorney General Jody Wilson-Raybould to reach an agreement with SNC-Lavalin to avoid criminal prosecution on fraud and bribery charges.
In April, Smith recalled Wednesday, when Wilson-Raybould and ex-cabinet minister Jane Philpott were expelled from the Liberal caucus, Bagnell told local media he was "saddened" by their departure.
"However, television footage of the announcement showed Bagnell applauding the decision and leading a standing ovation celebrating their removal," Smith said.
"Mr. Bagnell owes Yukoners answers. In light of the ethics commissioner's damning report into the SNC-Lavalin scandal, does he believe breaking the Conflict of Interest Act is acceptable?
"Does he still support Prime Minister Trudeau and his handling of this affair?" Smith asked.
"Does Mr. Bagnell consider breaking the Conflict of Interest Act twice an acceptable action?"
This is the second time Trudeau has been found guilty of violating the Ethics Act, Smith pointed out.
"Repeatedly, we've seen Mr. Bagnell say one thing to Yukoners and do the opposite in Ottawa," Smith said.
"Whether it's failing to support Ms. Wilson-Raybould's attempts to speak truth to power and uphold the integrity of our justice system, or failing to support law-abiding Yukon gun owners, it's time to elect a representative who will stand up for Yukoners in Ottawa."
Speaking to the Star Thursday, Bagnell said he is "very happy that the prime minister has accepted the report, that he's taken responsibility for the report, and that he says the buck stops with the prime minister.
"I'm very happy he's going to implement recommendations from (former Justice minister) Anne McClellen's report, one of which is to make sure there's a protocol of minsters dealing with the attorney general so this type of situation doesn't arise in future governments."
Bagnell said he knocked on doors Wednesday evening in Whitehorse.
"This issue came up, I think, twice, but both times they said it wasn't affecting their vote," the MP said. "There's more things that are current, issues they're bringing up; I think that there's so much stuff."
Those priorities include bringing children out of poverty, more money for seniors and students, and projects to reduce greenhouse gases, he said.
As for the effectiveness of Trudeau's management of the SNC-Lavalin affair, Bagnell said, "I wasn't involved in that handling, so that's up to the prime minister to respond to that.
"The prime minister made it quite clear that steps were taken that shouldn't have been taken, and I agree, and my position is that I'm happy that he acknowledged the report.
"I'm glad he accepted responsibility and said things should have been done differently and will take steps to make sure they are in the future."
Smith recalled that in 2017, then-ethics commissioner Mary Dawson found that when Trudeau took a Christmas 2016 trip with his family to the Aga Khan's private island in the Bahamas, he contravened the act in several ways related to accepting gifts from someone registered to lobby his office.
Add your comments or reply via Twitter @whitehorsestar
In order to encourage thoughtful and responsible discussion, website comments will not be visible until a moderator approves them. Please add comments judiciously and refrain from maligning any individual or institution. Read about our user comment and privacy policies.
Your name and email address are required before your comment is posted. Otherwise, your comment will not be posted.