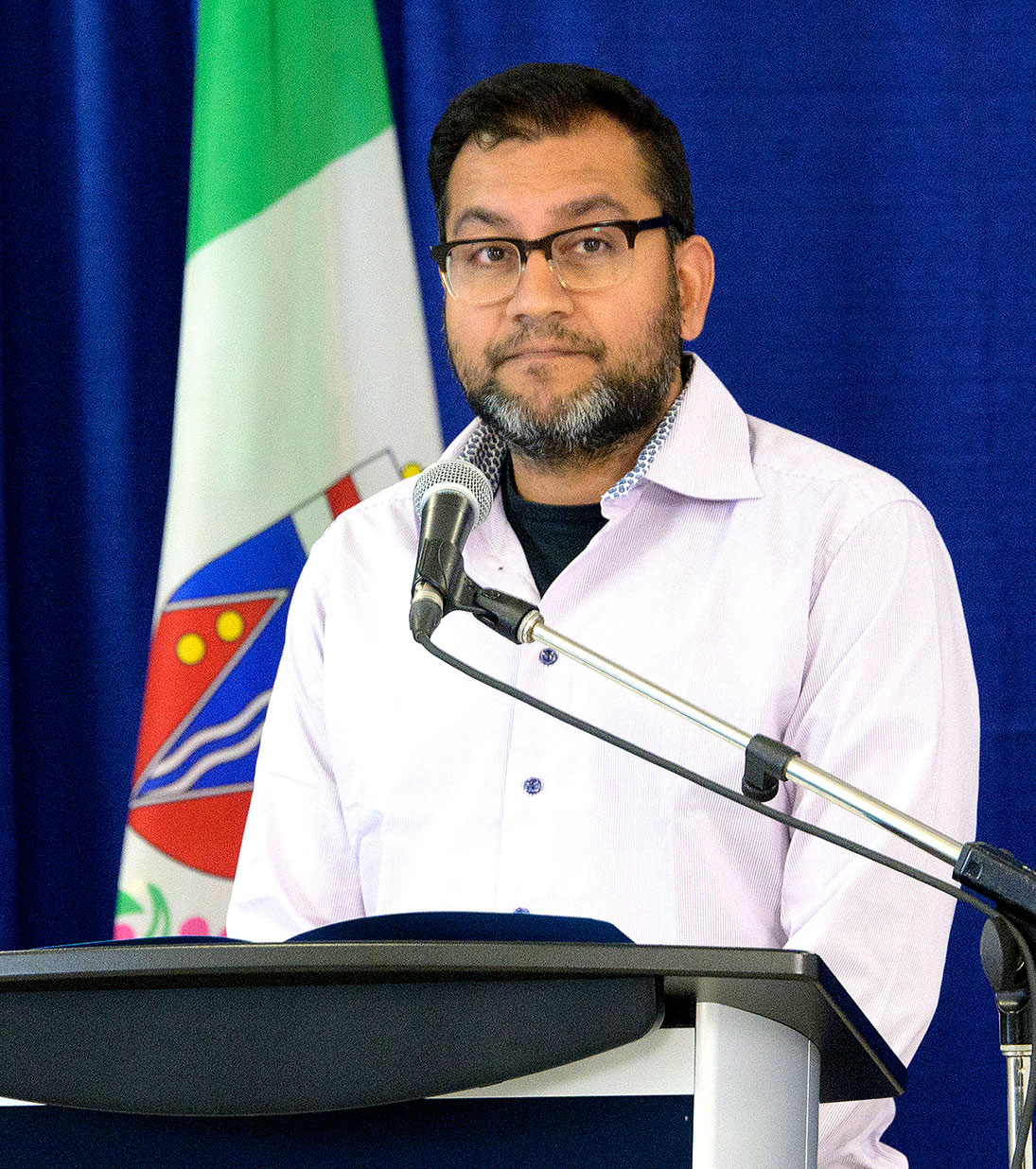 Photo by Whitehorse Star
Dr. Sudit Ranade
Monkeypox risk factors, territory's response reviewed
Monkeypox is rarely fatal, Dr. Sudit Ranade, the territory's new chief medical officer of health, reminded Yukoners today.
Monkeypox is rarely fatal, Dr. Sudit Ranade, the territory's new chief medical officer of health, reminded Yukoners today.
The first case of monkeypox was confirmed in the Yukon in July.
Monkeypox usually causes mild disease that resolves within two to four weeks, Ranade said in a statement.
"For some people, the symptoms can be challenging to manage, and can include fever, headache, fatigue, sore throat, cough, and a painful skin rash."
The Department of Health and Social Services' public health branch and Yukon Communicable Disease Control (YCDC) are working closely with health system and community partners "to ensure Yukoners are aware of the risk factors associated with monkeypox, perform routine case and contact management, and to provide people the most up-to-date information available about preventing transmission," the top physician added.
"Educating Yukoners and increasing awareness of risk factors is an important part of the territory's prevention strategy," he said.
"Anyone can be exposed and infected from close, skin-to-skin contact, including sexual contact.
"Monkeypox may also spread by prolonged contact with contaminated surfaces like bedding or clothing."
Though vaccination will also support the territory's response to monkeypox, he said, "the current supply of vaccines is extremely limited.
"The benefits of vaccination in terms of reducing or preventing monkeypox transmission remain unknown, and there is limited evidence for the use of vaccine to reduce symptoms in people who have been exposed or who have risk factors for exposure.
"Depending on the level of exposure, contacts of a known case may be offered vaccination in the territory to reduce their risk of severe disease.
"Early reports of monkeypox spread in Canada show an association with the Queer community, specifically through close, skin-to-skin contact between men," Ranade said.
"However, anyone can be exposed and infected, regardless of their sexuality or gender. At this time, monkeypox is not considered a sexually transmitted infection (STI).
"Unfairly stigmatizing any group causes harm and could delay infection prevention and control efforts. This will make it more difficult to identify, treat, and manage cases."
Ranade offered this advice.
"If you're not feeling well, limit close contact with others. If you develop a rash or lesions, avoid all skin-to-skin contact, keep that area of your body covered, and contact your health care provider, health care centre or the emergency room to be assessed. If you're unsure, call 811."
Ranade also notified the public about how the government will manage the release of information about monkeypox.
"The Department of Health and Social Services will not announce suspected or confirmed monkeypox case numbers, their location, or any demographic or identifiable information," Ranade announced.
"The latest information on monkeypox in the Yukon can be found at https://Yukon.ca/monkeypox, which also links to a variety of helpful resources from B.C. Centre for Disease Control and outbreak updates from Health Canada."
Add your comments or reply via Twitter @whitehorsestar
In order to encourage thoughtful and responsible discussion, website comments will not be visible until a moderator approves them. Please add comments judiciously and refrain from maligning any individual or institution. Read about our user comment and privacy policies.
Your name and email address are required before your comment is posted. Otherwise, your comment will not be posted.