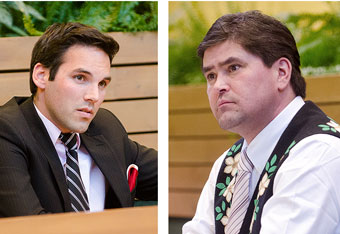 Photo by Whitehorse Star
Currie Dixon and Darius Elias
MLAs protest Alaska-set show's Yukon namesake
Yukon MLAs have taken issue with the Discovery Channel's show Yukon Men, and are calling for the name to be changed.
Yukon MLAs have taken issue with the Discovery Channel's show Yukon Men, and are calling for the name to be changed.
In the legislature Thursday, independent MLA Darius Elias said the show demonstrates illegal trapping, and that "Yukon hunters and trappers consider this program's name as an outright case of identity theft.
"Yukoners have worked so hard to ensure our territory is recognized around the world as a beautiful land filled with wonderful people," Elias said.
"The few citizens who still maintain traplines take pride in their responsible approach to harvesting their fur.
"We don't club lynx to death when they're caught in a leg-hold trap. We don't shoot wolverines when they're caught in a leg-hold trap.
"We sure don't, and we surely do not feed chinook salmon to our dog teams. That's not our Yukon, but that's what is portrayed on the Discovery Channel program called Yukon Men."
Environment Minister Currie Dixon said he concurs with Elias.
"I have to say that I do agree with him that some of the portrayals of trapping in the television show in question and the presentation of that as being in the Yukon is unfortunate."
The minister later added: "Of course, their claim is that it is on the Yukon River in Alaska, so it's acceptable for them to refer to it as Yukon Men; I took issue with that, and asked them to change the name as well."
Back in October 2012, Dixon sent a letter to Bruce Gelawson, executive producer, programming at the Discovery Channel.
In the letter, the minister takes issue with the activities seen on the show.
"Our concern relates to the hunting and trapping practices portrayed on this show," it reads.
"They most certainly do not reflect how such activities are carried out in the Yukon Territory, and are, quite frankly, rather horrific."
Dixon goes on to present some examples. They include a scene showing a man beating to death a lynx caught in a leg hold trap, and another with two men opening a bear den to shoot the hibernating bruin.
"I would suggest that you advise viewers that many of the activities they see on this show are illegal in Canada," the minister writes.
"Also, since it is my understanding that the protagonists live in Tanana, Alaska, I would suggest renaming the show."
In a response from Paul Lewis, president and general manager of Discovery Networks, the network insists it's bringing diverse perspectives to its viewers.
"With regard to the hunting and trapping activities featured in the series, we understand and recognize that there are important legal and cultural differences on this issue between Canada and many other countries around the world.
"As a channel that brings international stories to Canadians, diverse perspectives are an important feature of our programming."
Lewis describes multiple disclaimers shown during the program.
"We are also aware that some of the activities featured in the series are graphic, and, as a result, we have the following onscreen advisory at the beginning of the broadcast and at the start of every segment:
"'The program contains scenes that some audience members may disturbing. Viewer discretion is advised.'
"An additional disclaimer has been added to the program itself by Discovery U.S. to the top of each episode, and midway through the episode: 'Life in remote Alaska is a deadly struggle. Men hunt and trap to survive. Viewer discretion is advised.'"
In an email to the Star this morning, Jodi Cook, a senior communications manager with Discovery Canada, said the Canadian company does not have the authority to change the show's name.
"Discovery Canada acquires the series Yukon Men from our partners at Discovery Communications in the U.S.," Cook wrote.
"As we acquire the series as a fully-completed package, we don't have an input with regards to the title or content."
Add your comments or reply via Twitter @whitehorsestar
In order to encourage thoughtful and responsible discussion, website comments will not be visible until a moderator approves them. Please add comments judiciously and refrain from maligning any individual or institution. Read about our user comment and privacy policies.
Your name and email address are required before your comment is posted. Otherwise, your comment will not be posted.