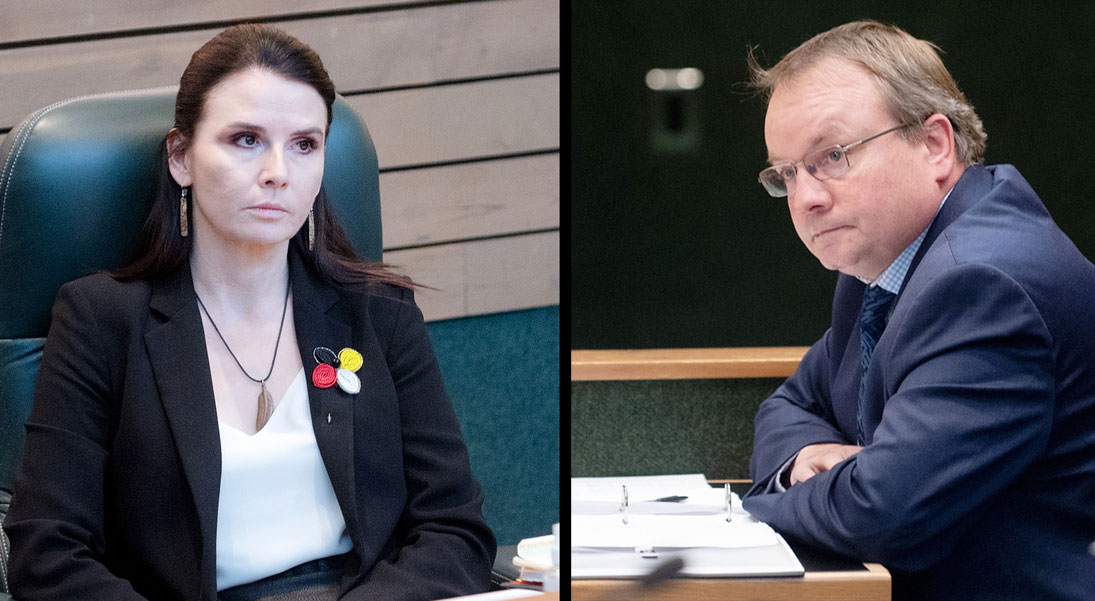 Photo by Whitehorse Star
Minister of Education Jeanie McLean and Yukon Party education critic Scott Kent
Photo by Whitehorse Star
Minister of Education Jeanie McLean and Yukon Party education critic Scott Kent
Minister quizzed on school bus route cancellations
According to the Yukon Party, the territory's school buses are in some dire straits.
According to the Yukon Party, the territory's school buses are in some dire straits.
"So, a number of school bus routes in the Whitehorse area have been partially or fully cancelled with increased frequency over the past few weeks," Yukon Party education critic Scott Kent noted Wednesday in the legislature.
"In some cases, it has been done on short notice and has left parents scrambling to find transportation to school for their children.
"We understand that one of the contributing factors is a lack of qualified drivers. I'm curious what specific actions the Liberals are taking to assist the contractor in alleviating this driver shortage?"
Jeanie McLean, the minister of Education, said her department provides school busing, Whitehorse Transit passes and transportation subsidies to families "to support students travelling safely and effectively to and from school.
"Definitely, our underlying goal is to ensure that children are supported and that families are supported," McLean said.
"I would like to start by saying that, like many other jurisdictions, Yukon is facing a driver shortage, and we're working with our contractor always, Standard Bus, to support them in their recruitment efforts."
Combined with the COVID-19 pandemic, the minister said, "this a very challenging time. In some cases, unfortunately, the busing contractor has had to cancel routes for the day. We understand the impact and challenge that bus routes can have on families.
"We are working with Standard Bus to find solutions whenever possible."
Sometimes, the company can combine routes or have a driver cover two routes.
"We appreciate that some families are able to drive students to school when a bus is cancelled," McLean said. "We definitely know that outlying areas have more challenges."
Kent went on to provide more details to the minister.
"Many of the families that we're hearing from live in areas around Whitehorse that aren't serviced by Whitehorse Transit, so that's not an option for them," he pointed out.
"I am hoping that the minister can elaborate on the specific supports that they are working on with the contractor with respect to the recruitment of drivers.
"In some cases, existing drivers are caught in self-isolation due to COVID exposure notices for either themselves or their families."
The government's compulsory vaccine mandate for its employees took effect Wednesday, Kent noted.
"I am curious if the minister can tell us how many bus drivers are affected by the mandate and have been suspended or placed on leave without pay by the contractor.
"For those bus drivers who are in self-isolation and are double-vaccinated, are they eligible for rapid tests to allow them to be off work for a lesser amount of time?"
McLean did not deviate much from her speaking notes, and did not provide any of the numbers Kent had asked for.
"Like most jurisdictions in Canada, there is a driver shortage," the minister said.
"I know that there have been times when Standard Bus has brought in drivers from other jurisdictions. We certainly have alleviated a lot of the issues.
"We had the schedules out really early this year, so we have had less friction around that with families and continue to definitely support them."
Standard is dealing with driver shortages as best as it can, McLean said.
"We are working with them to develop contingency plans to help ensure that cancellations do not affect the same route for multiple days in a row.
"Standard Bus is responsible for notifying schools and families when the bus routes are cancelled," she said.
Add your comments or reply via Twitter @whitehorsestar
In order to encourage thoughtful and responsible discussion, website comments will not be visible until a moderator approves them. Please add comments judiciously and refrain from maligning any individual or institution. Read about our user comment and privacy policies.
Your name and email address are required before your comment is posted. Otherwise, your comment will not be posted.