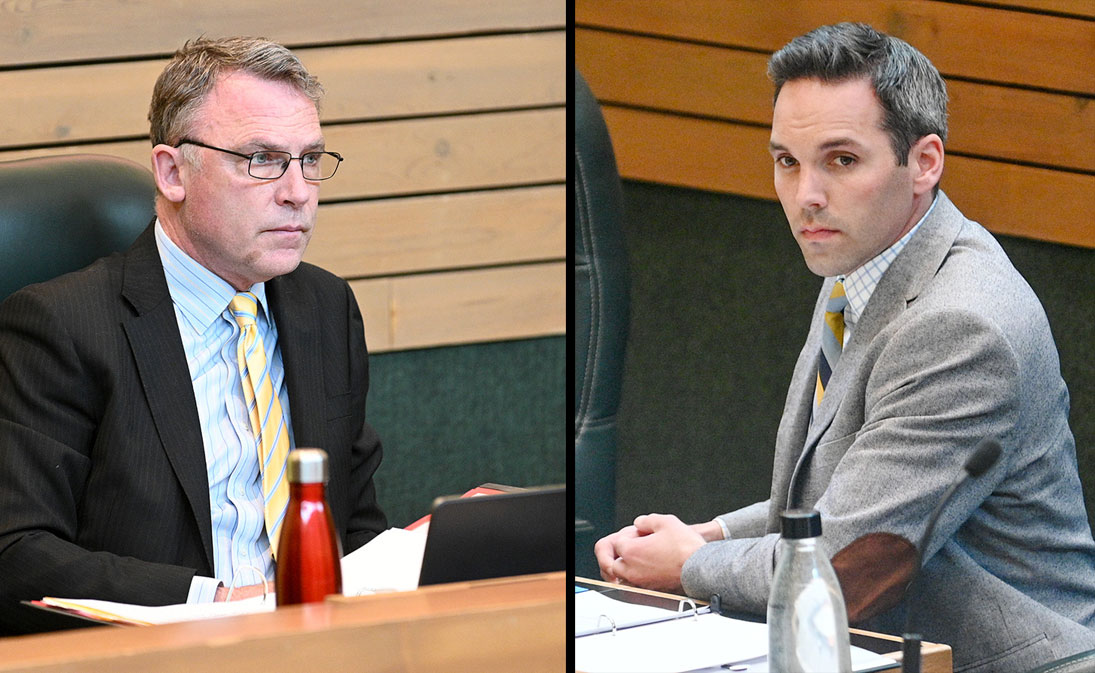 Photo by Whitehorse Star
Community Services Minister Richard Mostyn and Opposition Leader Currie Dixon
Mechanism for rent caps plan remains unclear
The rent caps the Yukon government has slated to come into effect on Saturday remain a mystery.
The rent caps the Yukon government has slated to come into effect on Saturday remain a mystery.
On Wednesday afternoon, even after pointed questions in the legislature and more from reporters interviewing Community Services Minister Richard Mostyn, the details on the caps' implementation are far from clear.
Mostyn said the Liberal cabinet is still discussing how the program, which is part of the accord the Liberals have struck with the NDP to form a stable government, will work and how it will be authorized.
He expects to bring a proposal to his cabinet colleagues Friday.
"We know that housing is in high demand in the territory." he said.
"We know that prices are going up. We know that rental units are in short supply.
"Yukoners wanted us to act together to address the housing issue in the territory and so we're doing it," Mostyn added.
"There's not just one solution; there are many solutions. We have to address it. The question is how to implement it."
Mostyn said the government doesn't have the time to legislate the program before Saturday's deadline but he didn't seem concerned by that.
"We're going to explore and we're still working with our NDP colleagues on it. This is how minority government works now. It's just how does it look and how will we do that?"
Mostyn said the government remains committed to having something in place by Saturday.
"We don't need legislation to do it. We're looking at many options, and none of them have been presented to cabinet yet.
"I'm going to wait until we have cabinet approval before saying more of it."
He said the details of the program are simple and have been available to the public for two weeks.
Rental increases will be limited to one per cent this year, a figure that will be reviewed in 2022 and likely tied to the inflation rate.
Since landlords have to provide three months' notice of any raise to tenants, the rent controls are effective backdated to Feb. 15.
The plan would end when the Liberal-NDP agreement expires in January 2023.
Mostyn said there's a small window of opportunity for landlords to squeeze in an increase before Saturday, but it was unclear how that would work with the agreement being retroactive.
"Rent increases brought in between May 1 and 14 would likely be fair game," Mostyn said.
That's presuming the three months' notice was provided.
Mostyn said the issue of how to bring in the rent caps is being slowed down a little by the need to constantly consult the NDP under the terms of the accord.
"It's just the way things are now," he said. "It's going to take more time."
The Yukon Party is continuing to protest the lack of details on the plan.
On Wednesday, Opposition Leader Currie Dixon tried to introduce an urgent motion asking for the plan to be delayed. The motion required unanimous consent of all MLAs – which didn't occur.
He repeated his concerns, as he has for almost two weeks, about the lack of details about the rent caps, and how it's causing mass confusion in the public amongst landlords and tenants.
After question period, he told reporters he knows of at least 100 rental units that have been taken off the market due to the concerns over the plan.
He continued to insist the public needed to be told how the system will work.
"It was unfortunate that the Liberals and the NDP announced this policy without first consulting or researching how it would impact the housing market in the territory," he said in a statement.
"This action by their coalition to shut down debate on the issue of rent control and their refusal to consult and mitigate the negative impacts on renters and landlords before this policy is implemented is disappointing."
The move also contradicts comments made to NDP Leader Kate White from former deputy premier Ranj Pillai, Dixon noted.
Pillai "told the leader of the third party last fall when she brought forward a motion on rent control that proper consultation was needed before such a policy could be put in place," Dixon recalled.
The Yukon Party launched its own consultation process on May 6 "once it became evident tenants and landlords would not be heard before rent control takes effect on May 15," Dixon said.
Those looking to provide comments can email consultation@yukonparty.ca.
Add your comments or reply via Twitter @whitehorsestar
In order to encourage thoughtful and responsible discussion, website comments will not be visible until a moderator approves them. Please add comments judiciously and refrain from maligning any individual or institution. Read about our user comment and privacy policies.
Your name and email address are required before your comment is posted. Otherwise, your comment will not be posted.