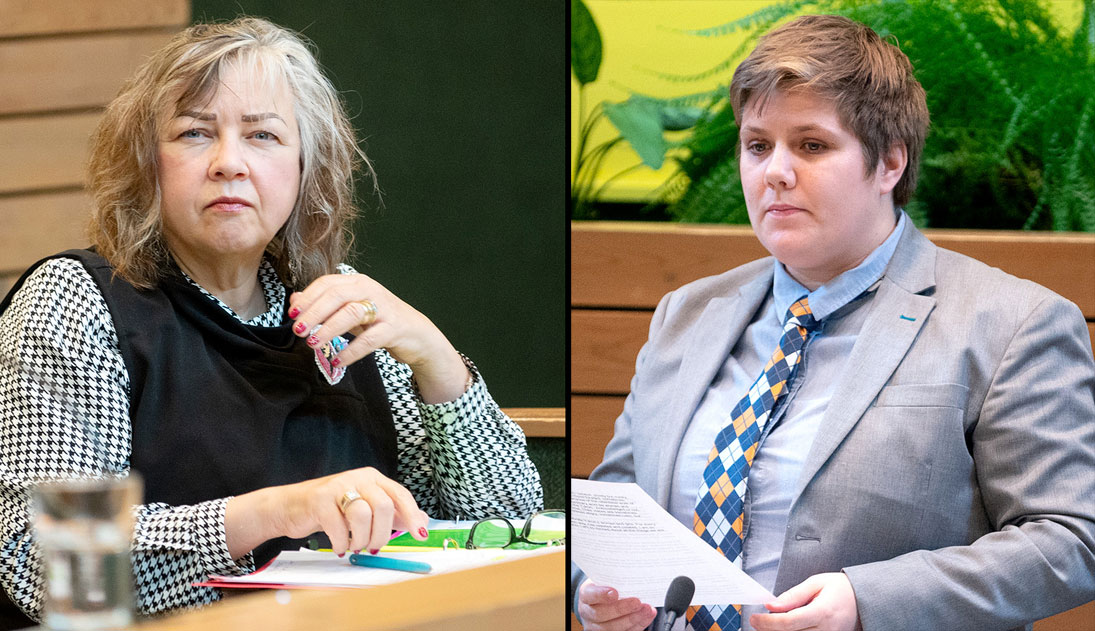 Photo by Whitehorse Star
Health and Social Services Minister Tracy-Anne McPhee and NDP MLA Emily Tredger
McPhee rules out a YG-run medical clinic
The Yukon government is under fire for failing to act quickly or decisively to address the loss of the territory's only walk-in medical clinic during the summer.
The Yukon government is under fire for failing to act quickly or decisively to address the loss of the territory's only walk-in medical clinic during the summer.
After one of the two doctors at the clinic left the Yukon, the walk-in portion of the practice was closed due to staffing issues.
Clinic staff have been unable to find a replacement physician as yet, so the clinic remains closed to walk-in traffic.
That's a huge blow to any of the estimated 2,000 Yukoners without a family doctor who relied on the service as an alternative to going to an emergency room at a hospital for routine matters such as prescription renewals.
NDP MLA Emily Tredger raised the issue during question period in the legislature Wednesday, and sparred with Health and Social Services Minister Tracy-Anne McPhee over it.
"Over a month ago, the Yukon lost its only walk-in medical clinic," Tredger reminded MLAs.
"For over 2,000 Yukoners who don't have a family doctor, this was their only access to primary care. This was their only place to get prescriptions, checkups, and referrals.
"Now, all these people need to go to the already-crowded (hospital) emergency room for non-emergency care. This is a massive waste of health care resources," Tredger said.
"What immediate action is the minister taking to close this giant gap in health care services?"
McPhee did not answer the question directly. Instead, she talked about the difficulties the Yukon is facing in recruiting doctors.
"This is, of course — and I say 'of course' because everyone knows that, during the course of the pandemic and before, physician and nurse recruitment has been an issue all along.
"What I've learned recently is that not everyone knows that physicians' clinics here in the territory operate as private businesses, so we don't have notification that they are going to close or that they are going to stop taking clients or stop providing services to Yukoners," McPhee pointed out.
"That becomes something that needs to be responded to through, I think, physician and nurse recruitment."
Through the Putting People First report, McPhee told the house, the government learned that approximately 21 per cent of Yukoners do not have access to a family physician.
"That's a serious matter," she said. "As we implement the recommendations from the report, we're continuing and committed to ensuring that Yukoners have access to primary care health services.
"The pandemic has significantly impacted our ability to recruit nurses and physicians and other care providers."
Marianne Blythe, a longtime Whitehorse resident, is one of the patients affected by the situation.
She spoke to the Star a week ago about her medical care for a chronic kidney condition.
Blythe said she had relied on the clinic, and had been a patient of the doctor who has moved south.
She requires regular blood tests to check her kidney function, and said she had a standing order for those tests.
However, with her doctor no longer practising in the territory, her latest round of tests became an ordeal.
Staff at Whitehorse General Hospital told her the standing order was no longer valid – and it took several hours before the paperwork for the simple test could be straightened out.
Now, Blythe said, she has to go to the emergency department every time she requires the test. That's putting an added strain on both herself and front-line medical staff, she pointed out.
Blythe said she doesn't understand why the government can't set up its own clinic to serve Yukon residents who don't have a doctor.
She pointed to last month's establishment of the Sixth Avenue supervised consumption site for recreational drug users as an example of what can happen when there's an incentive to get something done.
Tredger had the same question for McPhee.
"While I appreciate that the minister would like to put the blame on private clinics, providing primary health care is the responsibility of the government," she noted.
"This wait-list didn't appear overnight. It wasn't caused by the closure of the walk-in clinic, but without a walk-in service, the people on this list have no where to go but the emergency room," said the Whitehorse Centre MLA.
"Can we really say that our health care system is universal when there are over 2,000 people waiting for a family doctor?" she asked McPhee.
"Health care workers at the ER are already burnt-out and overwhelmed. Now they are left dealing with this government's lack of vision and leadership in health care. This could have been avoided, but here we are," Tredger added.
"Does the minister expect the hospital to be the primary care provider for an extra 2,000 people who have nowhere else to go?"
McPhee stuck to her talking point about recruitment rather than answering the specific question.
"As I was noting, the pandemic has significantly impacted our ability to get folks to move around the country and come to new places to work in many, many areas," the minister replied.
"We continue to explore options to connect Yukoners to primary health care services. Previously, we have connected over 1,000 Yukoners with a physician through the find a family doctor program, expanded access to virtual care alternatives, and increased the number of resident pediatricians and psychiatrists, all important elements of the description that the member opposite has given about the health care system."
As the government implements Putting People First, she said, "we are looking to hire additional nurse practitioners. We are meeting with the Yukon Medical Association to address a physician recruitment and retention plan.
"Soon to be opened in January 2022 will be the bilingual health centre. We think that will help with some pressures, and that primary health care setting in Whitehorse is expected to reduce some of the pressures on the primary health care system."
Tredger immediately fired back.
"It is not a lack of solutions; it's a lack of political will," the New Democrat said.
"Right now, Yukoners need nurse practitioners, we need dietitians, we need registered nurses, we need midwives, we need psychologists, and we need doctors. It is the government's responsibility to make sure that people in Whitehorse and people in rural Yukon have proper access to primary care.
"When is the government going to open a public walk-in clinic?"
During a session with reporters following question period, McPhee refused to provide a direct answer to that question – until she was cornered on it by a CKRW radio reporter.
In response to his blunt query, McPhee simply said the government has no plans to open a walk-in clinic.
No explanation was provided, as she once again turned the subject to the recruitment of medical personnel.
Yukon Party Leader Currie Dixon weighed in on the issue as well, calling McPhee "out of touch."
He suggested she is even unaware of the problems caused by the lack of clinic services for Yukoners.
Add your comments or reply via Twitter @whitehorsestar
In order to encourage thoughtful and responsible discussion, website comments will not be visible until a moderator approves them. Please add comments judiciously and refrain from maligning any individual or institution. Read about our user comment and privacy policies.
Your name and email address are required before your comment is posted. Otherwise, your comment will not be posted.