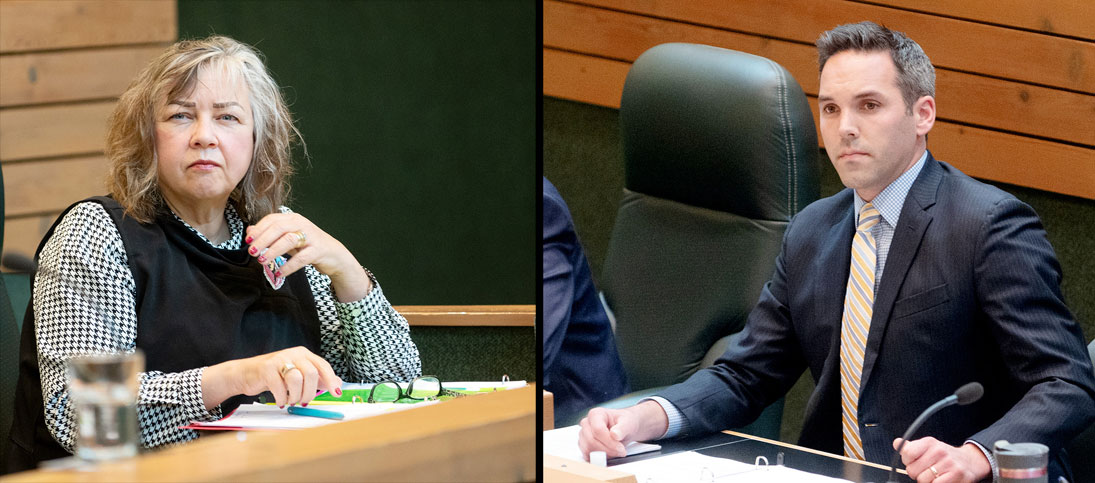 Photo by Whitehorse Star
Former Education Minister Tracy-Anne McPhee and Yukon Party Leader Currie Dixon
McPhee critical of opposition's focus on Hidden Valley School controversy
Tracy-Anne McPhee, the former Education minister and current deputy premier, broke her silence on the Hidden Valley school scandal Wednesday.
Tracy-Anne McPhee, the former Education minister and current deputy premier, broke her silence on the Hidden Valley school scandal Wednesday.
Sort of.
McPhee was the subject of a number of questions from the Yukon Party during question period in the legislature, but she didn't answer any of them.
Instead, current Education Minister Jeanie McLean jumped in to answer every one of them. Meanwhile, McPhee and Premier Sandy Silver sat stone-faced through a very aggressive interrogation from the opposition.
McLean answered every question with a variation of this statement:
"I welcome the opportunity to stand once again to speak to the parents and speak to Yukoners about this very serious incident that happened at Hidden Valley in 2019 and to express to Yukoners how seriously our government has taken this situation.
"Over the last day or so, I have spoken a great deal about what has happened and the steps that we are now taking to address the situation.
"I want to go back. As soon as Education officials learned of the allegations in 2019, the individual was immediately removed from the school and has not worked with children since and, of course, is no longer an employee of Government of Yukon.
"Hidden Valley School administration changed their protocols to increase safety to students and reinforce accountability. We informed the RCMP, and we expected them to undertake a complete and thorough investigation of this matter.
"Yukon RCMP have initiated a complete review of their own investigation.
"Mr. Speaker, there were mistakes made in 2019. Again, we are working toward a full and thorough investigation into these matters."
William Auclair-Bellemare, 34, a former educational assistant at the school, served a jail term for sexual interference involving a child at Hidden Valley in 2019. The youngster's parents have launched a civil lawsuit against him and the government.
On Sept. 10, it was announced that a day earlier, the Yukon RCMP Specialized Response Unit had arrested William Auclair-Bellemare, 34.
He has been charged with offences related to alleged incidents involving two children occurring between Jan. 1, 2014 and Dec. 31, 2018.
Auclair-Bellemare, who is free on bail, has been charged with sexual exploitation, sexual assault, sexual interference and the invitation to sexual touching.
McPhee was the education minister when the debacle started to unfold, as well as Justice minister, a position she still holds.
McPhee later said she wasn't answering any of the questions directed at her "because (McLean) is the minister of Education."
However, during a media scrum afterward, McPhee was somewhat more forthcoming, although her comments appeared to be careful, if not not heavily scripted.
"Absolutely (I was aware of the file)," McPhee said in response to a question as to whether she knew about the situation.
"This is a very serious situation," she added, echoing the exact words McLean has been using.
"Our goal is to answer questions posed by families and to provide support and counselling - whatever might be needed by those students and those families."
McPhee sounded off as well on the questions being asked by the opposition parties.
"The tactic – I'll call it that – of the opposition asking minister McLean questions as to who knew what when are all questions that will be answered by the review being done by the Child and Youth Advocate (Annette King) and the independent review being done into these matters."
McPhee said both leader Currie Dixon and MLA Brad Cathers of the Yukon Party should know – as former ministers – is that all of the questions they're asking relate to evidence.
"(It's) about evidence that will be uncovered in the review. There are still two criminal matter and two civil matters before the courts," McPhee said.
"We've asked for two independent reviews to reveal what occurred when. Their questions in the legislative assembly are about evidence that could adversely affect the cases that are before the courts.
"What most of you wouldn't know is that I prosecuted cases like for over 20 years," McPhee added.
"I know exactly what kinds of evidence and the kinds of things that could adversely affect these kind of cases. I'm not going to weigh into any area of answering those kinds of questions that will ultimately affect the cases in an adverse way."
McPhee also criticized the opposition parties – particularly the Yukon Party – for their relentless focus on the Hidden Valley issue. She said they had some of their facts wrong, "although I'm not going to correct them here.
"The place to correct them is not on the front page of the paper. Frankly, it's in the independent reviews, and it's in being careful not to disturb the evidence that might come to light."
The facts that will come to light, McPhee added, won't support the allegations being made by the opposition.
She said the grilling of the government is doing a disservice to Yukoners as a whole, since there are many other matters to focus on.
"There are other government issues. Unfortunately, the opposition is persisting with these questions when all will be revealed in time through these independent reviews."
McPhee was also highly critical of the RCMP involvement in the case, and suggested the police force bears the brunt of the blame for an investigation it recently admitted was botched.
"It's absolutely critically important to know the errors were theirs," the minister said.
"They must know that when this matter was informed to the RCMP, we thought a comprehensive investigation would contact other families. The RCMP have apologized because that was a critical error."
McPhee called that admission highly unusual.
She refused to answer a reporter's question as to whether she had seen a draft letter that had been intended to be sent to the families of students at the school in 2019.
"I'd like to answer that question, but I don't think it's appropriate to do so because you're asking about evidence that could affect either of the review or more importantly the civil and the criminal cases that are before the courts.
"I'm being extremely careful with respect to any of the evidence."
Dixon spoke to reporters following McPhee's comments and said her claims were "incredible.
"Neither of the issues are before the courts," he pointed out.
"We asked why the draft letter wasn't sent out and why the current minister of Education wasn't briefed. Neither of those questions have anything to do with the court cases.
"Her inability or unwillingness to answer questions in the legislature is disturbing," Dixon added.
"She's indicated she knew everything about this. She knew a letter was drafted, she knew parents were not going to be informed.
"And we know the decision to not notify the parents is the decision that led to the delay in justice for those additional victims. The minister's decision to not inform the parents led to delays in justice for these families. and that's unacceptable."
NDP Leader Kate White didn't pull any punches either.
During question period, NDP MLA Annie Blake asked, "Can the minister tell us exactly why it took her almost two months after the abuse was made public to start directly talking with parents, and why, after four months of public pressure, are we still hearing from families who say that support is lacking?"
After question period, White said, "Saying there's going to be an independent review is one thing.
"So there are some things that need to be bolstered in that review. There are a lot of questions to be answered ahead of that."
White picked her words carefully, but took a shot at the leadership of Silver – who hasn't risen in the assembly to take any of the heat off McLean.
"From a position of leadership, if that was my colleague or colleagues, or you were on my team, I would have gotten involved," White said.
"At a certain point and time, the leadership stops with the person at the top. After three days, the minister has easily answered 15 question on this.
"We've seen previously where premiers would get involved and deflect from the minister. I know what I would do."
Add your comments or reply via Twitter @whitehorsestar
In order to encourage thoughtful and responsible discussion, website comments will not be visible until a moderator approves them. Please add comments judiciously and refrain from maligning any individual or institution. Read about our user comment and privacy policies.
Your name and email address are required before your comment is posted. Otherwise, your comment will not be posted.