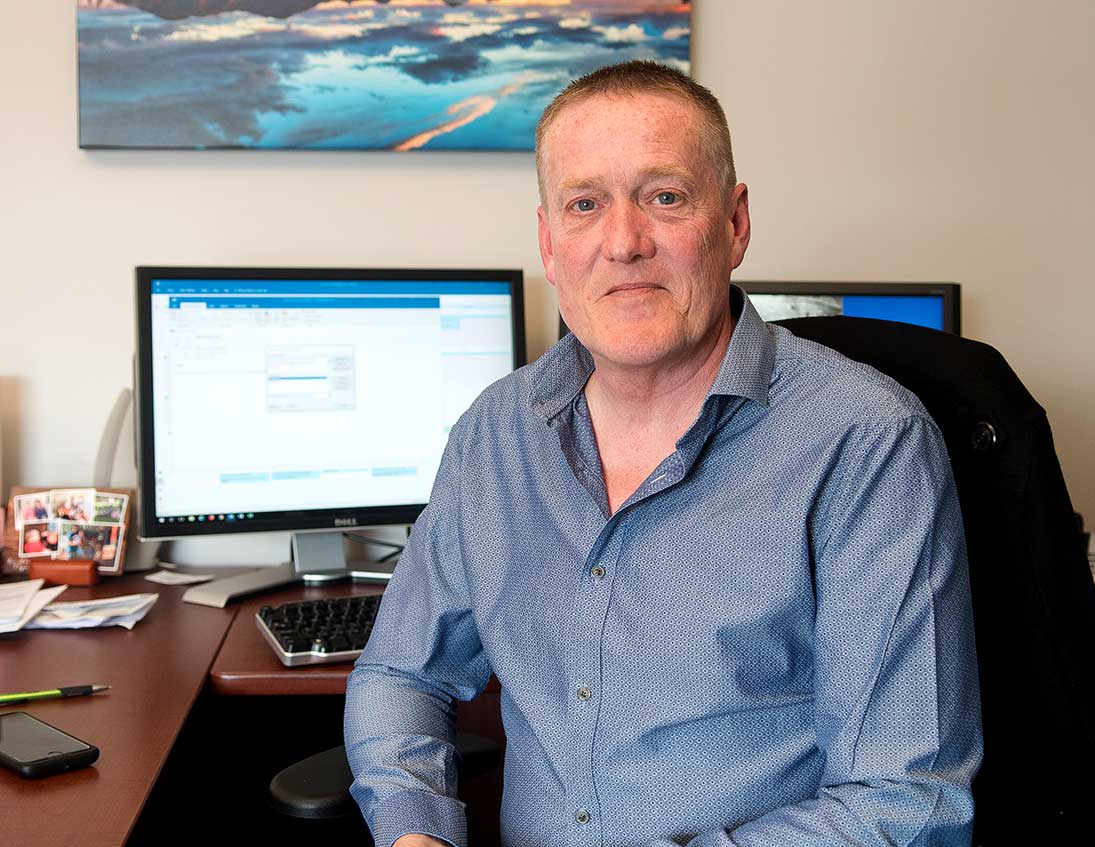 Photo by Whitehorse Star
Steve Geick
Mayor, union head praise negotiating teams
Mayor Dan Curtis and Steve Geick, the Yukon Employees' Union president,
Mayor Dan Curtis and Steve Geick, the Yukon Employees' Union president, were offering up their praises Monday to the negotiating teams that worked over the weekend through mediation.
Their efforts helped reach a tentative contract agreement between most city workers and management.
Details on two deals – one for transit workers and another for most other city workers with the exception of firefighters, who are represented by a different union – will not be made available until it comes to council through the bylaw process.
However, Curtis and Geick noted in separate interviews Monday the agreement shows what can be done when two sides come together and push to get a deal that works for everyone.
Last Friday, the union issued a 72-hour strike notice that would have seen city workers walk off the job at 8 a.m. Monday if significant movement was not made during mediation over the weekend.
The transit union, which had been staging a work-to-rule campaign since March 19, had planned to move into full strike mode as well.
At 5:30 a.m. Monday, the two sides reached an agreement and the strike was called off, with the transit workers ending their work-to-rule efforts.
Geick said Monday afternoon the union's bargaining unit will be recommending unanimous support from members for the deals.
Geick noted he was "very relieved" that a deal was reached, as nobody wants to see a strike. That's "absolutely" the last resort for the union, he said.
"This has been a very contentious round," Geick noted.
He then highlighted the work members of the negotiating team put in and the efforts of all union members in standing in solidarity.
"It's the will of the members that drive these things," he said.
Similarly, during Monday evening's council meeting, Curtis was quick to thank members of the city's negotiating team.
He also noted the efforts of the union's negotiating team, saying he was pleased everyone could find ways to compromise while reaching a deal for all.
In an interview following the meeting, the mayor admitted he was "encouraged and surprised" when he awoke Monday morning to learn a deal had been achieved and a strike averted.
Over the weekend, he had continued to be updated on the negotiations, and members of the teams "literally worked until the last minute" to reach an agreement. Without that effort, he noted, it could have gone a very different way.
"I couldn't be happier," he said.
Geick said he expects meetings and votes by the membership will happen by the end of next week.
Add your comments or reply via Twitter @whitehorsestar
In order to encourage thoughtful and responsible discussion, website comments will not be visible until a moderator approves them. Please add comments judiciously and refrain from maligning any individual or institution. Read about our user comment and privacy policies.
Your name and email address are required before your comment is posted. Otherwise, your comment will not be posted.