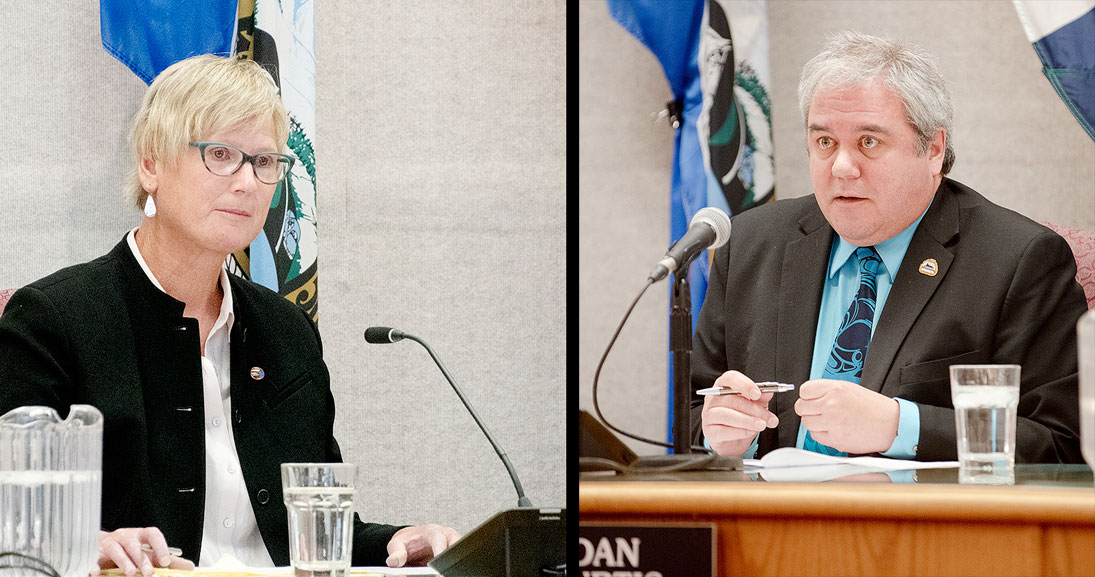 Photo by Whitehorse Star
Coun. Laura Cabott and Mayor Dan Curtis
Mayor floats concept of councillor's potential conflict
It was a testy Mayor Dan Curtis who threw down the gauntlet at the feet of Coun. Laura Cabott during Monday night's council meeting – out of the blue.
It was a testy Mayor Dan Curtis who threw down the gauntlet at the feet of Coun. Laura Cabott during Monday night's council meeting – out of the blue.
Curtis suggested Cabott may be in a conflict of interest with her participation in discussions about the city's strategy to reduce the risk of wildfires to the city.
Any recommendation coming out of the strategy will ultimately have to go before the Yukon Environmental and Socio-economic Assessment Board, of which Cabott is the chair, Curtis pointed out.
The mayor said he has heard concerns about it, "people whispering in my ear."
Coun. Dan Boyd, however, quickly intervened on a point of order.
It was unfair to Cabott – a lawyer by profession – to blindside her with a discussion about the appropriateness of the councillor's participation, said Boyd, who was chairing that segment of the meeting.
Boyd suggested if the mayor had an accusation or wanted to challenge Cabott's involvement in the discussion, there are methods to do that, but to bring it up without notice in an open council meeting was not one of them.
"Tonight, I do not want to go that far down the rabbit hole," said Boyd. "If we have a concern if a councillor has a conflict, there are ways to do that."
Curtis said he was not making an accusation.
But he said he may be bringing forward a motion or point of order to examine if Cabott is in a conflict, or to seek a legal opinion.
In her response, Cabott quickly stated she would not be commenting on any suggestion she was in a conflict of interest.
She did say her concern is getting on with implementation of the Wildfire Risk Reduction Strategy and Action plan.
The city has had three reports over three years all indicating Whitehorse is vulnerable to wildfires, she pointed out.
Cabott said a team of consultants with 100 years of combined experience in forest management has told the city it is very vulnerable.
"This is an urgent matter," she said.
The discussion at Monday's meeting centred around the administrative recommendation that council adopt recommendation number eight as an action item.
Administration further recommended that council adopt the remainder of the strategy as a guiding document.
Recommendation number eight calls upon the city to engage with the Yukon government and local First Nations to determine roles and responsibilities in the implementation of the strategy.
Sorting out roles and responsibilities as a first step will smooth out further discussions regarding the implementation of the other 11 action items laid out in the strategy, says the administrative report presented to council last week.
"Ultimately, management of forests and wildfires in the Yukon is the responsibility of the Yukon government, with First Nations also having a role to play in respect of their settlement lands," says the report.
"The part to be played by the city needs to be clarified with the other levels of government as a priority action item."
Coun. Steve Roddick indicated he would prefer adopting all 12 action items and then provide specific direction to administration regarding number eight.
There are, said Roddick, action items that fall squarely under the responsibility of the city.
Councillors Jan Stick and Jocelyn Curteanu said there's nothing stopping council from adopting other action items as a priority in the future.
Dealing with number eight is a fundamental step, Curteanu told her colleagues.
"I would like to give our administration the mandate to go forward with this," she said.
Curteanu said the other action items are not going to disappear; rather, they'll continue to serve as a guiding document.
City administration, she said, is taking this matter very seriously.
Following a friendly amendment to the recommendation, council did adopt number eight as an action item and the remainder of the action items as a guiding document.
The friendly amendment put forward by Boyd calls upon administration to provide council with an update on the risk reduction strategy in three months, with estimated timelines for the implementation of all 12 action items.
The city's risk reduction strategy was developed after the city commissioned a team of consultants in June 2019 to provide an assessment regarding the city's vulnerability to wildfire.
The assessment was provided to council last April.
Add your comments or reply via Twitter @whitehorsestar
In order to encourage thoughtful and responsible discussion, website comments will not be visible until a moderator approves them. Please add comments judiciously and refrain from maligning any individual or institution. Read about our user comment and privacy policies.
Your name and email address are required before your comment is posted. Otherwise, your comment will not be posted.