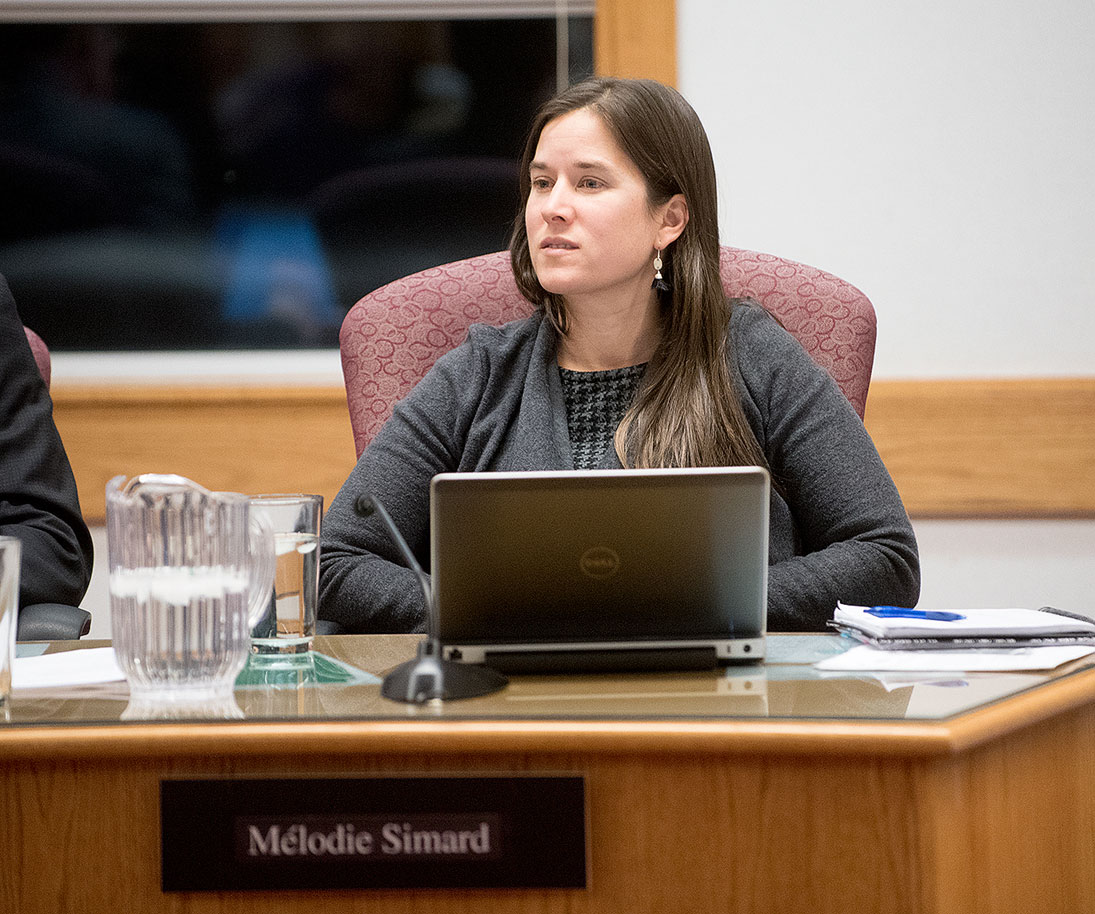 Photo by Whitehorse Star
Melodie Simard
Marwell is closer to being pot shop location
It seems unlikely the city will consider anywhere outside of Marwell just yet for retail cannabis sales.
It seems unlikely the city will consider anywhere outside of Marwell just yet for retail cannabis sales.
At Monday evening's council meeting, Melodie Simard, the city's planning and sustainability manager brought forward a recommendation that council move forward with second and third readings of a zoning change.
That modification would limit the sale of cannabis to the Marwell neighbourhood after it becomes legal late this summer or early fall.
The recommendation comes following a public hearing and other input opportunities on the zoning. That process saw a number of residents raise concerns and opposition to the proposed location.
Critics argued it would inconvenience customers who may have to transfer buses.
They pointed out that Marwell has a lack of roads, parking and pedestrian/cycling infrastructure.
Council was warned there could be issues with noise, security and the like.
They also heard that limiting the pot shop to one area could encourage the illicit drug market, and it would be unfair to prospective retailers hoping to run an outlet downtown.
As Simard highlighted last night though, the territory has jurisdiction over cannabis sales.
The first phase of implementation on cannabis sales in the territory will see the government as the only retailer.
During future phases of implementation, other areas of town may be considered for retail sales, Simard recalled the government as having said recently.
"The proposed bylaw implements the initial phase of legalization, but YG's framework for cannabis legalization acknowledges the need for additional time to develop regulations for private cannabis retailing," Simard noted in her report to council.
"Once further details are finalized on the privatization of cannabis retailing, the city will work with the public on identifying suitable areas, including potential downtown locations."
It was confirmed that Marwell was selected because the government had initially indicated it wanted its cannabis location connected to its liquor warehouse in that neighbourhood.
It has since decided it would rather have separate locations for cannabis sales.
"YG is currently developing the foundation for the legislative and regulatory framework for cannabis legalization," Simard highlighted in her report to council.
"There are many considerations that need to be addressed and finalized by YG, including regulations for licensing of private retailers.
"Once these details are finalized, the zoning bylaw can be amended to accommodate these changes including proposed new locations.
"In the interim, identifying Marwell as the location for YG operations, fulfills a precautionary approach, while recognizing that the system will adapt as new lessons are learned about the proper management of cannabis in Yukon."
As Coun. Samson Hartland pointed out during council discussion, while he would like to see private retailers eventually open, the Yukon government has decided it will be solely responsible for sales at this point.
Consequently, the city does not have much of a role to play outside of the zoning change, Hartland pointed out.
"Unfortunately, we're a creature of territorial legislation," he said.
Similarly, Coun. Dan Boyd suggested the area around the intersection of the Alaska Highway and Robert Service Way as another option for eventual retail sales of the drug.
He acknowledged at this point though it's a bit "late in the game to consider" for August or September, now the federal government's target time frame for legalizing cannabis.
Council is set to vote on the final two readings on the bylaw limiting sales to Marwell next Monday.
The following day is the closing day for the territory's request for proposals to lease or buy a 415-metre space in the neighbourhood that would serve as the warehouse and retail space for cannabis sales.
Add your comments or reply via Twitter @whitehorsestar
In order to encourage thoughtful and responsible discussion, website comments will not be visible until a moderator approves them. Please add comments judiciously and refrain from maligning any individual or institution. Read about our user comment and privacy policies.
Your name and email address are required before your comment is posted. Otherwise, your comment will not be posted.