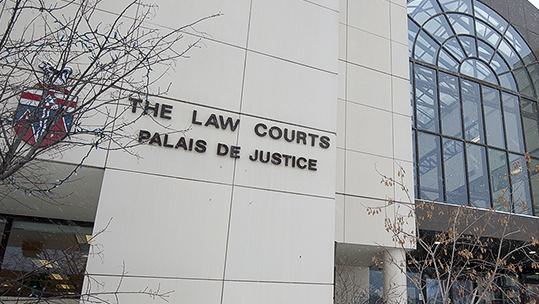 Man fined for breaching his probation conditions
A Yukon judge has fined a man $150 for breaching conditions of his probation and dismissed two assault charges.
A Yukon judge has fined a man $150 for breaching conditions of his probation and dismissed two assault charges.
Len Kenneth Lawrence McGinnis appeared before Judge Karen Ruddy in territorial court last Tuesday.
McGinnis faced four charges. These include uttering threats to cause bodily harm, assault, failure to attend court and failure to comply with conditions.
Crown prosecutor Benjamin Eberhard said he would be calling no evidence to the uttering threats and assault charges.
Lynn MacDiarmid, McGinnis' lawyer, said her client did not willfully avoid going to court. She said this would be stayed. As for the failure to comply, this was a violation of a no-contact order.
Eberhard said that on Aug. 6, 2018, McGinnis was placed on a undertaking and the no-contact order was put in place. On Sept. 18, 2018, the Carcross RCMP responded to a traffic accident.
McGinnis was involved in the collision. The individual subject to the no-contact order was in his vehicle.
He did not have the written permission of his undertaking supervisor to be in contact with this person.
Both the Crown and the defence presented a joint submission for sentencing. Eberhard suggested a $150 fine.
MacDiarmid said McGinnis was in a relationship with this person and supported her. She had asked him to drive her to Carcross at the time of the breach. MacDiarmid added that her client was not compelled to do her this favour.
She revealed that McGinnis has a dated criminal record. He works as a mechanic.
"His whole life is working," she said.
Ruddy said the uttering threats and assault charges would be dismissed. The failure to attend was stayed.
As for the joint submission, she felt it was good and does not put the justice system into disrepute.
That said, she warned McGinnis to follow court orders.
"When the court tells you you can't do something, someone else can't tell you you can," she said.
She also warned McGinnis that he is risking a jail term. She highlighted that he has court order breaches on his record.
"You're lucky you're not going to jail," she said.
If McGinnis returned to court with another breach, Ruddy said, he would most likely be serving time in custody.
She imposed the $150 fine as presented and gave him 60 days to pay it.
Add your comments or reply via Twitter @whitehorsestar
In order to encourage thoughtful and responsible discussion, website comments will not be visible until a moderator approves them. Please add comments judiciously and refrain from maligning any individual or institution. Read about our user comment and privacy policies.
Your name and email address are required before your comment is posted. Otherwise, your comment will not be posted.