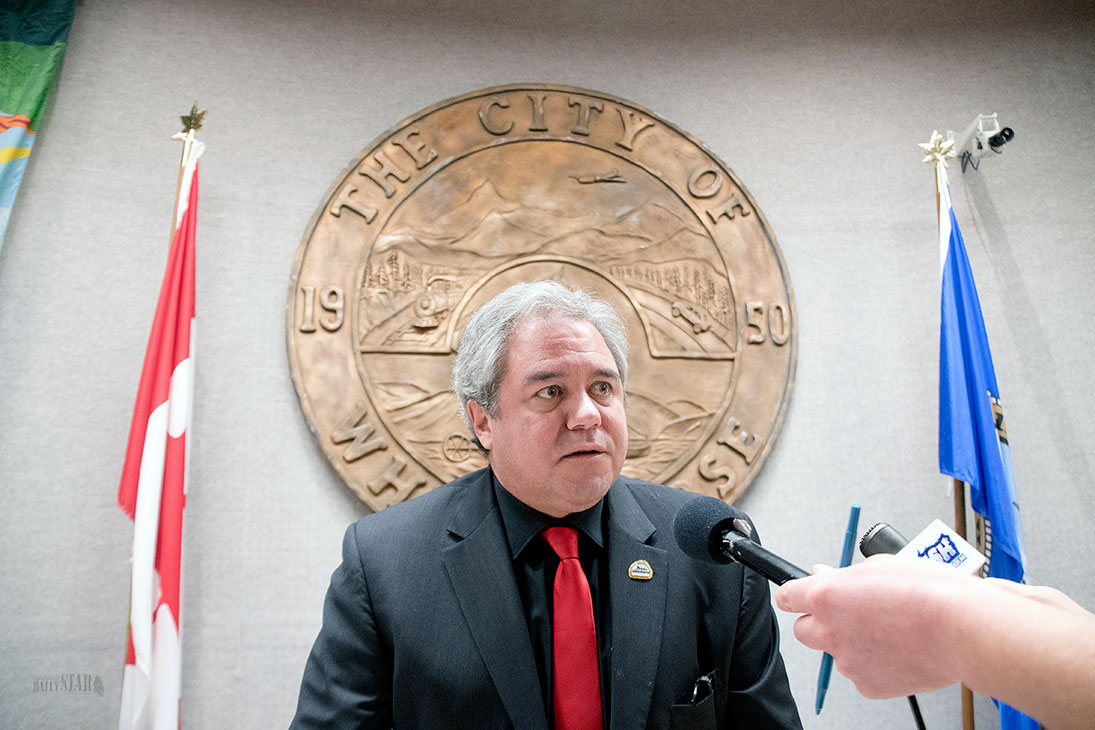 Photo by Whitehorse Star
PAY RAISE – Mayor Dan Curtis' salary could jump to $101,100 from the current $87,942.
Major raise proposed for next councillors
It will soon be clear just how much members of the next council will make for their work for the city.
It will soon be clear just how much members of the next council will make for their work for the city.
At Monday's council meeting, current council members were presented once again with an administrative report proposing that remuneration for the next mayor and council of Whitehorse rise substantially.
That's being recommended in light of impending changes to the federal tax regime where a portion of remuneration currently exempt from income tax will be taxed beginning in 2019.
The mayor's salary would jump to $101,100 from the current $87,942 if it goes ahead as proposed.
Meanwhile, remuneration for councillors would climb by nearly $4,000 – from $20,496 to $24,315 – if it's based only on the tax changes to ensure take-home pay remains the same.
However, the report brought forward by Catherine Constable, the city's manager of legislative services, is putting forward another option that would bring the pay up to $36,036.
As Constable explained, a $15,540 increase for councillors would bring Whitehorse closer to other communities in western Canada.
The figure, Constable said, is based on many other cities of similar size in the western part of the country having part-time councillors who make approximately 36 per cent of the mayor's full-time salary.
"For incoming councillors, comparative data from cities with roughly similar populations in western Canada indicates that a rationale exists to set councillors' salaries at 36 per cent of the mayor's salary," Constable noted in the report.
"This calculation would set the ratio of councillors' salaries to the mayor's at both the average and median of that ratio in comparable communities."
Under questioning by Coun. Jocelyn Curteanu, Constable confirmed that officials looked at factors like a community's population and whether a councillor's role is full- or part-time when making the comparison.
However, officials did not factor in other details like a municipality's responsibilities, Constable said.
Council was provided with a graph detailing the Weninger Report. That document showed 18 municipal salaries of mayor and councillors, land size, population and when the salaries were adopted. All figures are those prior to the Canada Revenue Agency (CRA) changes.
Yellowknife is the only other capital city on the list, showing the mayor's salary at $87,800 while councillors earn $20,496.
At the highest end of the range for communities of similar size to Whitehorse is Okotoks, Alta., where councillors receive $38,213, or 49 per cent, of the mayor's $77,661 salary.
Current councils set the pay rate for the next council a year before an election. It then comes into effect after the new council is sworn into office.
With the next municipal election set for Oct. 18, council had looked at the remuneration rate last October.
It put off a decision, as the Federation of Canadian Municipalities was working to call on the federal government to reverse the decision on the taxes.
It had set a date of Feb. 28 to make a decision if there had been no progress on the matter.
As it was highlighted in the report to council: "To compensate, remuneration rates for the incoming mayor and council must be adjusted upward to keep their take-home incomes consistent with those of the present mayor and council."
It then goes on to highlight the suggested change in pay based on the upcoming CRA rules before also pointing to the comparison with other cities in western Canada to bring it up to 36 per cent of the mayor's salary.
Remuneration would also rise again in 2020 and 2021, according to the Consumer Price Adjustment.
Mayor Dan Curtis voiced his support for the changes.
He pointed out that the list showing the details of other municipalities provides, for perhaps the first time, a clear picture of how the city compares with other communities.
He praised councillors, noting that their work includes attending many more meetings than just those on Monday nights.
It also involves attending weekend and evening events, and a long list of other work. It all amounts to much more than 36 per cent of the full-time work of the mayor, Curtis said.
"I think 36 per cent is quite low," he said.
The changes would be for the next council, he stressed, and thus not impact the current council.
Council will vote on whether to move forward with the changes to the remuneration bylaw next week.
Add your comments or reply via Twitter @whitehorsestar
In order to encourage thoughtful and responsible discussion, website comments will not be visible until a moderator approves them. Please add comments judiciously and refrain from maligning any individual or institution. Read about our user comment and privacy policies.
Your name and email address are required before your comment is posted. Otherwise, your comment will not be posted.