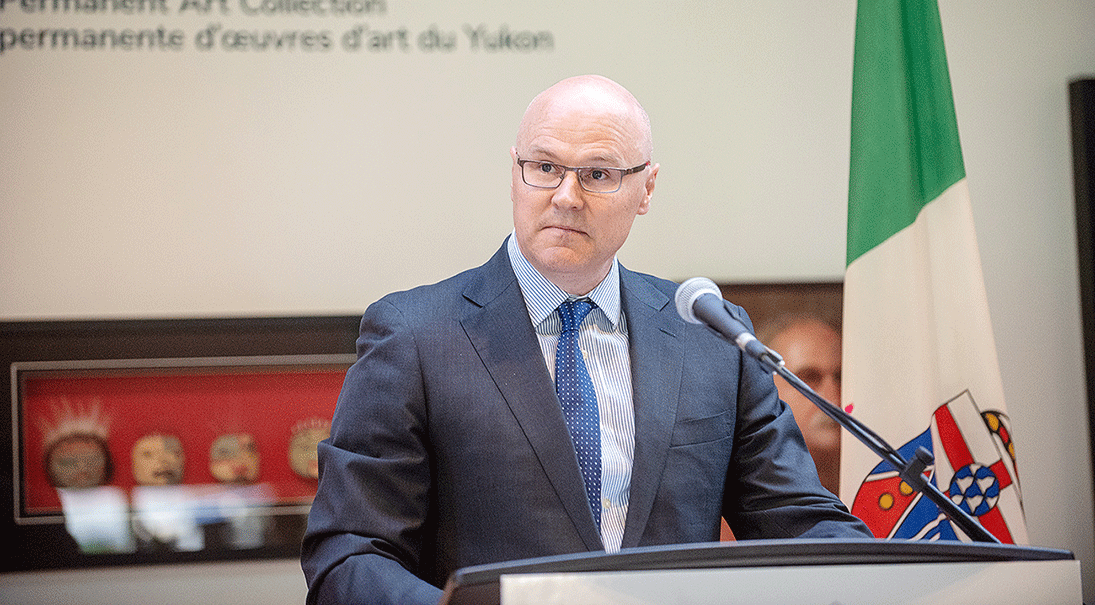 Photo by Whitehorse Star
Pictured above: Yukon Energy president Andrew Hall
Major power rate increase kicks in
Monthly electrical bills are going up this month for residential and commercial customers, Yukon Energy announced this morning.
Monthly electrical bills are going up this month for residential and commercial customers, Yukon Energy announced this morning.
For a home that uses 1,000 kilowatt hours a month, the increase works out to be 14 per cent, or $21.50 per month, according to the figures supplied by the Crown corporation.
For the home using 1,000 kilowatt hours, the monthly bill will jump from $153.03 to $174.53, after the monthly Yukon government subsidy of $24 is deducted and GST is applied.
For the commercial establishment that uses 2,000 kilowatts hours a month, the increase works out to be about $34.47 per month, or 12 per cent.The increase was the result of a rate application to increase rates in 2017 and 2018 that was finalized by the Yukon Utilities Board on Nov. 24, 29 months after the application was submitted by Yukon Energy in June 2017.
While Yukon Energy sought a nine per cent increase, with the compounding effect related to the time elapsed, the increase approved by the board works out to be 9.5 per cent.
When Yukon Energy filed the application, the utilities board did provide an interim increase of 4.6 per cent on Sept. 1, 2017.
The final decision approves a further permanent increase of 4.7 per cent on top of the interim increase in 2017.
It also approves a temporary increase of 7.1 per cent over the next two years to allow Yukon Energy to collect the revenue that it is entitled to going back to 2017.
The rate application of 2017 was aimed at collecting money for capital projects that had been undertaken but not yet added to the ratebase as well as increases to the annual operating costs of the Crown corporation.
The application, for instance, included the cost of the new LNG facility and the first two generators that came online in 2015. (Now there are three.)
The capital component of the rate application to cover the new generating facility and other infrastructure requirements like major repairs at the Aishihik hydro facility accounted for 54 per cent of the additional revenue required.
The operations and maintenance portion that included increases in wages, materials and contractor costs accounted for 46 per cent.
Yukon Energy maintains the new rates are by far still the lowest in the three territories and comparable to the rates in cities down south.
The monthly bill is sent out by ATCO Electric Yukon, and ATCO and Yukon Energy are separate entities. ATCO, a private company, had its last rate application applied in 2017.
ATCO spokeswoman Carla Tureski said this morning ATCO does not have any plans currently for a new rate application.
Yukon Energy president Andrew Hall said early this afternoon the Crown corporation is already working on its next rate application.
When a customer like Victoria Gold gets added to the grid, like it was last year, the utilities board generally likes to see what if does to the rate structure, he said.
"We are working on one but I have not have not got permission from my board to file it yet, but we are working on it," he said. "I just can't say when we would file it."
Hall said the time it took the Yukon Utilities Board to issue its final decision is a concern, and not just for Yukon Energy.
It makes it hard on everyone when you have to add a sudden increase on a bill just to catch up, he explained.
Hall noted this rate application did run into a court challenge that added to the length of time it took for the board to make its ruling.
All the parties, however, have a concern generally about the time it takes for rate applications to be dealt with, he said.
He pointed out the concern has been laid out as an action item in the Yukon government's energy and climate change strategy released last month.
Hall said from what he understands, he would estimate 90 to 95 per cent of the new houses being built in the territory have electric heat.
Going with electric does help address climate change concerns, though there has to be a corresponding increase in the amount of renewable generation on the grid, and not just burning more diesel and natural gas to meet the increase demand, he suggested.
There are approximately 16,232 residential customers in the Yukon and 3,233 commercial customers, according to records.
Add your comments or reply via Twitter @whitehorsestar
In order to encourage thoughtful and responsible discussion, website comments will not be visible until a moderator approves them. Please add comments judiciously and refrain from maligning any individual or institution. Read about our user comment and privacy policies.
Your name and email address are required before your comment is posted. Otherwise, your comment will not be posted.