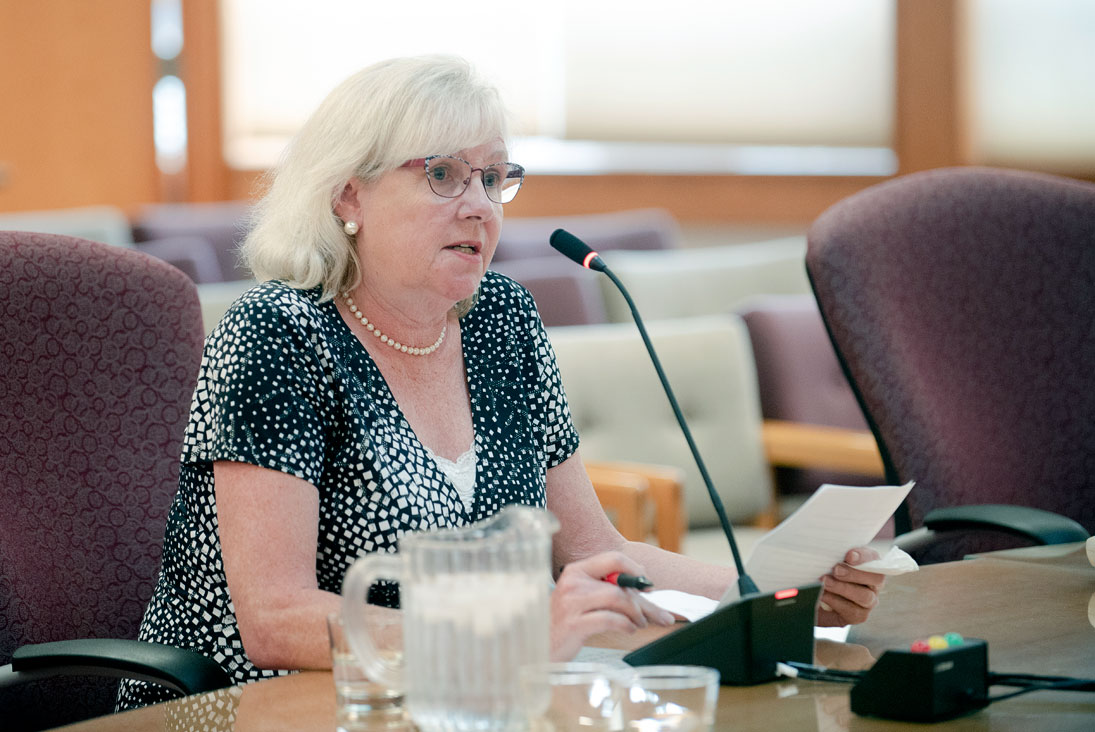 Photo by Whitehorse Star
Dianne Williams
Local short-term rental market needs no city intervention: resident
City hall should stay out of trying to regulate the short-term rental market, says Whitehorse resident Dianne Williams.
City hall should stay out of trying to regulate the short-term rental market, says Whitehorse resident Dianne Williams.
She appeared before city council Tuesday evening with an overriding suggestion that the city may not have a full grasp on the can of worms it may be opening.
"Society is changing, and so are the ways people live," Williams said in her presentation to council.
"Modern life requires flexible accommodations for seasonal workers, contractors, students, visitors, family friends and acquaintances.
"Building a city that provides accommodations to meet these needs is progressive. The city administration should not be involved in how people run their homes, in my opinion," she said.
City hall is conducting an online survey titled Short Term Rental Accommodation. It notes there are 150 or so online listings on various platforms such as AirBnB.
Other cities have developed regulations with the intent of limiting the impact of short-term rentals on the commercial sector and the availability of long-term accommodations, the survey points out.
It says the city is now looking at the possibility of regulations for Whitehorse. The survey will end July 27.
Williams put forward several examples of how homeowners might be providing short-term accommodations. An example is renting out a room for three or more weeks to a college student who's here on a short exchange program.
Is that a business, she asked council, that requires a business licence, a regular inspection and so forth?
A person rents a house with a couple of extra rooms that he rents out to buddies. Is that a business?
"If these examples are considered a business, does every person who rents a room or a house out need a business licence?" Williams asked.
If all instances of providing various forms of accommodation are indeed a commercial activity requiring the same inspection and licence criteria, she said, it's difficult to visualize inspectors going to every home in which a bedroom is rented out.
"How much advance notice would a homeowner need to book an appointment?" she asked.
Williams said changes to how the city administers short- and long-term rentals will have an impact on everybody from students to seasonal contract workers, from family members to guests.
"How citizens of Whitehorse use their bedrooms is not a city matter," she told council.
In an interview afterward, Williams said the online market is already a self-regulating market.
If clients see something they don't like, the word spreads, she pointed out.
Williams said regulating the short-term rental market will not solve the city's housing crisis.
Add your comments or reply via Twitter @whitehorsestar
In order to encourage thoughtful and responsible discussion, website comments will not be visible until a moderator approves them. Please add comments judiciously and refrain from maligning any individual or institution. Read about our user comment and privacy policies.
Your name and email address are required before your comment is posted. Otherwise, your comment will not be posted.