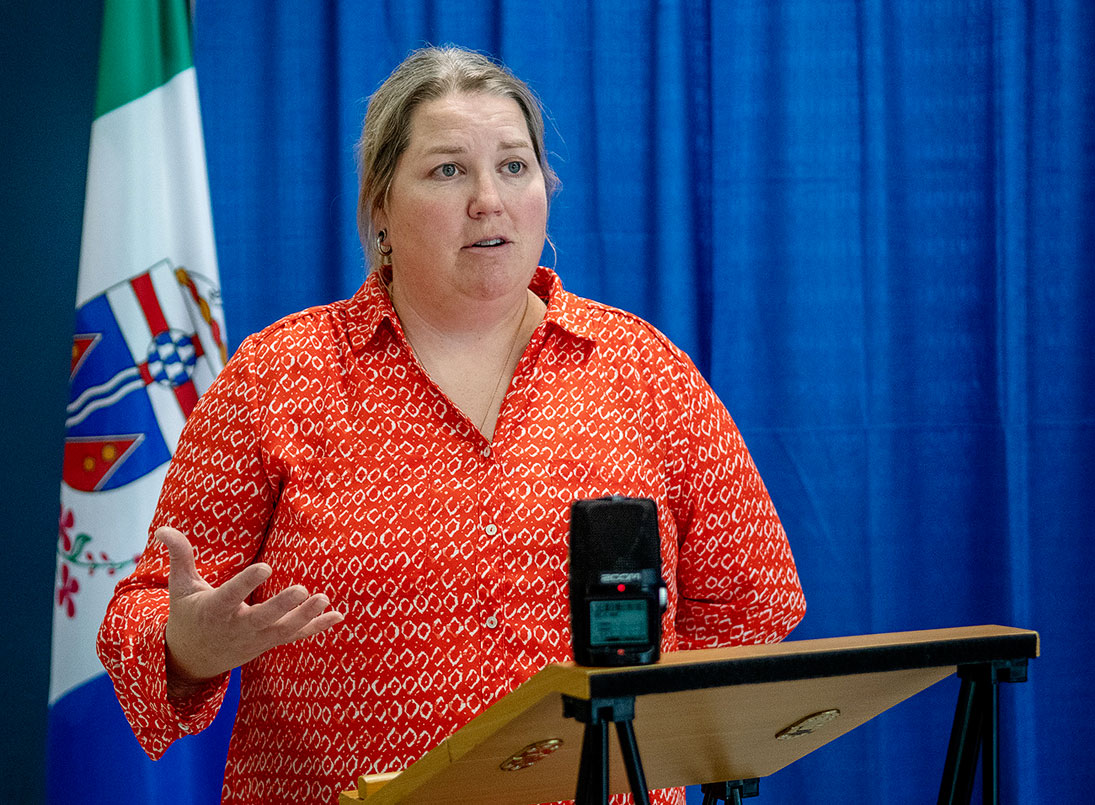 Photo by Whitehorse Star
NDP Leader Kate White
Lobbyists must now report their activities
Lobbyists are now required to report their activities, due to last Thursday's implementation of the Lobbyist Registration Act.
Lobbyists are now required to report their activities, due to last Thursday's implementation of the Lobbyist Registration Act.
"Yukoners need to know who is communicating with government regarding important decisions that directly affect them," Premier Sandy Silver said in a press release.
"The Yukon Lobbyist Registry supports our government's commitment to openness, transparency and accountability by making this information readily available to the public."
Lobbyists are responsible for registering and entering their information online. 
A 90-day grace period from Oct. 15 is in effect, to allow for lobbyists to learn and adhere to the new reporting requirements. All lobbyists must register by Jan. 13, 2021.
David Jones, the Yukon's Conflict of Interest Commissioner, is responsible for maintaining and overseeing the Lobbyist Registry.
The Yukon had one registered lobbyist and zero reported lobbying activities as of this morning, a week after the registry went live.
An online quiz is available on the registry website to help visitors gauge whether they might qualify as a lobbyist – it asks about communication with government officials, in what manner and for what purpose.
Every jurisdiction in Canada now has lobbyist legislation.
NDP Leader Kate White noted her party has been calling for a lobbyist registry for more than a decade.
"Right now, no one knows; we have no idea who has the ear of government," White said.
"I think it's important to know who is having those conversations."
A lobbyist is characterized as a person or organization that communicates with an elected official or government employee with the intention of influencing decisions. That could take place in person, via email or phone, or through petitions and social media.
White said she thinks there is "absolutely" a lot of lobbying happening behind closed doors in the Yukon.
"This will help clarify, so we have a better idea who is speaking with government," White said.
Lobbying is an "important job," she added, and there are environmental lobbyists as well as resource lobbyists advocating for important issues.
The lobbyist registry clarifies the difference between lobbying and advocacy – advocacy seeks public support for an issue, while lobbying is advocacy with the intention of influencing governmental decisions.
"An attempt to influence a government decision is the key difference between routine communications which are not lobbying, and attempts to persuade a public office holder," the registry website says.
Add your comments or reply via Twitter @whitehorsestar
In order to encourage thoughtful and responsible discussion, website comments will not be visible until a moderator approves them. Please add comments judiciously and refrain from maligning any individual or institution. Read about our user comment and privacy policies.
Your name and email address are required before your comment is posted. Otherwise, your comment will not be posted.