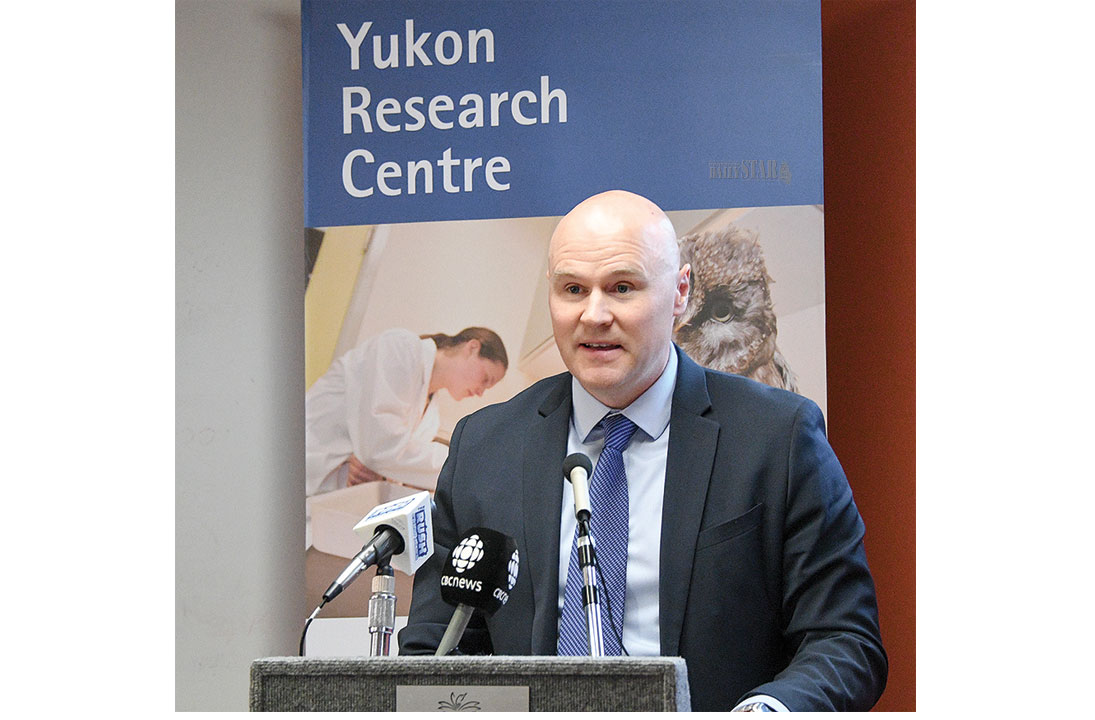 Photo by Whitehorse Star
Pictured above: ANDREW HALL
LNG depot still being considered for Whitehorse
The territory's electrical utility said it's likely not the sole reason a Calgary-based company is interested in opening a depot for liquefied natural gas (LNG) in Whitehorse, even if the Yukon were to benefit from such a project.
The territory's electrical utility said it's likely not the sole reason a Calgary-based company is interested in opening a depot for liquefied natural gas (LNG) in Whitehorse, even if the Yukon were to benefit from such a project.
That's according to Andrew Hall, the president of Yukon Energy, which currently relies on diesel and LNG for a couple of its backup generators.
While he noted that Ferus Natural Gas Fuels Inc.'s interest in the depot wasn't a major part of a hearing held last month by the Yukon Utilities Board, it was referenced briefly.
"The subject of the depot was brought up in terms of the context for what the future looked like," particularly with LNG as energy source, Hall told the Star last Friday about the June 26-28 hearing.
Hall added he hasn't heard a final decision from the Alberta company, though he knows it is "something they're investigating."
LNG is commonly used to heat homes and power city buses, among other things. The utility's webpage lists that it services about 15,000 electricity consumers in the Yukon, and relies mainly on hydro power and a bit of wind and solar.
Diesel and LNG are used for backup or emergency power, especially during peak periods, said Hall.
Meanwhile, a spokesperson for Ferus confirmed that the idea for the depot – initially reported in the Star in 2017 – is still in the early stages.
Blaire Lancaster is the vice-president of communications and government relations with Ferus. The company's interest will boil down to one main factor.
"It really depends on demand," she told the Star Friday, noting that "we can't move forward on infrastructure like this until we have secured enough demand for it."
But that may be difficult to gauge, said Hall.
While he knows anecdotally the territory could benefit during peak periods of winter months, he said, off-season periods may be a different story.
"Looking forward into the future can be a tricky exercise because you just don't know what the weather is going to do," Hall said. "That makes our usage of LNG quite variable from year to year."
That's why flexibility from suppliers is important, he said, adding that he is fortunate to have the existing demands met.
Though the corporation would be a customer of Ferus, Hall continued, the depot could also result in more competition between LNG suppliers in other northern regions – including the Yukon.
"We would benefit from it if it was built because it would probably result in reduction of prices that we pay for LNG," Hall said.
The corporation would not be a "direct participant" in the decision, he noted.
"They're a private company," Hall said, noting that Ferus would "need to make their own business case" for building the depot.
That case could be bumped by the possibility that LNG costs less and produces lower emissions than burning diesel gas, Lancaster noted.
Hall specified that a depot could serve northern areas like Inuvik, N.W.T. and even Alaska.
"It's not all about the Whitehorse market; it's more about what the rest of the areas look like," Hall suspects.
Lancaster echoed this, saying Ferus will keep "other potential customers in mind in more remote communities."
The distribution company's interest in the North to provide power to mines and other industries isn't new.
Ferus partnered with mining giant Western Copper and Gold in 2016 to power its giant Casino mine project, which is expected to produce almost a million ounces of more gold than three other mines combined (Coffee, Eagle and Minto).
The company even held information sessions in March 2017 to gauge Yukoners' reactions to using LNG to power the territory for the coming years.
As of early last year, the territory relied on LNG to fuel a couple of Yukon Energy's backup generators.
Until a final decision is made on the depot, Hall said it seems to be a waiting game – but he won't be relying on anything soon.
"Whether we're hopeful, we don't work like that," he laughed, adding that the corporation will keep an eye on any decisions.
"Our belief is that it would be good for us and ultimately our customers from a price perspective."
He said Ferus seemed to be "fairly serious," but said the corporation is not too dependent on the building of the depot.
"We have to look at other options if it doesn't happen," he said, noting that "putting all our eggs in that basket" may not be the best idea.
Add your comments or reply via Twitter @whitehorsestar
In order to encourage thoughtful and responsible discussion, website comments will not be visible until a moderator approves them. Please add comments judiciously and refrain from maligning any individual or institution. Read about our user comment and privacy policies.
Your name and email address are required before your comment is posted. Otherwise, your comment will not be posted.