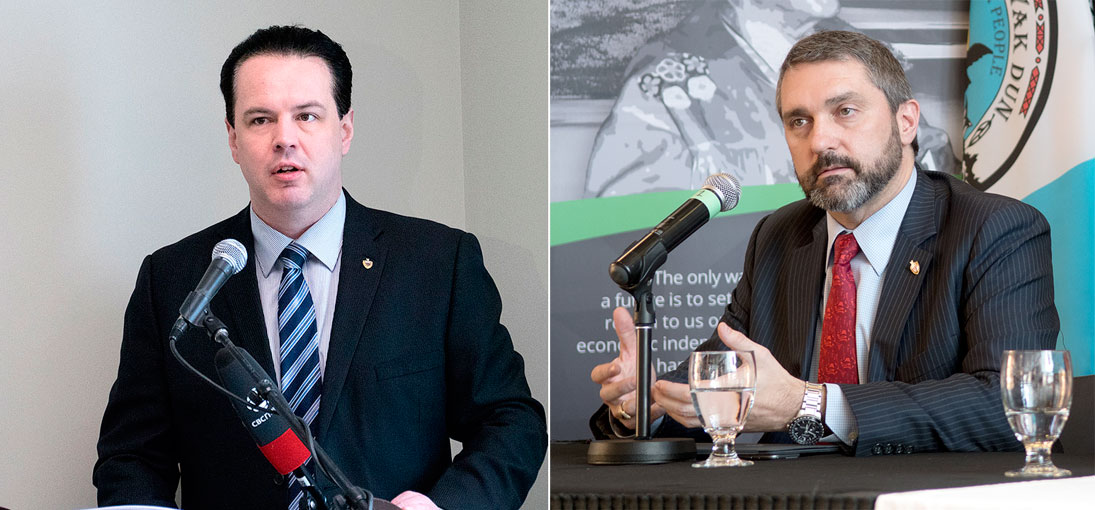 Photo by Whitehorse Star
Opposition critic Brad Cathers and Premier Sandy Silver
Liberals produce record spending warrant of $427 M
The largest special warrant ever to provide for government spending
The largest special warrant ever to provide for government spending over the next three months is a product of sound financial planning for the future, insists Premier Sandy Silver.
Silver told the Star today he wanted to take the time to bring forward a fiscal budget for 2017-18 that reflects the true cost of government, along with a solid forecast of what his government intends to spend in the next five years.
Preparing for the first Liberal budget in 15 years has not been an exercise of turning over rocks looking for dark secrets left by the previous Yukon Party government, but there have been expenditures that have not been accounted for, anywhere, he said.
Silver said he wants to present a budget that provides the true cost of running the territory.
"We want to make sure we complete a full budget picture and believe me, when we table this budget, Yukoners will see the whole budget picture," he said.
Silver has called the legislature back to sesssion on April 20, but there's been no announcement about what day he intends to introduce his budget.
Thursday's special warrant provides approval for $427 million in government spending from April 1 to June 30.
Special warrants have been used in the past to provide for spending for up to a month or so in the spring while the government waits for legislative approval of the next fiscal budget.
Last year, for instance, the then-Yukon Party government delivered a special warrant on March 24 for $235 million to provide for spending from April 1 to April 30, while awaiting legislative approval of the 2016-17 budget.
In 2015, the Yukon Party brought in a special warrant for $235 million to provide for spending from April 1 to April 30.
Silver said he does not like special warrants. Nor does he like seeing supplementary budgets presented to the legislature every fall session, he said.
Supplementary fall budgets should only be necessary in situations where spending has occurred for emergencies or unforeseen circumstances, but not to provide for regular spending that should have been planned for in the spring budget, he explained.
The premier insisted the late fall 2016 election and weeks of waiting for the transition into government offices and the Christmas season have all been factors.
It hasn't been a case of a government being re-elected to another term, he said, suggesting it's been far from it.
He said he convened the legislative assembly for one day on Jan. 12 to appoint the all-party legislative committees so that they could get to work.
But he was not going to rush his first budget for the sake of being politically correct, even if it meant using a special warrant, Silver insisted.
He pointed out, for instance, that there's been this practice by the previous government of using what he calls place-holder numbers – that $1 allotment in the column – to identify some type of future spending instead of presenting a real number.
There has been no real number ever presented regarding the future cost of operations and maintenance for the new continuing care facility under construction in Whistle Bend, he pointed out.
When his government presents its five-year forecast for capital expenditures, he said, he wants it to be a document Yukoners can take to the bank – a document construction companies and others can rely on to formulate their own business plans.
His cabinet has been going flat-out seven days a week preparing a comprehensive spending plan, with a great deal of assistance and support from government employees, the premier said.
Silver introduced his first special warrant in January for $29.4 million to provide for spending from Jan. 23 to March 31.
He announced back then he intended to bring forward his first budget in March, but he has said since that going through the books and preparing a clear financial picture has taken more effort than originally thought.
Opposition critic Brad Cathers said this morning Silver's use of his second special warrant goes against everything he has said and promised.
He has insisted in the past that special warrants are a sign of disrespect to the legislative assembly. Yet here he is using his second, and the largest special warrant ever, Cathers pointed out.
The former Yukon Party cabinet minister said when his regime was returned to government in October 2011, there were only two MLAs who'd been in cabinet, but they got the job done; they presented a supplementary budget that fall.
When he was first appointed to cabinet in 2005 to replace the departing Klondike MLA Peter Jenkins, Cathers had just hours to prepare himself to defend a departmental budget he did not put together, but he got the job done, he said.
Cathers said the suggestion by Silver that it's taking so long because of the work required to review previous spending and the government's financial position doesn't wash.
"Each and every year, the Auditor General of Canada has given the government a clean bill of health," he said of the annual financial audits of the previous government.
"The key point here is Premier Silver is doing what he said he would not do."
The 2016-17 budget that expires today has been estimated at $1.39 million, including the new $29.4 million introduced by Silver in January.
The premier's second special warrant for $427 million will cover the first three months, or the first quarter of the 2017-18 fiscal year.
But the $427 million cannot simply be multiplied by four to estimate the total territorial budget for 2017-18, Eric Clement, a communication officer with the Department of Finance, explained this morning.
He said in addition to covering the day-to-day cost of government for the next three months, the special warrant provides front-end loading of some budgetary obligations as well as some one-time expenditures made annually.
The special warrant, for instance, provides the Department of Health and Social Services with $101 million to the end of June, as well as $18.2 million to provide for the one-time annual operating grants to the Yukon's eight municipalities.
Add your comments or reply via Twitter @whitehorsestar
In order to encourage thoughtful and responsible discussion, website comments will not be visible until a moderator approves them. Please add comments judiciously and refrain from maligning any individual or institution. Read about our user comment and privacy policies.
Your name and email address are required before your comment is posted. Otherwise, your comment will not be posted.