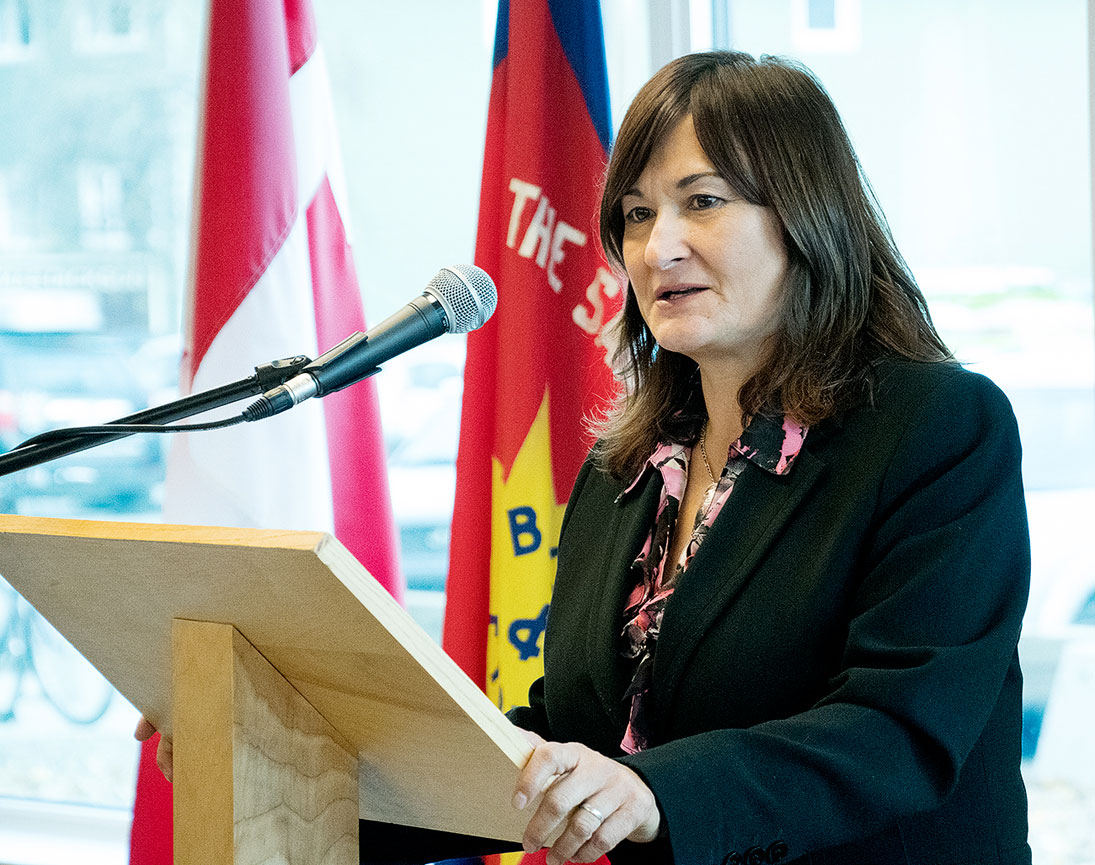 Photo by Whitehorse Star
Health and Social Services Minister Pauline Frost
Liberals plan groundbreaking radon legislation
The Yukon government will make radon testing and mitigation a licensing requirement
The Yukon government will make radon testing and mitigation a licensing requirement for new and existing child care centres and day homes in the territory, the Star has learned.
"I'm really proud to say that Yukon is leading the way on this," Health and Social Services Minister Pauline Frost said in an interview late this morning.
Currently, no other Canadian jurisdiction mandates radon testing to obtain a day care or day home licence.
The government has alerted all licensed child care centres and day homes in the territory to make them aware of the impending requirement, Frost told the Star.
A timeline for its rollout has yet to be established, but it will occur in phases.
According to a Health Canada website, radon is a naturally-occurring radioactive gas that is created through the breakdown of uranium in soil and rock.
If the gas seeps into a structure and accumulates in high levels, radon inhalation can result in an aggravated risk of lung cancer.
"The health and safety of all Yukon children is the top priority for this government. So this new requirement will ensure that all children in licensed day care centres and day homes throughout the Yukon will be protected," Frost said.
Mandatory testing
Last week, Yukon NDP Leader Liz Hanson asked the government whether it had decided to add mandatory radon testing to the "72-point assessment checklist that covers everything from ensuring the water supply meets the standards for Canadian drinking water to placement of thumbtacks," that day cares and day homes must comply with to get a licence to operate from the Yukon government.
In a 2017 capital asset management report, the Auditor General of Canada noted that the Department of Health and Social Services has known about "unacceptable levels of radon in some of Yukon's licensed daycares and day homes," since 2008, Hanson told the legislature.
She also said departmental officials told the public accounts committee last June that they were considering mandatory radon testing, and would have a decision on the subject by this fall.
Erik Simanis, the owner-operator of Radon Measurement and Mitigation Yukon, said radon levels vary across the territory.
"There's potential for it to be everywhere. I've done lots of work in Whitehorse and in the communities as well," he said.
"There are certainly some spots that are worse and some that are better."
Simanis offered a personal example to illustrate this.
When he tested his own home, radon levels came in at about 2,500 becquerels per cubic metre. The current Canadian guideline dictates that radon levels in a dwelling should not exceed 200 becquerels per cubic metre.
Simanis then tested his neighbour's house, where radon levels where comparable to his home. But when he tested his neighbour on the other side, the house was found to contain no radon.
"Here, you pretty much have to test your place if you want to know," Simanis said.
Testing for radon in a two-storey, six- to eight-bedroom building would cost a few hundred dollars, according to Simanis.
The price of radon remediation can range between $1,500 and $5,000 depending on a building's size and construction.
Foundations, crawl-spaces and unfinished rooms are common factors that determine the concentration and complexity of radon presence in a building, he explained.
Simanis has tested one private daycare for radon, and found it had pretty low levels.
He said he supports a government decision to implement a testing requirement for daycare and day home licensing.
"Radon is a long-term health issue .... For the health considerations for our kids, spending a lot of time in these places, I would definitely want the radon tested."
Last winter and spring, the Yukon government tested the care facilities, group homes, and young offender facilities that Health and Social Services is responsible for, according to Frost.
She could not confirm whether a particular facility was found to contain high levels of radon.
However, the minister said the government is working to "address the levels of radon" and implement "measures to mitigate."
Add your comments or reply via Twitter @whitehorsestar
In order to encourage thoughtful and responsible discussion, website comments will not be visible until a moderator approves them. Please add comments judiciously and refrain from maligning any individual or institution. Read about our user comment and privacy policies.
Your name and email address are required before your comment is posted. Otherwise, your comment will not be posted.