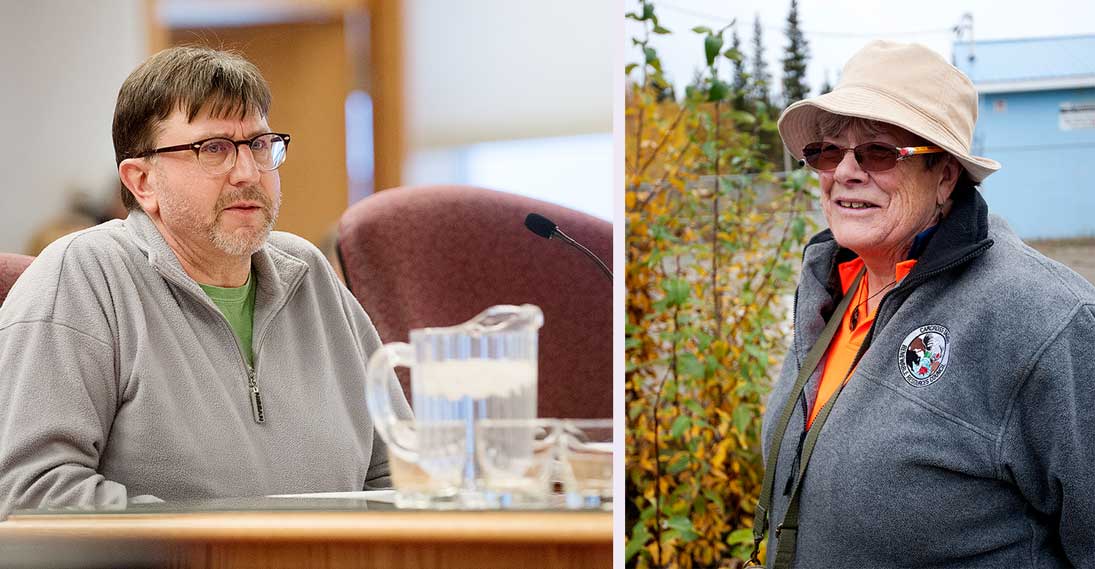 Photo by Whitehorse Star
PCCA president Jeff Marynowski and Dorothy Bradley
Liberals accused of trying to gag association
Porter Creek Community Association (PCCA) meetings are usually pretty small, according to its vice-president, but March 5 was an exception.
Porter Creek Community Association (PCCA) meetings are usually pretty small, according to its vice-president, but March 5 was an exception.
"All year, there's been about four of us, maybe five of us, that attend these meetings fairly regularly," Dorothy Bradley told the Star Tuesday morning.
"All of a sudden, we get like 15 at the table."
Some were members of the association, others were looking to join.
Three have day jobs as territorial Liberal cabinet staff, and one is a Yukon Liberal MLA.
The optics of the meeting that unfolded have prompted accusations from the Yukon Party and the community association president of political interference by the governing Liberals.
But some new members who attended the meeting describe a long-serving association president overstepping his authority.
The March 5 meeting happened just over a month after CBC broke a story revealing that the Yukon government had taken steps to purchase a property on Wann Road in Porter Creek for use as a youth group home, without informing neighbouring residents of its plans.
The Porter Creek Community Association met Feb. 5, and it was decided that it would not take a position on the group home.
"At that point in time, I did not know how far either municipal or territorial government had gone with decision-making, or how far they'd gone to consult and talk to the people," PCCA president Jeff Marynowski told the Star last week.
The association convened again on March 5.
In the intervening period, Marynowski had written to Health and Social Services Minister Pauline Frost and made a presentation before city council about the Wann Road group home project in his role as PCCA president.
Marynowski asserts that his actions do not constitute taking a position on the group home.
"I had to advocate for the people desiring to have a voice," he said, contending he was only asking for community consultation on the project.
But not everyone sees it that way, including city administration, who classified Marynowski's presentation as "in opposition" to the group home in a public input report.
According to the March 5 PCCA meeting minutes, Liberal MLA Paolo Gallina, a member of the association, told Marynowski that he had been taking a position on the group home.
Another member of the association accused him of opposing it. This member, along with several others, said they did not want public consultation, and believed no one else in Porter Creek did, according to the minutes.
Three of these individuals are also employees in the Liberal cabinet office – one the premier's executive assistant, who had not purchased a PCCA membership until the evening's meeting, and another, cabinet minister Ranj Pillai's administrative assistant.
One of the PCCA members, who also works in the cabinet office, moved a motion that no further correspondence would be sent from the PCCA until a formal process for outgoing communications was established.
The minutes report that the motion was carried, with six in favour and nine abstaining.
"Several weeks ago, the Porter Creek Community Association expressed concern with this government's lack of consultation with neighbours on the new group home in Porter Creek," Geraldine Van Bibber, the Yukon Party MLA for Porter Creek North, said in the legislative assembly late last month.
"Instead of listening to these concerns and simply sitting down with the residents to consult with them, the government instead chose to stomp out any disagreement."
"We have been told that the Liberal government sent a number of paid political staff from the cabinet offices, along with the Member for Porter Creek Centre, to take over the community association's meeting and silence them with a gag order."
She asked the premier to confirm whether this happened or not.
"I did not instruct anybody from my office to go to any public meeting, if that is what I am hearing from the members opposite," Sandy Silver told the house.
Pillai, the MLA for Porter Creek South, said he believes Porter Creek residents should be able to go to PCCA meetings.
"Unless the members opposite want to cheerlead against Yukoners and tell people from Porter Creek that they can't have their own personal life after 5 p.m…."
Silver expressed his agreement with Pillai.
"I guess maybe they don't like to see Liberals going to these meetings — or paid staff for a Liberal caucus, for that matter."
The cabinet declined to provide any further comment to the Star on the subject.
After more than a decade as the PCCA's president, Marynowski told the Star the March meeting left him feeling "beat up."
"If people in power are trying to influence and manipulate and take over our small community associations …
"To me, it's threatening our democracy.
"That's why we're talking, because a person gets pushed into a corner, and sometimes you have no choice."
Bradley said the events of the March meeting left her "absolutely dumbfounded."
As a former president of other organizations herself, she said sometimes you have to decide on a course of action without being able to run it by members first.
"Jeff figured that the community needs a voice, and that's what we were standing for."
She said in her estimation, Marynowski was not taking a position for or against the group home, and was representing the organization in a way that was fair.
Attendees at the March 5 meeting weren't all PCCA executive members and/or political staffers – many other Porter Creek residents showed up as well.
Hoby Irwin said he felt compelled to buy a PCCA membership and attend the March 5 meeting after listening to Marynowski's presentation to city council. Irwin made a presentation of his own in support of the group home.
"I was quite upset over some of the things he had said," he told the Star Tuesday.
Irwin felt Marynowski's speech suggested the PCCA was against the group home project.
"I couldn't believe that the community association would oppose something like that, but then when I found out the whole story, I could understand where the problem arose, it was not the executive, it was not the membership that approved this, it was just Jeff on his own."
Irwin said he doesn't feel anyone at the March 5 meeting was against consultation, despite what the minutes say. "I think all they were trying to do was ... give a little more guidance, and sometimes to say 'take a deep breath before you say something,' because otherwise people shoot off their mouths and then they regret it later on."
Zara Soukoroff bought a membership at the March 5 meeting after encouragement by a friend – one of the cabinet staffers. Both grew up in the Porter Creek neighbourhood.
"She participates as a board member, and she said, 'you know, we definitely could use more attendees, and we'd love for you to come out and join,'" Soukoroff said.
She also feels Marynowski's communication on behalf of the PCCA constituted taking a position on the members' behalf, and "made me personally quite uncomfortable."
Soukoroff described the meeting minutes as a "misrepresentation of what happened."
The minutes, prepared by Marynowski, passed at the most recent April 2 PCCA meeting, which Soukoroff did not attend.
"The discussion, and we continued to try to get Jeff back on track with this, was that we were concerned that he was sending out communication on letterhead that would legally bind other people to what he was saying. And there was no process."
Soukoroff also said the minutes from the meeting do not accurately represent the vote on the subsequent motion, and that everyone except for Marynowski voted in favour of it – a recollection that was not shared by Bradley nor Irwin.
"I can understand that (Jeff) is frustrated, because it's not very fun to be told, 'well, you can't continue to do things the way you've been doing them,' but I'm definitely concerned that there's no checks and balances," Soukoroff said.
The conditional use application for the Wann Road group home was approved unanimously by city council on March 12.
The territorial Department of Health and Social Services has confirmed the project is moving forward.
The PCCA's annual general meeting will be held April 25.
Add your comments or reply via Twitter @whitehorsestar
In order to encourage thoughtful and responsible discussion, website comments will not be visible until a moderator approves them. Please add comments judiciously and refrain from maligning any individual or institution. Read about our user comment and privacy policies.
Your name and email address are required before your comment is posted. Otherwise, your comment will not be posted.