Photo by Whitehorse Star
Richard Mostyn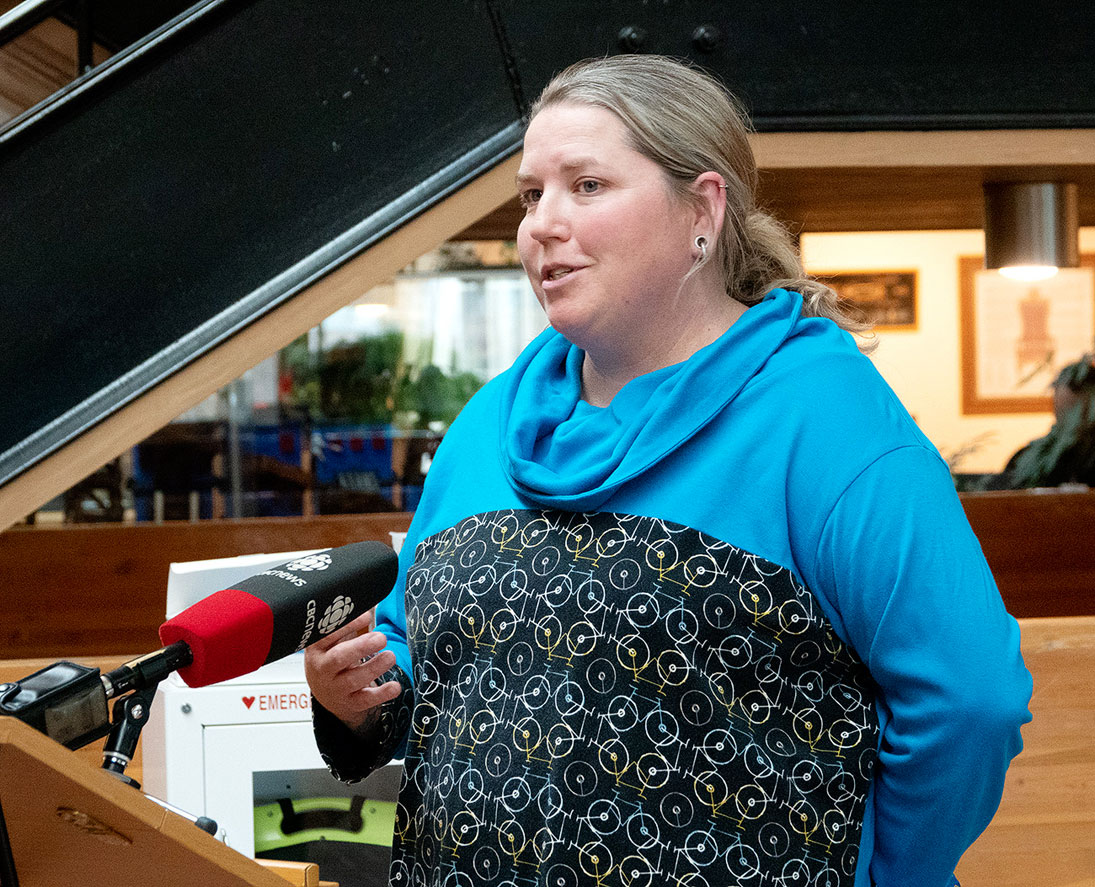 Photo by Whitehorse Star
Kate White
Liberal, NDP leader share heated words
The intensity of the election campaign ratcheted up several notches last Thursday morning as Liberal candidate Richard Mostyn sparred with NDP Leader Kate White at a forum sponsored by two union groups.
The intensity of the election campaign ratcheted up several notches last Thursday morning as Liberal candidate Richard Mostyn sparred with NDP Leader Kate White at a forum sponsored by two union groups.
The Yukon Party did not participate in the forum.
The discussion grew particularly heated around health care issues. Mostyn made several pointed criticisms of the NDP's election promises during the exchange. One in particular was particularly tough on White.
"Your inexperience in this realm is starting to show," Mostyn told White as they debated on how to introduce a phamacare program for Yukoners.
White said she is in favour of a Yukon-first approach, while Mostyn said any such plan had to be done in concert with the federal government.
"You have no idea of how to pay for it or how it's going to work," Mostyn told White. "We support a national program, but you're making a lot of promises that haven't been costed. It's irresponsible."
His premise was the population of the Yukon is simply too small to make it feasible to go it alone on any kind of pharmacare program.
"The buying power of the Yukon is infinitesimal," he said. "We have to work with the federal government."
The Yukon has to partner with another jurisdiction with a greater population which would provide some economies of scale to make it work, he continued.
He also favoured a national approach to provide all Canadians with a chance at a uniform program instead of the "patchworks" that exist now.
White said she is absolutely supportive of introducing pharmacare, but doesn't necessarily want to wait to form a partnership with the government.
"It's a travesty (that no program exists), she said. "But it's better when we do things together."
The two also clashed on rent controls. The NDP has promised to introduce a rent freeze if it's elected next Monday. Mostyn said he's seriously concerned about that concept.
"The best way to tackle the housing issue is by addressing the supply problem," he said.
Landlords, he added, would be quick to sell off their rental properties under a rent control regime, creating a more serious housing shortage.
"In two years, we will be in a crisis," he said.
White scoffed at that, telling Mostyn she had "talked to landlords about the issue who supported rent controls."
"Markets," she said bluntly, "don't sort themselves out."
At the end of the forum, she also scoffed at the notion Mostyn proffered that the Liberals and NDP are more similar than different.
"The similarities are far less than the differences between us," White said, very nearly rolling her eyes at the notion.
After the event, White issued a further comment.
"I think what came out clear in this forum is that the Liberals are never going to deliver what workers need – and the Yukon Party won't even come to the table.
"They said no to paid sick days. They said no to prescription medication coverage. They said no to raising the minimum wage to what they promised.
"A lot of workers are struggling with costs right now," White added. "I'm going to deliver for them."
The Yukon Party issued a statement explaining its absence from the forum.
"It was originally described to us that this was a webinar Q&A with our leader directly answering questions of their members which we agreed to," the party said.
"Last (Wednesday) night, we were notified that the format was actually a debate. We indicated that this was not what we had agreed to and unfortunately our leader is already participating in another debate on the same day so that we would not be able to participate today.
"However, if they would like to host a debate, then please give us notice about the format in advance so that we are able to prepare and participate," the Yukon Party added.
"We regret the circumstances and wish we could have participated."
Add your comments or reply via Twitter @whitehorsestar
In order to encourage thoughtful and responsible discussion, website comments will not be visible until a moderator approves them. Please add comments judiciously and refrain from maligning any individual or institution. Read about our user comment and privacy policies.
Your name and email address are required before your comment is posted. Otherwise, your comment will not be posted.