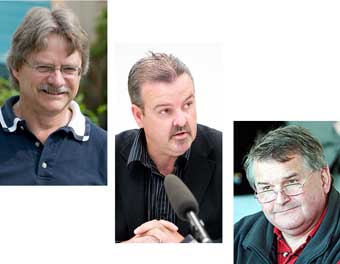 Photo by Whitehorse Star
Dennis Shewfelt and Alex Furlong and Piers McDonald
Late MLA had rich life outside politics
As a veteran hockey coach for both the 2007 Canada Winter Games and Arctic Winter Games, Todd Hardy was something of a visionary.
As a veteran hockey coach for both the 2007 Canada Winter Games and Arctic Winter Games, Todd Hardy was something of a visionary.
He wasn't a loud coach, and he wasn't an abusive coach, city manager Dennis Shewfelt recalled today of days he spent as the late Hardy's assistant coach preparing for the 2003 national games in Moncton, N.B.
Hardy instilled in his players the confidence in their ability to compete with the best by recognizing your strengths and building on them, he said.
For the veteran karate expert, said Shewfelt, it was about convincing players to be the best they could be.
But there was no "I" in team for Hardy.
"He was all about team, and all about instilling the team concept with players."
Shewfelt said he was a tough promoter of training, and encouraged his team to trade in the hamburgers and French fries for salads.
He introduced the 2003 Canada Games club to the practice of visualization, which one normally associates with more elite of athletes, though Hardy himself brought with him elite status from his decades training the martial arts, Shewfelt said.
He said it wasn't a concept dropped on the team all at once, but through the 18 months preparing for Moncton, Hardy taught the players to visualize what they were going to do with the puck before it reached their sticks.
The late MLA stressed the importance of unity, he said.
"That is the sort of message he brought: as a team, as a group, you are stronger than an individual."
Hardy, fellow martial artist Rob Ingram told the Star today, was a fierce competitor.
He remembered how he and Hardy attended the same karate club back in 1981 and '82 as purple belts before moving off into separate clubs, where they achievef black belt status and then some in later years.
"He was a fierce competitor," Ingram said. "Strong. And with a strong spirit, as well."
Hardy, he said, ran his own club for decades, and even had seminars scheduled for this summer.
He was passionate in his study of the Japanese martial arts, Ingram recalled.
Former NDP government leader Piers McDonald said this morning Hardy carried around a whole of passion for many different things.
Today, McDonald said, is a very, very sad day.
"Todd was certainly a very principled person, and the man had strong convictions, McDonald said. "For that reason, he stuck on in public life."
He stood for people who needed help, he said.
As a member of the NDP caucus under McDonald's leadership from 1996 to 2000, Hardy focused his interest on
developing policies around local hire policies and labour issues.
Much of his work as the caucus commissioner on local hire, McDonald said, is still threaded through government policy today.
He was not only passionate about ensuring locals were provided with local opportunities, but believed strongly in promoting local training opportunities for Yukoners.
He was a champion for local hire and training, McDonald said.
"Todd was a dear friend of labour in the territory and fought for what he believed in for working men and women," Alex Furlong, president of the Yukon Federation of Labour, said early this afternoon.
"The territory will not be the same without Todd and his compassion, dedication and commitment to all Yukon citizens and for trying to make the territory a better place to live and raise a family.
"On behalf of the entire labour movement in the territory, I extend our deepest sympathies to (wife) Louise and their children and all the family in this time of loss, but know that the spirit of Todd and his compassion and the lives he has touched will live forever."
Add your comments or reply via Twitter @whitehorsestar
In order to encourage thoughtful and responsible discussion, website comments will not be visible until a moderator approves them. Please add comments judiciously and refrain from maligning any individual or institution. Read about our user comment and privacy policies.
Your name and email address are required before your comment is posted. Otherwise, your comment will not be posted.