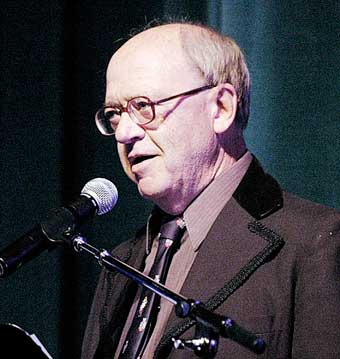 Photo by Whitehorse Star
Les McLaughlin
Late broadcaster mourned as 'good friend' to Yukon
"He was a good friend and he was a good friend to the Yukon."
"He was a good friend and he was a good friend to the Yukon."
Tim Kinvig's words this morning seem to sum up the feelings of many in the territory who knew broadcaster Les McLaughlin.
McLaughlin died Saturday in Ottawa after a battle with cancer that began last year. He was 69.
Many in the territory had known and worked with McLaughlin over the years, and even those who didn't likely recognize his voice as the storyteller/author on Yukon Nuggets.
The Yukon Nuggets are short pieces about Yukon history heard on CKRW. They can also be read on the Hougen Group of Companies website (http://www.hougengroup.com).
They represent much of the work on the Yukon McLaughlin began after the former Whitehorse resident ended his CBC career in 1995 in Ottawa working for CBC North.
Others know him as a music producer, working with the likes of Yukon artists Hank Karr and Al Oster along with many others across the North.
Up until last summer, he also wrote an intermittent Friday column for the Star.
As both Rolf Hougen, Kinvig and others confirmed this morning, McLaughlin had plans for a number of other Yukon projects when he was diagnosed with cancer last April.
"He was a pretty driven person," Kinvig remembered of his friend and their years together at CBC North, when Kinvig worked as a technician and McLaughlin as a producer.
McLaughlin's introduction to the North began when he was just three years old and his family arrived here from Valleyview, Alta., a short piece on the Hougen website states.
Growing up in Whitehorse, McLaughlin was an avid hockey player. His lengthy radio career began when he volunteered at the military-run CFWH station in the late 1950s.
He would go on to spend "countless hours helping to preserve the history of the Yukon with his recordings of special people and events over many years for CBC Radio," notes the piece on the Hougen website.
It was in the early 1960s that McLaughlin was hired on as an announcer/operator at CBC North in Whitehorse and there that he met Cal Waddington, another announcer/operator working at the station.
"He loved the Yukon," Waddington recalled this morning, noting that aside from his family, McLaughlin's next love was the territory.
And that was evident in his work, his friends made clear as they all noted how good he was in broadcasting the news and history of the North.
It was around 1964/1965 that Waddington and McLaughlin did their first documentary together for CBC – McLaughlin working as the reporter and Waddington as the producer in the piece on the closure of the Yukon Consolidated Gold Corp. in Dawson City.
Waddington recalled a lot of work going into the piece.
"He was extremely good at it," Waddington said of the documentaries.
As it's noted on the Hougen website, more than 200 hours of McLaughlin's broadcasts on the North are housed at the Yukon Archives and in the Prince of Wales Heritage Centre in Yellowknife.
As Kinvig pointed out, McLaughlin's documentaries recorded the voices of some of the territory's pioneers who had been here in the early years – RCMP officers, explorers and others – before they passed away.
It was many of those recordings and work in music that would later see him receive a number of awards that ranged from the Commissioner's Award to the CBC President's Award and help him be recognized by the Yukon Historical and Museums Association with a Lifetime Achievement Award in
1996.
McLaughlin was also one of the founding producers of the True North Concert series that were (and still are) broadcast across the country, producing more than 1,000 music selections featuring artists from throughout the North for his work in recording Whitehorse's history.
Kinvig noted it was in that role the likes of well-known musicians such as Susan Aglukark and Kashtin, among many others, were discovered on a more national scale.
Kinvig also recalled working with McLaughlin on coverage of the Arctic Winter Games along with many other projects through CBC North.
Ron McFadyen, a long-time local broadcaster who worked with McLaughlin, described him as "the glue that connected everything together" when it came to covering the northern sporting event.
McLaughlin's CBC career would see him move on to Montreal and then Ottawa as a northern service producer before he retired in 1995.
And while his day job ended at retirement, his work recording the territory's history and culture certainly hadn't as he went on to produce musical works, the Yukon Nuggets among other projects.
The Songs of Robert Service is just one of those records he produced which saw 10 poems written by Service be set to contemporary music.
As it's noted on the Hougen website, Service was again a subject in an hour-long recording by McLaughlin that included the "Colourful Characters of the Klondike", "North to Alaska on the Trail of '42", "The Northwest Mounted Police in the Klondike" and "The Robert Service Story".
He also wrote High Flyer, about the RCAF Flyers hockey team's 1948 quest for Olympic Gold. The piece ran in AirForce Magazine and the Globe and Mail.
Hougen, who knew the entire McLaughlin family from their early days in the territory, noted the broadcaster spent almost all of his time working on pieces about the territory and working with Yukoners as well as other northerners to produce their music.
"The guy had talent," he said, noting McLaughlin would return to the territory each summer, visiting and working on various Yukon projects such as producing a video for Hank Karr that saw them travel up the Dempster Highway and around the territory.
Karr recalled much the same in the years working with McLaughlin.
It was in 1965 that Karr first met McLaughlin, going into the CBC to record some pieces for the station.
At the time, the musician was new to the world of radio, but McLaughlin proved great to work with, knowing exactly what pieces to pick out for the broadcast.
Two years later, Karr worked with McLaughlin again on a broadcast recording for CBC.
Karr and Al Oster would go on to work with McLaughlin on a record that would have Karr's recordings on one side and Oster's on the other.
As the years passed, McLaughlin became both a friend to Karr and was a producer for his albums and DVDs.
His style in producing those pieces did not change much over the years with McLaughlin having a keen sense of what each album or video needed.
"A great talent," Karr said of McLaughlin, noting the producer "always had Yukon in his heart."
That was the sentiment echoed by all those interviewed this morning as they remembered their friend.
Along with his skills in broadcast and recording the territory's history, McLaughlin's long-time friends remembered him as someone who was friendly with everyone and had friends no matter where he went.
"A loyal friend," Karr described.
As Waddington recalled, whenever he saw McLaughlin during his summers in the Yukon, he'd often be talking to McLaughlin in the street when a stranger who recognized his voice would approach him to say hi.
It wasn't long before McLaughlin had a new friend.
"(He was) a real good guy," McFadyen said, noting the Yukon is extremely fortunate to have had McLaughlin record so much of the territory's history and culture.
As he described it, "there'll be some dead air today" with the loss of McLaughlin.
The late broadcaster's final Star column was published last August. It recounted the SS Keno's final journey from Whitehorse to Dawson City in 1960.
Add your comments or reply via Twitter @whitehorsestar
In order to encourage thoughtful and responsible discussion, website comments will not be visible until a moderator approves them. Please add comments judiciously and refrain from maligning any individual or institution. Read about our user comment and privacy policies.
Your name and email address are required before your comment is posted. Otherwise, your comment will not be posted.