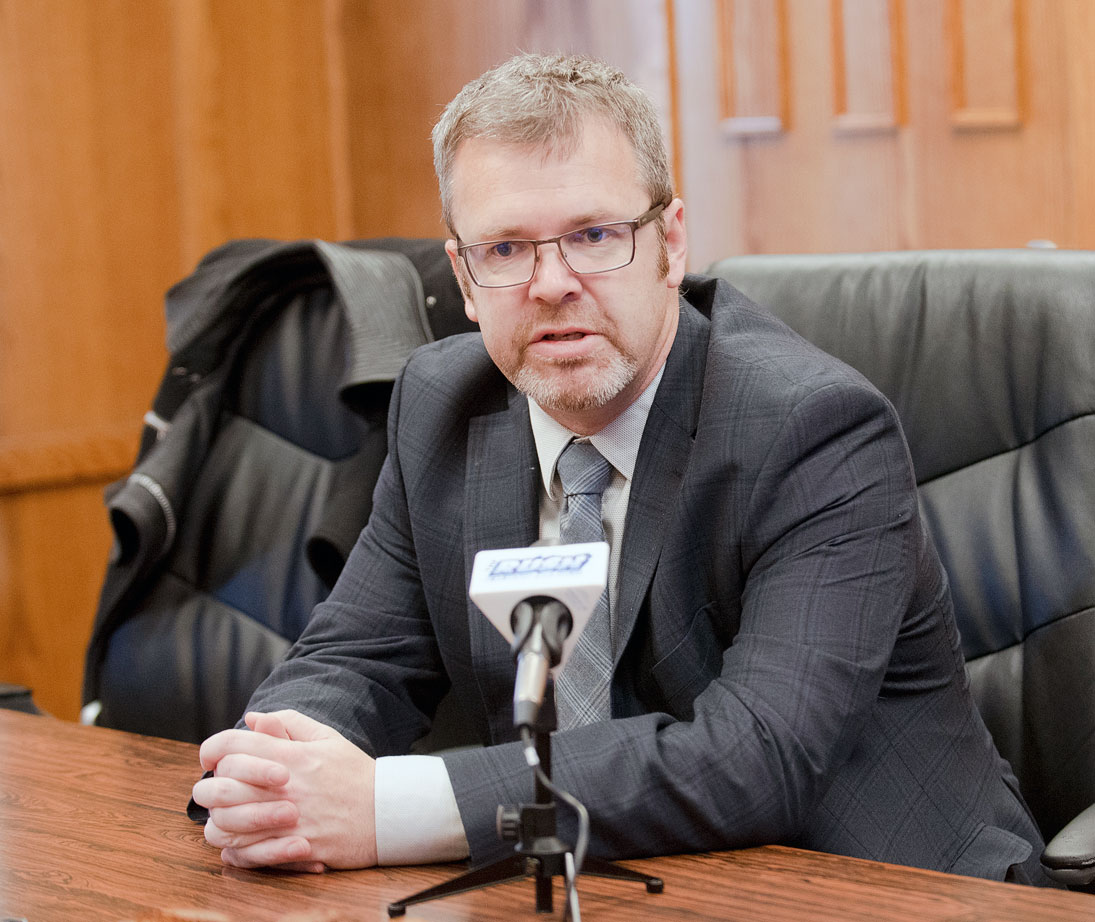 Photo by Whitehorse Star
Philip Fitzgerald
Photo by Whitehorse Star
Peter Turner
Lack of WCB rebates disappoints chamber
The Yukon Chamber of Commerce says it's disappointed with the decision of the Yukon Workers' Compensation Health and Safety Board (YWCHSB) to not release a further rebate to Yukon employers.
The Yukon Chamber of Commerce says it's disappointed with the decision of the Yukon Workers' Compensation Health and Safety Board (YWCHSB) to not release a further rebate to Yukon employers.
As the Star reported Monday, the board announced its intention in emails to local media outlets last Friday afternoon.
It said its decision will enable it to keep rates stable and maintain the integrity of the compensation fund.
From 2012 through 2018, more than $65 million was distributed to Yukon employers in the form of rate subsidies and rebate cheques, the board noted.
As of Dec. 31, 2018, the chamber noted Monday, the board's reserves stood at 132 per cent of projected liabilities, outside its targeted range of 121 per cent to 129 per cent.
Out of that surplus, the board is funding $2.9 million in rate subsidies in 2019 and has announced a further $2.7 million in rate subsidies in 2020.
Five years ago, the chamber identified that the board had accrued a surplus of reserves above its required levels.
Subsequent discussions between the chamber and the board have resulted in a four-year series of rebates issued to employers that.
Coupled with rate subsidies, they were intended to bring the board's reserves down to within its mandated range of 121 per cent to 129 per cent of total liabilities.
"For the last eight years, Yukon employers have been extremely patient waiting for the board to return funds it does not need," said Philip Fitzgerald, the chamber's treasurer.
"This continued reluctance of the board to follow their policy of maintaining reserves of 121 per cent to 129 per cent, is disappointing.
"If their policy holds that the fund should be 125 per cent +/- 4 per cent, the board should return anything over 129 per cent.
"We note that other jurisdictions legislate mandatory refunds once their respective funds reach a funding level of 125 per cent," Fitzgerald added.
On Dec. 31st, 2018, the board had investments worth $203 million and an estimated liability of $155 million.
These amounts would suggest approximately $10 million was available for a rebate that would have left the fund in a well-funded position, the chamber said.
Annual assessments collected by the board from employers in 2018 was $26.7 million.
"Announcing this decision 11 months after fiscal year-end, with no reference to the fund's actual current position, adds to the confusion and opaqueness of this decision," the chamber added.
Employers face an immediate 10 per cent penalty if they are a day late on payment of any premiums, the chamber pointed out.
"We would ask that the board return excess funds it has collected more quickly. We also take issue with the board's continued assumption that it knows what is best for excess funds, with its practice of subsiding future premiums.
"Today's employers should be paying for their liabilities, not being subsidized by excess contributions from past years."
The board's surplus has accrued as a result of significant stock market growth, prudently managed over recent years, the chamber said.
It plans to carefully review the board's next annual financial results, to be released in April 2020, to determine if the past four years of rebates (totalling $35 million), coupled with 2019 and 2020 rate subsidies totaling $5.6 million, have brought board reserves within the prescribed range of 121 per cent to 129 per cent of total liabilities.
"A further rebate may be warranted, and the Yukon chamber awaits with anticipation the YWCHSB financial statement for 2019, which will be released in April of 2020," said Peter Turner, the chamber's president.
"With the 2019 and 2020 rate subsidies, the prescribed range may have been achieved, but we will not know for certain until the April 2020 report.
"Be assured that the chamber will be carefully monitoring the situation."
In the board's statement of last Friday, Mark Pike, who chairs the board of directors, said that by "exercising this caution, we're providing downside protection to the fund if a market correction occurs, and that means a lower risk of rate volatility for employers.
"It's the most prudent financial decision to protect the interests of employers and the integrity of the Fund itself."
The chamber encourages all employers, managers, supervisors and workers to work together to ensure everyone is safe at work.
Incorporated in 1985, the chamber is the collective voice of the Yukon's business community, working to create a climate conducive to a strong private-sector economy by providing leadership and representation on issues and projects affecting business.
It works with more than 750 Yukon businesses, through either direct or community chamber membership, as well as the five community chambers of Dawson City, Silver Trail, St. Elias, Watson Lake and Whitehorse.
Add your comments or reply via Twitter @whitehorsestar
In order to encourage thoughtful and responsible discussion, website comments will not be visible until a moderator approves them. Please add comments judiciously and refrain from maligning any individual or institution. Read about our user comment and privacy policies.
Your name and email address are required before your comment is posted. Otherwise, your comment will not be posted.