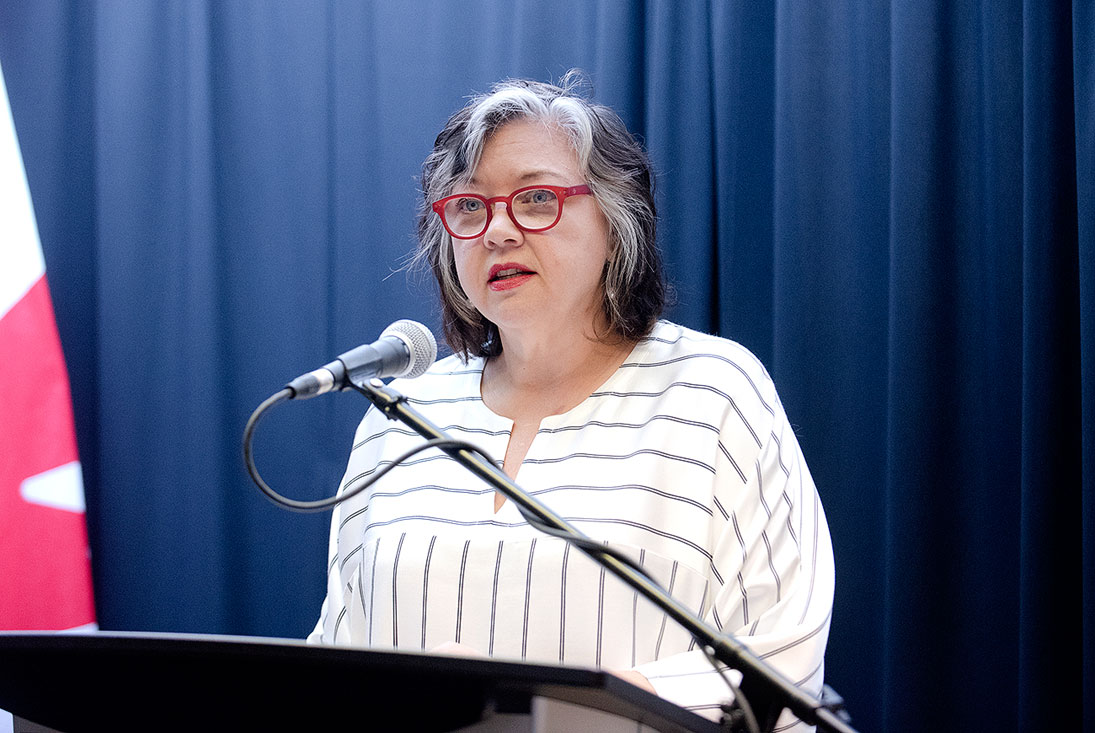 Photo by Whitehorse Star
Education Minister Tracy-Anne McPhee
Lack of portables putting crunch on schools
Local schools are at or near capacity,
Local schools are at or near capacity, Education Minister Tracy-Anne McPhee has told the legislative assembly in the last couple of days.
She explained, for instance, that Golden Horn Elementary has reached a point where it required a portable classroom.
But there are no portables available in western Canada, the minister told the house, noting they put out a tender for the purchase of a portable but there were no bids.
McPhee said the pressure at Golden Horn – located near the Carcross cutoff – has been addressed for this year through different measures.
They've talked to the Yukon Teachers' Association for permission to add a student to a couple of classes, given the collective agreement sets out maximum class sizes, she said.
"I understand that we have now managed to sort out the situation at Golden Horn for the purposes of this year but, of course, we have pressures in the schools here in Whitehorse with respect to space," she told the legislature.
McPhee said her department has begun working with the Department of Highways and Public Works to look at re-tendering a call for not just one portable, but four or five to address the growing pressure in Whitehorse schools.
Available figures show Golden Horn has an enrolment of 240 students this year compared to 175 in 2014, representing an increase of 37 per cent in the last five years.
Statistics show student populations at most Whitehorse schools have grown in the last five years. Not all, but most. Some have grown by a little, and some by a lot, according to the statistics.
Holy Family Elementary School, for instance, is up to 177 students this year compared to 168 in September 2014, a difference of just nine students.
Hidden Valley Elementary, on the other hand, has shot up from 73 students five years ago to 130 this year – representing an increase of 78 per cent.
Elijah Smith Elementary has shrunk in the same time, from 307 students to 251.
But with the addition of its French immersion program, the population at Selkirk Elementary School has risen from 211 students in 2014 to 282 this year, representing an increase of 34 per cent.
Overall, according to the government statistics, the student population in Whitehorse has risen in the last five years from 4,170 students to 4,338, representing an increase of just over six per cent.
Yukon Party education critic Geraldine Van Bibber told the legislature the issue of being close to or at capacity is indeed an issue for several Whitehorse schools.
With the continuing growth of the new Whistle Bend subdivision and the population in general, the pressure is only going to intensify, she told the legislature.
"With respect to Robert Service School in Dawson City, we have heard concerns about enrolment pressures at that school," said Van Bibber. "The expectation for population growth with potential mining activity in the region will create additional pressures on the school."
The Education critic reminded the minister she raised the issue 18 months ago about the possibility of getting portable classrooms for Robert Service.
Highways and Public Works Minister Richard Mostyn said back then he would look into it and get back to her and her party colleagues – but they still haven't heard anything, Van Bibber told the legislature.
"Given that the minister hasn't provided us with an answer in a year and a half, I'm wondering if he could tell us today what the plans are to deal with enrolment pressures at Robert Service School?"
McPhee said they are pursuing their plan to send out a tender to purchase for four or five portables or have somebody build them.
The department is planning to use them to address the growth at schools in need, and Robert Service is on the list, she said.
McPhee said her department is also developing a 10-year-capital plan for its inventory of schools that it hopes to dovetail with the cabinet's five-capital plan that sets out its priorities.
McPhee also emphasized the new F.H. Collins Secondary School – a replacement school – is the first new school built in the last 20 years, suggesting that addressing the issue of growth didn't just materialize.
Statistics show the population of the Robert Service School this year is 234 students, up from 226 in 2014.
Add your comments or reply via Twitter @whitehorsestar
In order to encourage thoughtful and responsible discussion, website comments will not be visible until a moderator approves them. Please add comments judiciously and refrain from maligning any individual or institution. Read about our user comment and privacy policies.
Your name and email address are required before your comment is posted. Otherwise, your comment will not be posted.