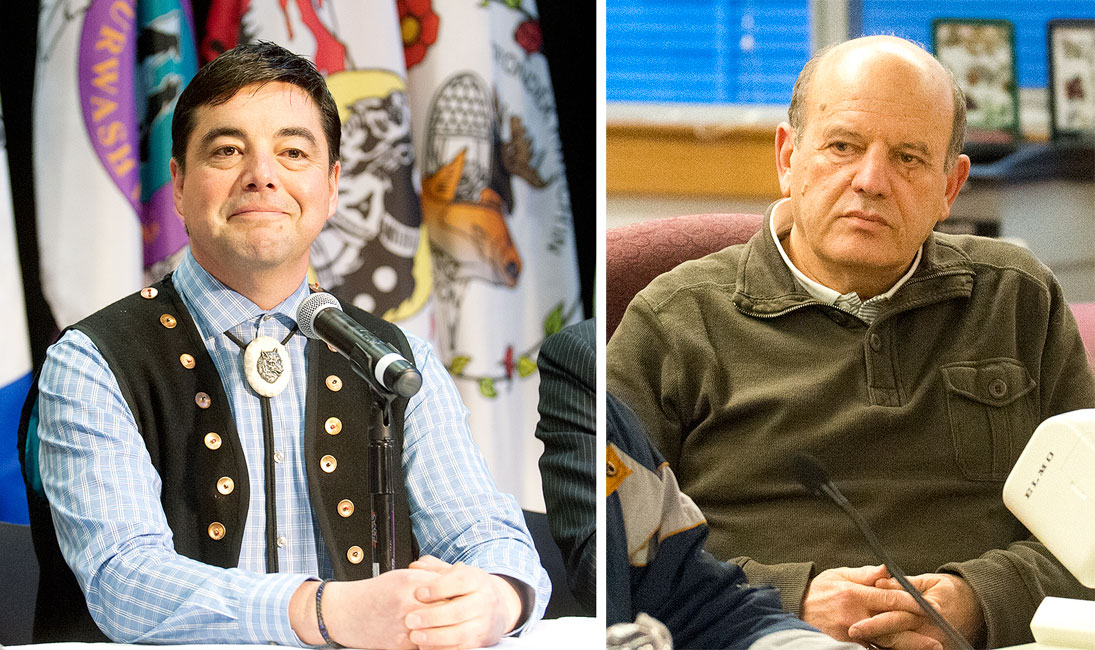 Photo by Whitehorse Star
Grand Chief Peter Johnston and Chamber President Rick Karp
'It's great to see,' grand chief says of holiday
National Aboriginal Day is officially a statutory holiday in the Yukon.
National Aboriginal Day is officially a statutory holiday in the Yukon.
The territorial legislature unanimously ratified Bill 2 on Monday, making June 21 a territory-wide paid day off.
"I believe that making National Aboriginal Day a statutory holiday is an integral step toward the path of our own reconciliation," Premier Sandy Silver told the House during the bill's second reading last Thursday.
"It's time that we celebrate the immense contributions that First Nation people have made, and continue to make, in our territory and across the country."
The National Aboriginal Day Act is the first piece of legislation to be passed by the chamber under the new Liberal government.
The necessary amendment to the Employment Standards Act was passed after third reading of the act and assented to by Commissioner Doug Phillips.
"It's great to see," Grand Chief Peter Johnston of the Council of Yukon First Nations said today.
"That's the first bill that they've passed. For me, that's pretty substantial."
Though the Yukon Party voted in favour of the bill Monday, it reiterated concerns about the financial impact of an additional statutory holiday on the Yukon government and on the territory's business community.
Based on figures from Canada Day in 2016, cabinet says a statutory holiday on June 21 will cost the government an estimated $1.28 million.
That figure includes $1.16 million for payroll, and an additional $116,700 in overtime pay for essential service providers, cabinet spokesperson Janine Workman confirmed today.
Before Monday's vote, Community Services critic Scott Kent of the Yukon Party noted that an economic analysis of the holiday had not been done.
Any cost-benefit study would be useful to other jurisdictions considering implementing the day off in future years, Kent added.
Last spring, the government surveyed Yukoners for their views on the possibility of a June 21 statutory holiday, and received 1,430 responses.
While 83.3 per cent of Yukoners, overall, were for a statutory holiday on National Aboriginal Day, support was much lower among employers – just 54.3 per cent endorsed the additional statutory holiday.
Of the remaining employers, 37.8 per cent did not want a statutory holiday on June 21, and 7.9 per cent went neutral.
Kent suggested the government consider phasing in the holiday over two years.
"That would give these businesses time to prepare and give municipalities time to account for it in their budgets," he said.
The holiday could be a government day off this year, and a vacation day for all Yukoners starting in 2018, he said.
This idea was also proposed by the Whitehorse Chamber of Commerce.
In its first year, National Aboriginal Day could be a holiday for governments, banks and schools, and businesses could have the option, like they do on Heritage Day or Easter Monday, said chamber president Rick Karp.
With Rendezvous Friday a day off for the public sector, he said, "businesses get behind it, and it's a really wonderful day.
"Not only is it busy for business, for retail sales, but it's recognition of Heritage Day."
The government could then reassess for year two, whether to make National Aboriginal Day a holiday for everyone, said Karp.
The business community supports the celebration of National Aboriginal Day; "there's no question about that," he said. "However, we have to do it the right way."
It's unclear at this time what the new statutory holiday, which will fall on a Wednesday next month, will cost the private sector.
Costs will vary widely from business to business, said Karp.
Size, how labour-intensive the business is, and whether you can run it with a skeleton crew are all factors, he said.
After the National Aboriginal Day bill passed Monday, Karp said, he fielded a few phone calls from concerned business owners who said the new holiday was going to cost them upwards of $4,000.
"If the decision is to stay open on that day or to close on that day, it's going to cost you regardless," said Karp.
The government will not delay the full implementation of National Aboriginal Day, Community Services Minister John Streicker told the House Monday.
That's namely because of the symbolic importance of instituting the statutory holiday during the same year as Canada's 150th birthday.
Having National Aboriginal Day as a statutory holiday is symbolic in more ways than one, said Johnston.
"It's not even about having the day off," he said; it's about formal recognition of the value of indigenous culture and heritage.
"Canada Day, Discovery Day, all these monumental times are backed up with the respective holiday."
Now National Aboriginal Day has "the full value" associated with a statutory holiday in the Yukon, he said.
Streicker disputed Kent's claim that businesses haven't had time to prepare for the new holiday.
"The original petition was first tabled in 2015 here in the legislature, and the consultation took place a year ago," he said.
"So we feel that there has been time and opportunity for input into debate and now the time is to respond to the people and to act."
As for employers concerned about a holiday during peak season, Streicker said, the Employment Standards Act permits businesses to offer an alternative day off in lieu of June 21, if a majority of the employees agree to it.
The Yukon initiative originated with former NDP MLA Kevin Barr, whose former riding, Mount Lorne-Southern Lakes, is now represented by Streicker.
The Northwest Territories is the only other jurisdiction in Canada where National Aboriginal Day is a statutory holiday.
Add your comments or reply via Twitter @whitehorsestar
In order to encourage thoughtful and responsible discussion, website comments will not be visible until a moderator approves them. Please add comments judiciously and refrain from maligning any individual or institution. Read about our user comment and privacy policies.
Your name and email address are required before your comment is posted. Otherwise, your comment will not be posted.