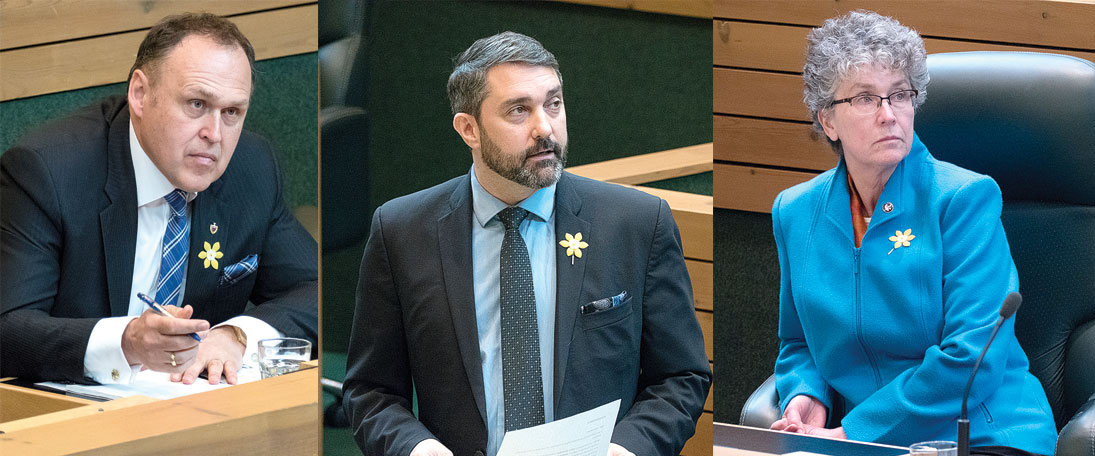 Photo by Whitehorse Star
Pictured: DARRELL PASLOSKI, LIZ HANSON and SANDY SILVER
'I'm not imposing anything': Hanson on tax
'I'm not imposing anything': Hanson on tax
Neither the NDP nor the Liberals say they would impose a carbon tax if elected, contrary to the premier's allegation Wednesday in the legislature.
But they haven't opposed carbon pricing either, and certainly not as vehemently as the Yukon Party.
"What is clear is that both the NDP and the Liberals, if elected, would put a carbon tax in place to make everything in this territory more expensive," Premier Darrell Pasloski told the house.
The allegation came after Opposition Leader Liz Hanson asked the premier if he would say "no" to any conversation about carbon pricing if federal funding was at stake.
"The Yukon Party will stand up for what is best for Yukoners," Pasloski said in response.
"We have a plan to create more employment, to reduce greenhouse gases and not make everything more expensive."
After question period, Hanson told the Star, "I'm not imposing anything.
"What I am saying is we (the Yukon NDP) will have a discussion about how we can achieve our contribution toward the transition to a national low-carbon economy."
As for the Yukon Liberals, spokesperson Jason Cunning said Wednesday the party has yet to develop a position on carbon pricing.
"We haven't said anything, we haven't even got there yet," he said.
Cunning called Pasloski's statement in the legislature "more fear mongering, more Harper-style attacks." That was a reference to former Conservative prime minister Stephen Harper.
Liberal Leader Sandy Silver did say he's not afraid to put a price on carbon, Cunning said, but it's not in the party platform right now.
Carbon pricing can take different forms.
One is a carbon tax, a levy that would be most apparent at the gas pumps.
A carbon tax puts a per-tonne price on greenhouse gas emissions. It's meant to off-set the cost of damage done to human health, crops and infrastructure by drought, flooding, extreme weather and other effects of climate change.
British Columbia has had a carbon tax since 2008.
The province charges $30 per tonne of greenhouse gas emissions, which amounts to seven cents a litre of gas.
The burden on residents is balanced by lower income taxes and additional benefits for low-income earners and rural British Columbians.
B.C. had the lowest income tax rate in Canada in 2014, according to The World Bank.
Another way to price carbon is through the "cap-and-trade" method.
Cap-and-trade sets a limit on how many tonnes of greenhouse gas emissions a household, institution or business can produce, and that limit is brought down each year.
If, for instance, a company wants to emit more pollution than is permitted, it can buy carbon credits from another company that may not hit its own greenhouse gas cap.
Ontario introduced cap-and-trade regulations earlier this year.
Both The World Bank and the International Monetary Fund are urging governments to consider carbon pricing.
"A price on carbon helps shift the burden for the damage back to those who are responsible for it, and who can reduce it," the World Bank said in its statement on the issue.
Pasloski has come out strongly against any kind of carbon tax. He has said many times that a "one-size-fits-all" approach to addressing the impacts of climate change in Canada – i.e. carbon pricing – won't work in the Yukon.
"It may be great in southern Canada, but it gets cold up here; we have to heat our homes," the premier told the Star earlier this month.
"Almost everything that we consume, most of our food, our clothing everything that we buy in the stores, comes from somewhere else. It comes up here on a plane or a truck; everything would cost more money."
At 10.2 tonnes per capita, the Yukon emits less greenhouse gas than most of the country, according to Enviornment Canada data compiled by the David Suzuki Foundation in its All Over the Map 2012 report.
Only Quebec (9.7 tonnes per capita) and Nunavut (6.1 tonnes per capita) rank better in keeping emissions down.
Half of the Yukon's greenhouse gas emissions come from vehicles and a quarter results from commercial, government and residential energy use, said the report.
Indeed, supporting a price for carbon appears to be a national trend.
The Mining Association of Canada (MAC) officially endorsed carbon pricing two weeks ago.
"Today, one of Canada's largest industries is coming out in support of a carbon price, identifying it as the most effective and efficient means of driving emissions reductions and making real progress in the global fight against climate change," Pierre Gratton, MAC's president and CEO, said in an April 13 statement.
The Yukon Chamber of Mines has yet to develop a stance on carbon pricing.
"It's still early days here, and we're working with the climate change secretariat and voluntarily following some of the new imposed targets," said executive director Samson Hartland.
"Northern territories are unique and do require unique solutions. We do have a responsibility to bear, but we face higher operating costs – higher costs altogether – and we need to take that northern reality into context."
Hartland said the territory's mining industry and Yukon College are working in partnership to come up with innovative ways to reduce emissions.
The prime minister has made clear his intention to transition Canada to a low-carbon economy, and that pricing carbon will play a major role in that shift.
Asked whether the Yukon Liberal leader would follow in the federal leader's footsteps, Cunning said the territorial party is not bound to the national one.
"We've had our differences with the federal Liberals on policy, most famously over the gun registry. We don't always have the same policy as the feds," he said.
Pasloski and other Canadian premiers were with Prime Minister Justin Trudeau in Paris, where Canada committed to keeping global temperatures below two degrees during the United Nations Conference on Climate Change in December 2015.
However, a directive to price carbon in the provinces and territories has not yet come down from Ottawa.
Hanson said a discussion about carbon pricing "has to include the other part of the conversation, which is with respect to fossil fuel subsidies.
"It was a key issue in a number of the forums at the climate change conference in Paris," she said.
"It can't be taxing people who are already stretched to the nth degree."
Immediately following his election, Trudeau instructed Catherine McKenna, the minister of Environment and Climate Change, to work with provinces and territories to establish emissions targets.
Another goal is to ensure that all jurisdictions have the federal funding, and the flexibility, to draft their own plans to address climate change, "including their own carbon pricing policies."
Add your comments or reply via Twitter @whitehorsestar
In order to encourage thoughtful and responsible discussion, website comments will not be visible until a moderator approves them. Please add comments judiciously and refrain from maligning any individual or institution. Read about our user comment and privacy policies.
Your name and email address are required before your comment is posted. Otherwise, your comment will not be posted.