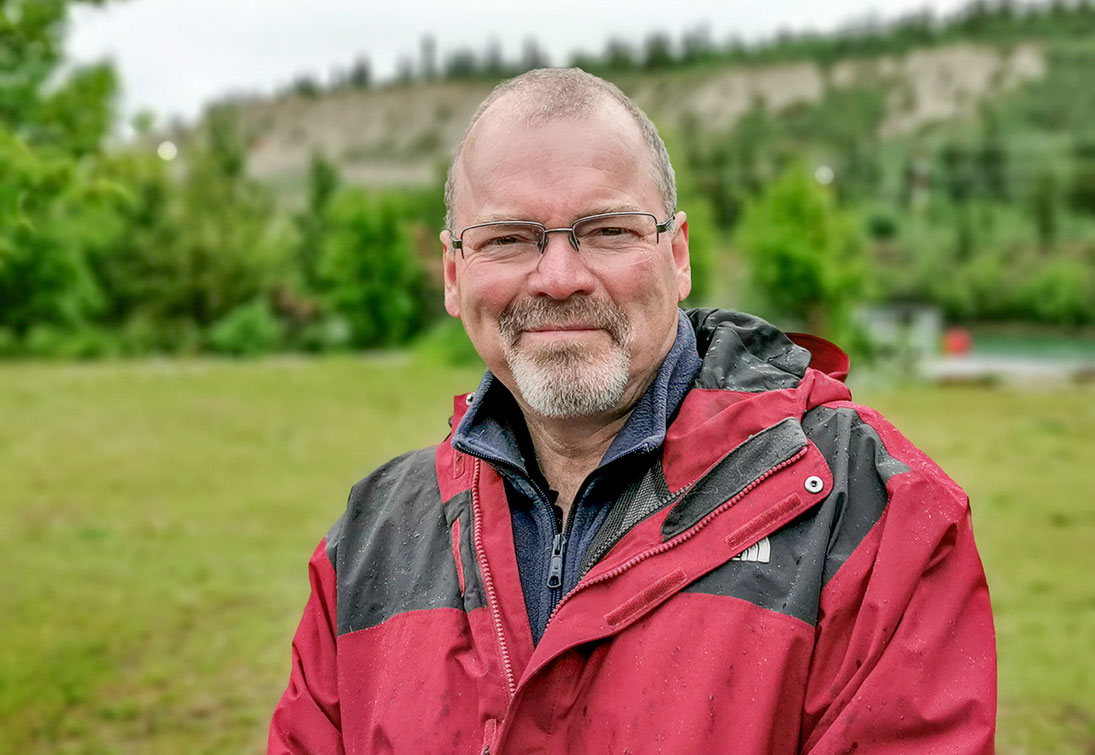 Photo by Vince Fedoroff
Ted Hupé
Housing shortage depriving towns of teachers
Ted Hupé will tackle housing shortages for rural teachers and bolster mental health support in schools during his term as president of the Yukon Teachers' Association (YTA).
Ted Hupé will tackle housing shortages for rural teachers and bolster mental health support in schools during his term as president of the Yukon Teachers' Association (YTA).
"Every rural community has lost prospective teacher candidates because there's no housing," Hupé told the Star this morning.
"If we want to create stable schools throughout the territory, and if we want to create stable communities for our children, housing is a major component."
Hupé was elected YTA president on May 20, defeating Ted Cook. He will serve a two-year term.
Outgoing president Sue Ross announced her retirement last January and did not run for re-election.
Hupé ran for the YTA presidency on a four-pillar platform promising to build community, open dialogue on the housing shortage, enhance mental health support and provide teachers with trauma-informed care training.
The housing shortage in rural communities has been a problem for teachers since the 1960s, Hupé explained.
"It's not new, and it's not looking like it's going to go away," Hupé said.
"What I'm trying to do is get more people involved in the discussion."
That means engaging the First Nations, the Yukon government, the school councils association, administrators and teachers to find creative solutions to a pervasive problem.
That solution will be individual to each community.
Hupé said initial conversations with a school principal in Pelly Crossing explored entering a joint venture with the Selkirk First Nation.
Hupé said the First Nations will play a big role in finding the solution, particularly in communities where they control the housing stock.
There is a housing committee in the Department of Education that currently co-ordinates with the Yukon Housing Corp., Hupé said. The committee has to balance demand with other government agencies that house staff, particularly nurses.
"Often it puts agencies at odds, and then the teachers come in, and sometimes there's no housing," Hupé said.
There have been past situations where teachers were secured temporary housing that could be lost the next year or after a three-year term, making it difficult to put down roots.
"If we want long-term or longer-term placements for teachers in the rural communities, we're going to have to somehow figure out this housing problem or housing issue," Hupé said.
Hupé is also prioritizing mental health support and trauma-informed care in schools.
Hupé previously served as the long-time principal of Holy Family Elementary School in Porter Creek.
He said he observed the importance of mental health support while in that position, discovering that students' discipline problems could often be traced back to mental health.
"Having had some trauma-informed instruction and training, I was starting to look at kids differently," Hupé said.
"Kids don't want to be difficult….They really want to do well, but sometimes they don't have the tools."
Mental health workers were hired at Holy Family to give teachers some tools and advice on how to better support students. Trauma-informed training has also been implemented at Takhini and Selkirk Elementary schools. 
Hupé wants mental health and trauma-informed training to expand to schools across the Yukon. He envisions a "wrap-around system" involving mental health experts and families.
He noted that the wellness hubs in the Yukon's communities have had a positive impact on schools in Dawson City, Haines Junction and Pelly Crossing. Elementary schools in Whitehorse still have very few mental health resources.
"I want to bring the various departments together and I want to add that support," Hupé said.
"That would be beneficial for all schools, for all teachers; it would allow us to deal with some of the issues we face in the classrooms differently and gives us the tools to do so."
Hupé said he was impressed with how quickly Yukon teachers adapted to teaching remotely during the school closure this spring.
"We have made great strides, I was very proud of what teachers were able to do in a very short time," Hupé said.
Before the pandemic, administrators were considering a system-wide swap to Google Classroom.
They believed it would take a year to implement the change, Hupé said. When the pandemic hit and forced the issue, the entire network of teachers switched to the new system in one week.
"It was something no one envisioned," Hupé said.
"The whole system switched on a dime, because everyone needed to, and did a great job. That's one example of a positive change."
It was challenging to provide consistent programming through all the schools, particularly because every teacher's comfort level with technology is different.
"We had some teachers who were struggling, but everyone found a way to provide programming to their kids," Hupé said.
Many elementary students struggled with the remote learning, without the in-person guidance of a teacher to motivate and provide feedback, Hupé said. He noted his own daughter, who was in the fifth grade, missed learning from her teacher.
If another wave of COVID-19 forces a reclosure of schools, Hupé said, other avenues of face-to-face learning would be considered.
"We learned very quickly that having a teacher in front of them … was much more positive, much more conducive to learning," Hupé said.
Hupé said he is confident that teachers are well-poised to take on virtual learning again, should it be necessary.
Hupé has been an educator in the Yukon since 1992, and is well-known for his contributions to the wrestling program.
He left his position as principal of Holy Family, which he'd held for 17 years, to take on the presidency.
Previous to that, he was the vice-principal of Christ the King Elementary School in Riverdale.
Add your comments or reply via Twitter @whitehorsestar
In order to encourage thoughtful and responsible discussion, website comments will not be visible until a moderator approves them. Please add comments judiciously and refrain from maligning any individual or institution. Read about our user comment and privacy policies.
Your name and email address are required before your comment is posted. Otherwise, your comment will not be posted.