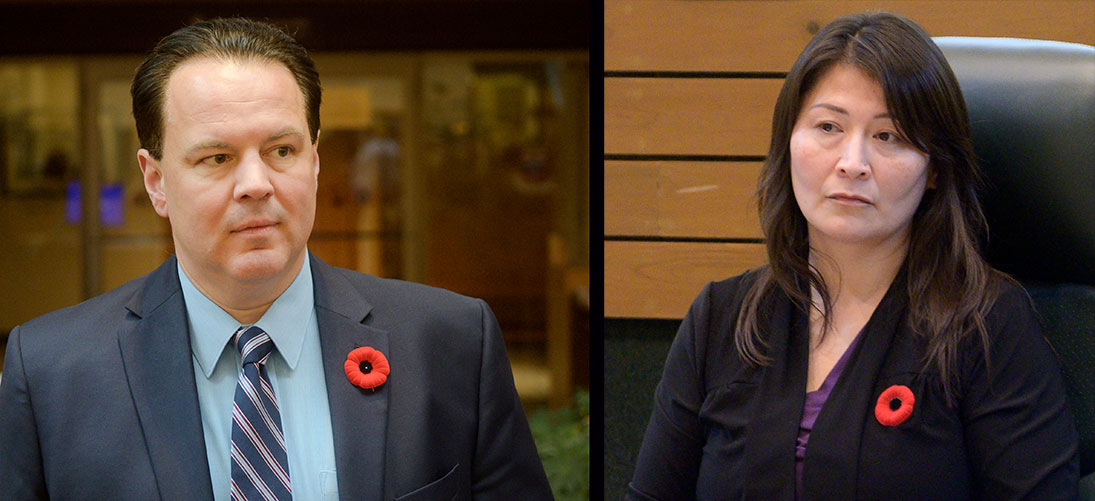 Photo by Whitehorse Star
Yukon Party MLA Brad Cathers and NDP MLA Annie Blake
Hospital wait times unacceptable: opposition
The Yukon government is being criticized for what opposition parties say are insufficient services and long wait times at Yukon hospitals.
The Yukon government is being criticized for what opposition parties say are insufficient services and long wait times at Yukon hospitals.
The Yukon Party has focused on wait times for surgeries, while the NDP is concerned with inadequacies at the diagnostics lab.
"We continue to hear from Yukoners who are concerned about growing wait times for surgeries, diagnostic tests, and specialists' appointments," Yukon Party MLA Brad Cathers told the House this week.
He focused first on cataract surgery.
"Earlier this sitting, I asked the minister of health about wait times for cataract surgery and she revealed that the wait time was 12 months, Cathers said.
"The recognized target for cataract surgery in the Yukon is within six months."
He said there are even worse wait times for orthopaedic surgery.
"Some Yukoners tell us that they have been informed that they will need to wait for up to two years for hip or knee surgery," he said.
The problems extend to cardiology too, he added.
"We have also heard that wait times for cardiology are too long," Cathers said. "Last November, there were 298 people on the wait-list with a wait time of five months."
In her answers to Cathers' assertions, Health Minister Tracy-Anne McPhee only addressed wait times in reference to cardiology operations.
"The cardiology services are provided by visiting specialists," she said. "Wait times and the wait-list fluctuate, depending on the frequency of the visits of the visiting specialists."
On the rest of the issues Cathers raised, McPhee wouldn't address the wait times.
Instead, she talked about how many surgeries are done in the territory, how competent the surgeons are and how people have the option to travel elsewhere for operations.
The NDP's concerns are a bit different – but are connected to some of Cathers' comments.
NDP MLA Annie Blake says problems at the diagnostic laboratory have led to longer wait times for test results due to the need to outsource some testing to other regions.
"Over the last years, the medical laboratory at Whitehorse Hospital has stopped processing several types of tests," she said.
Blake pointed to an accreditation report released last June that details some failures at the lab – which she says have led to testing delays.
"Every four years, Accreditation Canada comes to the Whitehorse Hospital and reviews each department as part of the process," Blake said. "While the hospital as a whole passed accreditation, the lab itself has failed every time."
The report details unmet criteria such as the avoiding of cross-contamination, safe handling and disposal of biological and chemical materials, the use of a comprehensive quality management system and regular updating of standard operating procedures.
This, Blake says, has meant certain types of tests must now be sent outside of the Yukon, lengthening wait times for results.
Blake says this includes testing for MRSA and sexually-transmitted diseases such as syphilis, which was recently shown by the chief medical health officer to be on the rise in the Yukon.
McPhee did not address whether these tests need to be sent out-of-territory, nor if there have been recent changes to what tests are sent out.
She did dispute the timeframes given by Blake.
"It is certainly not my under-standing that it is taking weeks for those kinds of tests — the ones that she noted," McPhee told the House.
On the broader topic of whether the diagnostic lab is not up-to-snuff, McPhee said she would have to do some investigating.
"I do not have any specific information on the accreditation of the laboratory and I will look into that issue," she said.
Jessica Apolloni, a Yukon Hospital Corp. (YHC) spokesperson, told the Star in an email the hospital has not gone through a voluntary lab-specific accreditation process, but that it received 92-per-cent compliance overall in the accreditation process.
Gaining lab-specific accreditation is part of the long-term plan, she says.
Apolloni did confirm that syphilis testing and other microbiology testing is done elsewhere, though she also said this is historically how it has been done.
"Despite our geography, the significant volume, and many other pressures on Yukon's hospitals, YHC continues to maintain great appropriate 'turnaround' times for test results – receiving results back within acceptable timeframes in order to avoid delays in care," Apolloni said.
Add your comments or reply via Twitter @whitehorsestar
In order to encourage thoughtful and responsible discussion, website comments will not be visible until a moderator approves them. Please add comments judiciously and refrain from maligning any individual or institution. Read about our user comment and privacy policies.
Your name and email address are required before your comment is posted. Otherwise, your comment will not be posted.