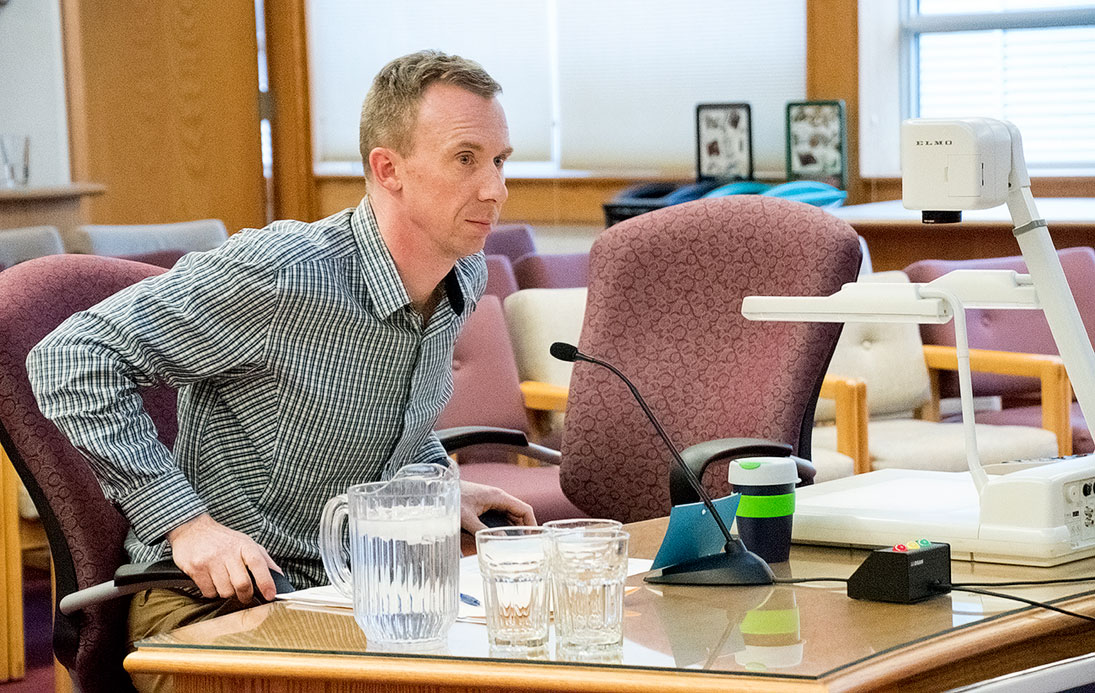 Photo by Whitehorse Star
City planner Mike Ellis
Homeowners seek zoning change to create rental suites
Two new living units would be added to Copper Ridge if the city approves a zoning change for 112 and 114 North Star Dr.
Two new living units would be added to Copper Ridge if the city approves a zoning change for 112 and 114 North Star Dr.
The proposed zoning amendments came forward at last Monday's city council meeting.
City planner Mike Ellis explained that the two next-door neighbours made the application to allow separate living suites in their homes.
"The only proposed change is to allow for a maximum of one living suite per property," he said. "The properties are in the RR-Restricted Residential Detached zone, which currently does not allow suites."
Of the 966 single-detached lots in the Copper Ridge neighbourhood, a total of 120 are zoned as RR.
Ellis then went on to cite the results of a 2016 survey sent out to all RR property owners about allowing living suites in the zone.
Of the 25 per cent of all owners who responded, a total of 55 per cent supported changing the zoning to permit suites in the zone.
Those who supported the change told the city the lots and buildings are large enough for living suites.
They said it could help provide more affordable housing in the city, and that they should be permitted in all residential zones to promote higher-density housing.
Meanwhile, those with concerns argued they had purchased their houses in the RR zone because of the restrictions which prohibit suites.
They said they have made a large investment in their RR property and don't want changes.
Adding suites could result in more traffic and parking issues and would have a negative impact on property values, they argued.
Along with Copper Ridge, the neighbourhoods of Logan, Porter Creek and Whistle Bend also have properties zoned RR.
"The zone was originally created prior to the concept of promoting denser development and instead places emphasis on larger, more exclusive estate lots," Ellis stated in his report to council.
"Houses in the RR zone typically have the floor area to accommodate living suites and can help owners to age in place by encouraging other family members to reside there."
Living suites are limited to a 100 square metre floor area and require an off-street parking space.
"These regulations are meant to ensure that living suites remain secondary to the principal residents and have a low impact on the surrounding neighbourhood," the report stated.
"Allowing living suites on the subject lots would likely have little impact to the surrounding neighbourhood from a traffic, parking or privacy perspective."
Along with looking at the zoning, Ellis also pointed to the Official Community Plan (OCP).
He noted that area of North Star is designated as Residential-Urban, which allows for different types of residential development close to services and amenities.
"The properties are located within walking distance of North Star transit stops, parks and trails," Ellis noted in the report.
He went on to highlight sections 5.1.3 and 20.2.3 of the OCP. They call for more city-wide compact development to minimize urban sprawl and for a diversity of housing types that "are accessible to a wide range of people."
The Sustainability Plan also includes a strategy to use planning, zoning and development tools to encourage affordable housing.
"Living suites provide additional dwelling units where there are now existing municipal services such as sanitary, water, waste collection and transit," stated the report to council.
"Living suites also provide rental income to homeowners and housing options to tenants, which assists with housing affordability."
Coun. Dan Boyd commented that the city may want to send out notices to all RR property owners about the proposed zoning change for the two Copper Ridge properties.
Mike Gau, the city's director of development services, responded that it's a zoning change to two specific properties, not the entire RR zone.
Consequently, such a move could be viewed as "inappropriate," Gau said.
Council could consider another process if it wanted to consider such a change to the entire zone.
First reading of the zoning amendment for the two North Star properties is slated to come forward for a vote by council this evening.
If that is passed, a public hearing would be held March 26.
A report on the public input would then be presented to council at its April 3 meeting, followed by a vote on the final two readings on April 9.
Add your comments or reply via Twitter @whitehorsestar
In order to encourage thoughtful and responsible discussion, website comments will not be visible until a moderator approves them. Please add comments judiciously and refrain from maligning any individual or institution. Read about our user comment and privacy policies.
Your name and email address are required before your comment is posted. Otherwise, your comment will not be posted.