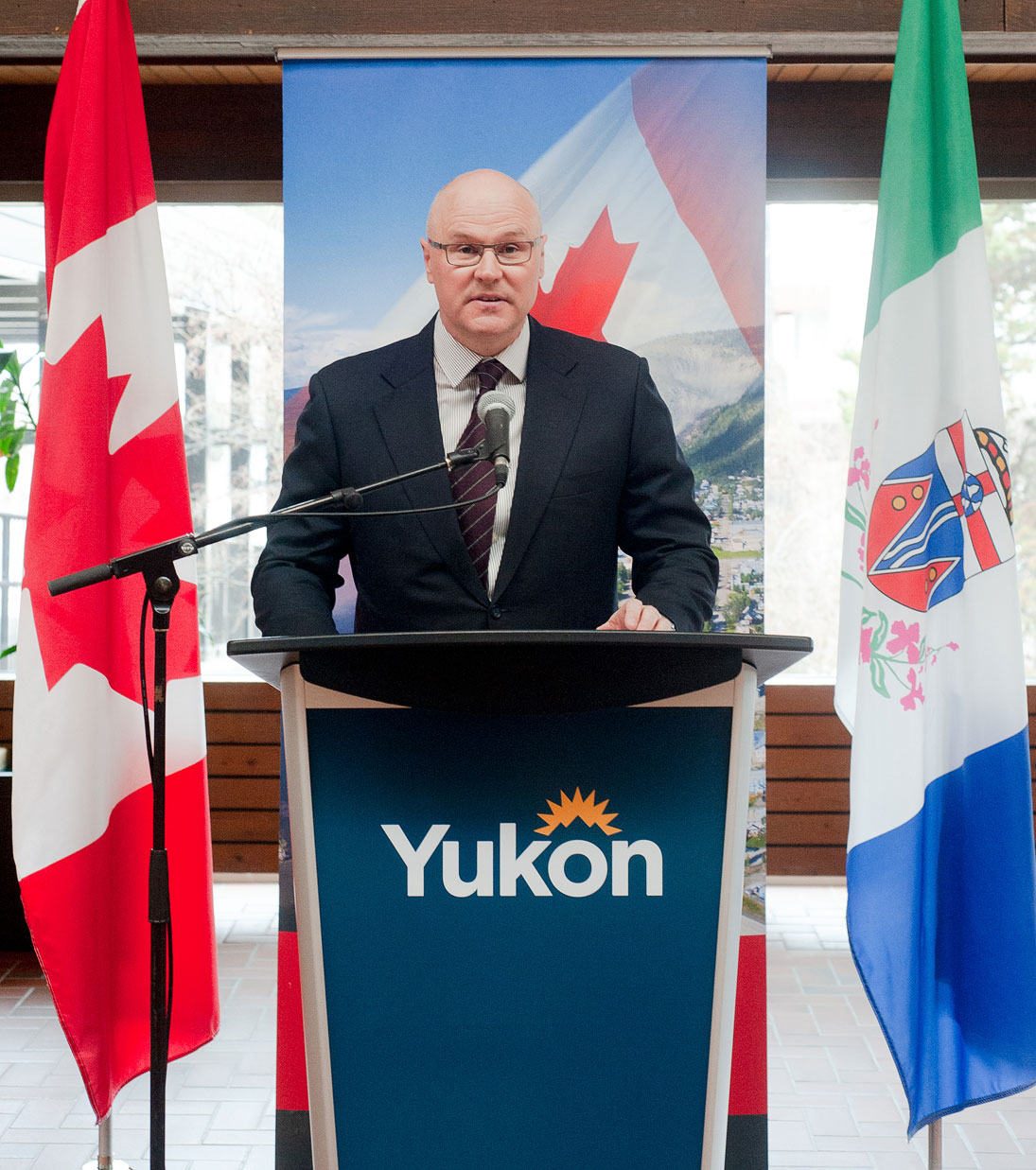 Photo by Whitehorse Star
Yukon Energy President Andrew Hall
Help conserve energy, YEC asks Yukoners
Yukon Energy is asking Yukoners to make a conscious effort to conserve energy as the mild winter and below-average snowpack means less water for generating electricity.
Yukon Energy is asking Yukoners to make a conscious effort to conserve energy as the mild winter and below-average snowpack means less water for generating electricity.
The Crown corporation sent out a notice Tuesday indicating it will have to rely much more on natural gas generation this spring and fall.
That's because the water levels in the reservoirs feeding the Whitehorse, Aishihik and Mayo hydro facilities are below average.
The lower the demand on the grid, the less LNG Yukon Energy will have to burn, says Tuesday's notice.
It asks people to do the simple things like turning off the lights when you leave a room, or taking five-minute showers instead of 10.
Conservation is better for the environment and good for customers who save money, says the notice.
Yukon Energy president Andrew Hall said this morning it's difficult to say exactly how much more natural gas or diesel they'll have to burn to augment generation because it all depends on how much rain falls this summer.
They're forecasting they'll need to generate between 50 and 100 gigawatt hours of electricity this year using primarily natural gas, but they might have to fire up the diesel generators as well, he said.
By comparison, Hall pointed out, Yukon Energy generated 30 GWh with natural gas or diesel in 2018, or about six per cent of the 450 GWh generated in total.
He said the gap in the range of needing somewhere between 50 and 100 GWh of thermal generation this year is large because they just don't know how much rain they'll get.
It may be that Yukon Energy will need to appeal further for conservation come September, he said.
The business plan for the Crown corporation anticipates low water years by having a contingency fund, he said, so the corporation does have the money to cover the additional fuel cost without affecting ratepayers immediately.
In 2017, for instance, the Mayo Lake reservoir was below normal, and Aishihik Lake was below normal last year, he pointed.
This year, Hall added, all three reservoirs are down at the same time.
The snowpack for the Marsh Lake watershed is at about 63 per cent of what it would be normally.
With glacier melt contributing to the inflow of water into the system, it's expected inflow will be 80 per cent of normal, says Tuesday's notice.
For the Aishihik watershed, the snowpack is 45 per cent of normal, so inflow is expected to be 45 per cent of normal because there is no contribution from glacier melt.
The Mayo Lake snowpack is estimated at 70 per cent of normal so inflow is expected to be 70 per cent of normal.
Hall said generating 50 to 100 gigawatt hours this year with natural gas, or between 11 and 22 per cent of the total, will cost somewhere from $8.5 million to $17 million.
If it starts getting close to 100 GWh, then they might have to start bringing on diesel generation.
That's the last resort because it's more expensive and comes with more greenhouse gas emissions compared to natural gas, he explained.
Conservation, Hall insisted, is a real tool that can be used to reduce the need for generation by fossil fuels, even it's one light switch at a time.
"I think Yukoners always have that opportunity to conserve energy and save on their power bills," he said.
The Yukon Energy president said the question arises whether the current situation is related to climate change.
Historically, particularly in the late 1990s, there have been drought years, he pointed out.
Hall said the work on the potential impact of climate change Yukon Energy is doing with Yukon College and the University of Quebec shows the years will be warmer, but also wetter.
The annual snow surveys conducted by Environment Yukon every spring are showing the snowpack – and its snow water equivalent – is down by more than 50 per cent across the southwest, and in parts of central Yukon.
In fact, the snow water equivalent is below normal across the entire territory, with the exception of the far north where it's above normal, such as around Old Crow where it's above normal by 19 per cent.
Add your comments or reply via Twitter @whitehorsestar
In order to encourage thoughtful and responsible discussion, website comments will not be visible until a moderator approves them. Please add comments judiciously and refrain from maligning any individual or institution. Read about our user comment and privacy policies.
Your name and email address are required before your comment is posted. Otherwise, your comment will not be posted.