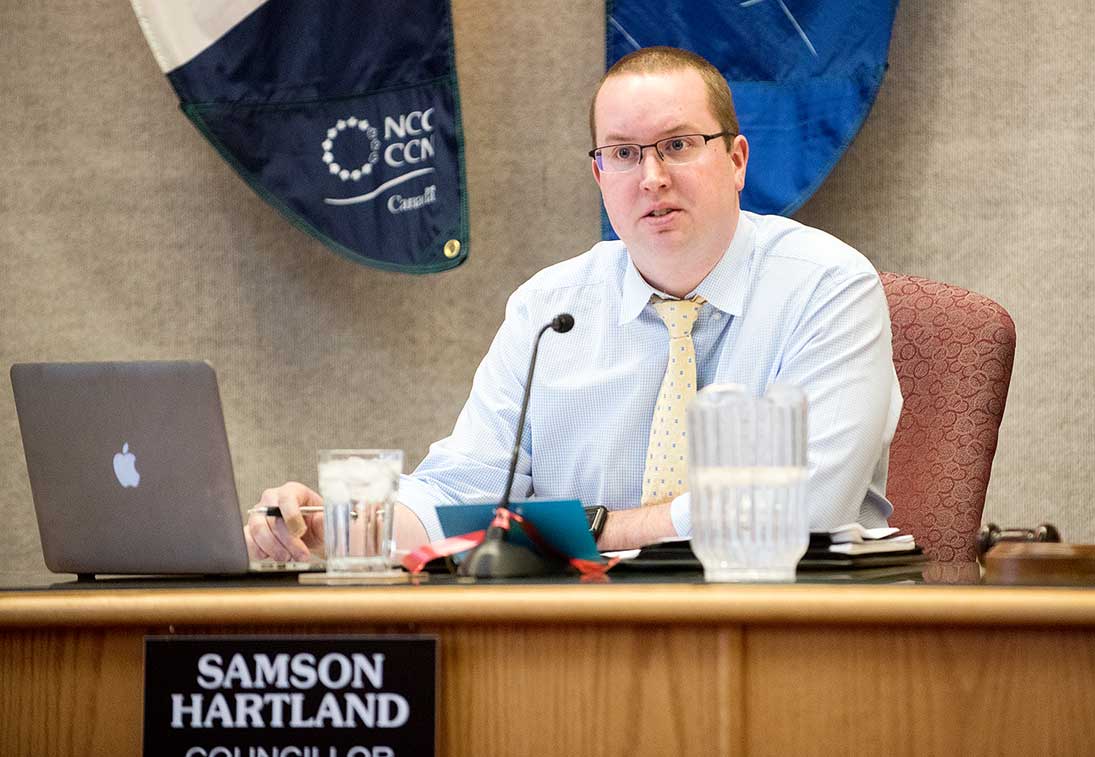 Photo by Whitehorse Star
Samson Hartland
Hartland to make another run for council
Samson Hartland is hopeful Whitehorse voters will send him back to council chambers in the Oct. 18 election.
Samson Hartland is hopeful Whitehorse voters will send him back to council chambers in the Oct. 18 election.
The city councillor announced his plans this morning to seek re-election.
"My wife, Lindsay, and I are so proud to call Whitehorse home and raise our kids here," said Hartland.
"The decision to put my name forward for re-election was not taken lightly and involved a family discussion about the commitment required for service to the community.
"Our children support my decision to run for council, and understand it comes with some sacrifices."
Hartland, who was raised in Whitehorse, said though there are sacrifices, his role as a councillor allows him to have time with his family, while also serving the community.
He continues to work at his full-time job as the executive director of the Yukon Chamber of Mines.
The time with his family would likely be further sacrificed if he opted to seek the mayoralty, Hartland said.
While his family had talked about him "serving more," his kids were clear they want him to be continue to be at the swim meets, gymnastics practices and other activities that he's often able to go to now.
"I put family first," he said.
As he looks toward the next term of council, Hartland said, he wants to work toward improving the city's procurement process, housing and financial management.
He pointed to concerns on the barriers placed on seniors and young families who want to live in the city, start a business or even visit the community.
One of the biggest issues the city is facing as a growing community is affordability. It's important to work on ensuring residents are not negatively impacted and can stay in the community as it grows, he said.
Hartland highlighted his plans to continue working for greater transparency on "all proposed tax increases."
That will include pushing for the implementation of an asset management plan "to maximize benefits, manage risk, and provide satisfactory levels of service to the public in a sustainable manner."
He also noted there's "a lot of great things" that the city has been working on.
Those include greater transparency with council's voting record; efforts to improve the housing stock in the city through development incentives and support to Challenge on its supportive housing project; and improved relationships with local First Nations and more.
"There's a lot this council has achieved," he said.
"I have diligently applied myself during the past three years and remain dedicated to making Whitehorse a more affordable community, welcoming to all segments of our society," Hartland said.
"I look forward to talking with people throughout the campaign about how the city can continue to improve its service levels, in the most efficient and transparent way possible." 
He also outlined his career path.
Along with his current position at the mines chamber, he has been the project manager for the Whitehorse Chamber of Commerce, and an executive assistant to then-Yukon Party cabinet minister Elaine Taylor.
He has also been a small business owner when he had Grizzly Collectibles, for which he won the Business Development Bank of Canada's Young Entrepreneur of the Year Award.
Previous to his current term, Hartland served as a councillor from 2000 to 2003.
In the 2015 election, he collected 2,131 votes, taking the sixth and final seat available to a councillor.
Add your comments or reply via Twitter @whitehorsestar
In order to encourage thoughtful and responsible discussion, website comments will not be visible until a moderator approves them. Please add comments judiciously and refrain from maligning any individual or institution. Read about our user comment and privacy policies.
Your name and email address are required before your comment is posted. Otherwise, your comment will not be posted.