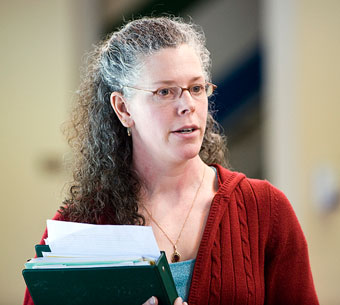 Photo by Whitehorse Star
Kristina Calhoun
Greens are a party of balance, candidate says
Kristina Calhoun is entering politics because she knows the planet cannot keep growing forever.
Kristina Calhoun is entering politics because she knows the planet cannot keep growing forever.
"Growth is limited," Calhoun told the Star Monday.
"That's not based on fiction, it's based on the fact that the planet can only carry so much."
Calhoun is the first-ever Yukon Green Party candidate to run in a territorial election.
The 37-year-old stay-at-home mom announced last Friday she will be running in the riding of Riverdale North. She will be up against the Yukon Party's Scott Kent and either Peter Lesniak or Dave Blottner from the NDP. Christie Richardson is seeking the Liberal party nomination.
Calhoun has been dealing with Yukoners' misconceptions of what the Green Party represents since she, along with co-leader Mike Ivens, created the party earlier this year.
"People think the Green Party is all about anti-development; they think it's an all environmental party. That's just not true,"said Calhoun.
"We're about balance. We're about working together for the long term."
Getting the message out there of what the party is all about is Calhoun's goal in the coming months.
The Green Party candidate spoke about the party's beliefs in the Genuine Progress Index, a Steady State Economy and Triple Bottom Line Accounting: ideas that take social and environmental factors into account when making decisions and measuring success.
A Steady State Economy, for example, has proven to close the gap between the rich and poor. It's about living within our ecological means instead of perpetuating economic growth, said Calhoun.
"Other parties are saying we need things like a diversified economy," she said. "Sure, that's great, but how are you going to do that?"
Her party, said Calhoun, has answers.
"The Green Party is not scared to face reality," she said, explaining that her party would use methods with a proven track record in other countries in the Yukon.
"We're just not seeing a way out from the other parties."
Calhoun has lived in the Yukon for the past 5 1/2 years. She has lived all over Canada with her husband, who works in aviation as a maintenance engineer.
The pair have a young daughter who was born in Whitehorse.
Calhoun believes Riverdale North residents are "beyond ready" for the Yukon Green Party. Her neighbours, she continued, are some of the greenest people she has ever met.
"These people are already green; now it's just about getting them to understand what we actually represent," said Calhoun.
At this point, the party's strategy is to have one or two candidates elected as MLAs so they can look at the government's existing policies and vote on whether they adhere to the party's core values.
The party is only planning on running about two candidates. Calhoun said she thinks there is a chance a Green could get into the legislature.
She did, though, admit that other parties probably see her party as just a "blip on the radar".
This, combined with the fact that the party is running so few ridings, is why Calhoun doesn't see vote-splitting as a problem in this election.
"At this point, I think it's so important for people to stop thinking so much about the party," she said. "This isn't hockey, and you don't always have to cheer for the same team. We need to stop, look and listen to every candidate."
Calhoun said some Yukoners think the territory is too small for party politics, which were introduced in 1978. She hasn't made up her mind on that idea. She does, though, think all the parties can work more on collaboration.
If all the parties care deeply about good representation and agree that one candidate is strong in a particular riding, another party could agree to support that candidate instead of running their own.
Calhoun emphasized this is not a Green Party idea, but a ways she believes the vote-splitting issue could be resolved in the coming years.
"We shouldn't be working against each other," she said.
Calhoun will hold a question and answer meeting aat noon Wednesday at the Yukon government administration building foyer. The second Green candidate has not yet been announced.
By Nadine Sander-Green
Star Reporter
Add your comments or reply via Twitter @whitehorsestar
In order to encourage thoughtful and responsible discussion, website comments will not be visible until a moderator approves them. Please add comments judiciously and refrain from maligning any individual or institution. Read about our user comment and privacy policies.
Your name and email address are required before your comment is posted. Otherwise, your comment will not be posted.