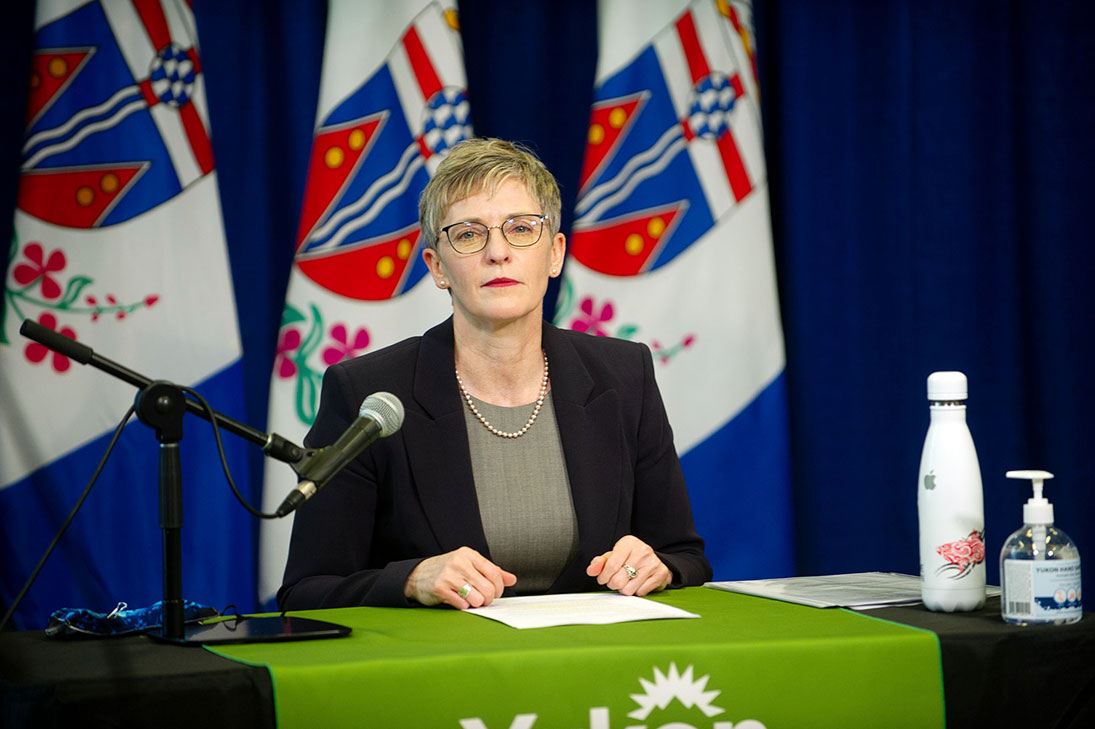 Photo by Whitehorse Star
Nicole Morgan
Government responds to student's COVID case
The Yukon government and Department of Education say they're well-prepared to handle any COVID-19 cases at territorial schools.
The Yukon government and Department of Education say they're well-prepared to handle any COVID-19 cases at territorial schools.
That was the gist of a news conference held Thursday afternoon following the discovery of a student at Porter Creek Secondary School who has contracted COVID-19.
It's a single case so far, officials said. There is no information on whether the case is a variant.
Education officials informed parents of the case on Tuesday night, but no further information was made public for nearly 24 hours.
Nicole Morgan, the department's deputy minister, said the delay was partly attributable to technical problems created by a power outage for key government employees working remotely.
They had to be called back into the office to begin working on the public statements, and it was an arduous process crafting the message, Morgan explained.
Plans are in place for each school in the territory to handle virus cases, said Morgan and Dr. Catherine Elliott, the acting chief medical officer of health.
"Schools are safe places," Morgan said. "And schools are very important places. Just a few weeks ago we opened up for the school year hoping for near-normal conditions."
Cases of COVID-19 in the schools were expected, both women said. That's why individual plans for each facility were made.
Extra precautions for ventilation are being introduced as well. For example, air filters are being changed more often and upgraded.
Elliott said specific medical advice has been given to school officials at Porter Creek and other school in the territory.
On Thursday, parents around the territory began receiving emails outlining how the department plans to handle COVID cases, Morgan said.
Contingency plans are in place to handle any potential staff shortages if teachers or staff become infected or have to self-isolate, Morgan said.
Elliott said the case could well be the Delta variant, which is causing chaos around the country. Only two cases have been documented in the Yukon so far, and the variant was acquired out of territory.
She said she wouldn't be surprised to find the current case could be a variant, as she fully expects to see Delta become entrenched here as it is elsewhere.
She also isn't particularly concerned that a case has been found in a youth, as that age cohorts vaccine numbers aren't as high as their adult counterparts.
Youth or child cases aren't being singled out for particular attention so far.
Elliott said she's more concerned with individual cases that show a high potential of close contacts, which is where the virus is beginning to spread.
Add your comments or reply via Twitter @whitehorsestar
In order to encourage thoughtful and responsible discussion, website comments will not be visible until a moderator approves them. Please add comments judiciously and refrain from maligning any individual or institution. Read about our user comment and privacy policies.
Your name and email address are required before your comment is posted. Otherwise, your comment will not be posted.