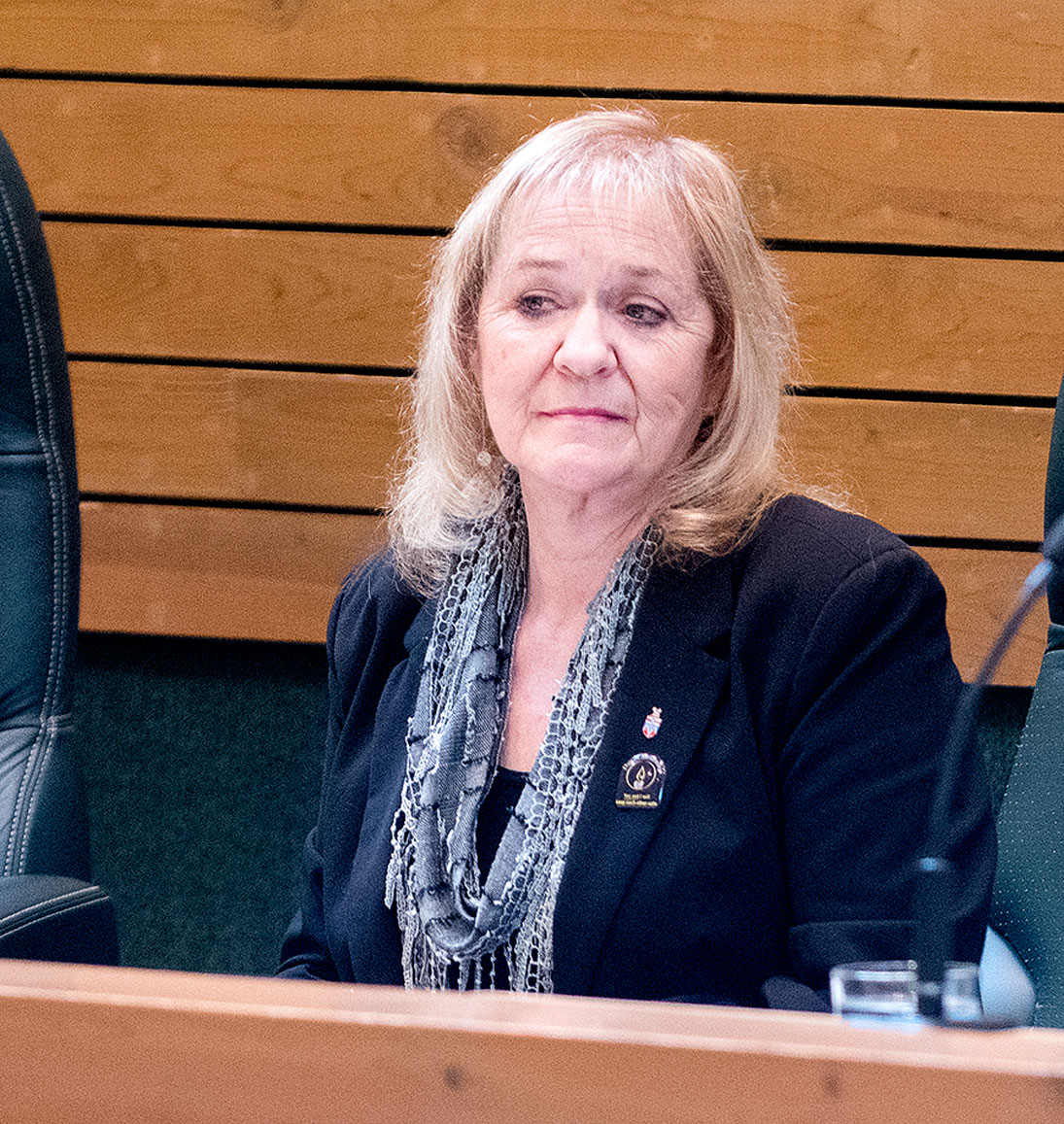 Photo by Whitehorse Star
Patti McLeod
Government pressed on hospital beds shortage
Based on comments from its Health and Social Services minister,
Based on comments from its Health and Social Services minister, the Yukon government appears to be looking at long-term solutions to a long-standing problem, with financial constraints tying its hands in the short term.
Much has been made recently in the media and the legislature of bed pressures at Whitehorse General Hospital.
Brian Gillen, the chair of the Yukon Hospital Corp. (YHC), told the house in October that beds at Whitehorse General are filled to 96 per cent capacity, on average.
The ideal level of bed occupancy is 75 per cent.
"We are experiencing limited bed availability because, in many cases, some of our admitted patients out of Whitehorse General no longer require hospital care, but are awaiting a spot in another level or type of care, such as long-term care," Gillen explained in the legislature Oct. 24.
The new president of the Yukon Medical Association (YMA) also commented on the issue last weekend.
After last Friday's YMA annual general meeting, Alex Poole stated that the 150 beds slated to open at the Whistle Bed Continuing Care facility won't entirely solve the problem of long-term care demand exceeding supply in the territory, leaving people in hospital beds far longer than they should be there.
In the legislature Monday, Patti McLeod, the Yukon Party health and social services critic, pressed minister Pauline Frost about any "concrete plan" she has to address the issue.
"We certainly acknowledge that pressures at the hospital and bed shortages are not new," Frost replied.
She said the government and the YHC will continue the practice of moving patients to community hospitals where more beds are available.
Jason Bilsky, the CEO of the YHC, testified in the legislature Oct. 24 that on average, between two and four patients per month had been transferred from Whitehorse General to Dawson City and Watson Lake over the past four months.
Average length of stay
The average length of stay in the communities for these patients was between three and six weeks.
The practice has "escalated" in recent months, Bilsky said.
Yukoner Dorothy Sorensen wrote a letter to the Star, published Wednesday, sharing her experience as a patient at Whitehorse General.
One morning late this past summer, Sorensen was advised by a nurse that the following day, she was to be transferred to the Dawson City hospital for a three-week stay.
"I have no friends and support in Dawson City," she wrote.
"How does rotating vulnerable elders in and out of three hospitals for three weeks at a time, never mind the financial cost of medivacs, make sense?"
After contacting her MLA, Sorensen has since been advised that she will not likely be moved.
During YHC officials' October appearance in the house, Bilsky noted that between 30 and 40 per cent of beds in Whitehorse General are occupied by those who no longer require acute hospital care.
Typically, said Bilsky, these patients are waiting for a long-term care bed or transfer to a facility elsewhere.
As for what the Yukon government is doing to free up those beds aside from supporting hospital transfers, Frost has cited models like the Yukon Mental Wellness Strategy, Aging in Place, and collaborative care that can provide "opportunities to try to eliminate the health pressures in the Yukon."
She also spoke Wednesday to retrofitting homes, allowing patients to return and receive care in that environment.
However, she has not provided the number of continuing care beds her government will make available in the next two years, nor the amount of money they will be making available for home care, despite repeated questioning.
"We took on the Whistle Bend facility as an expenditure," she noted in the house Monday.
Not budgeted under the previous Yukon Party government, operations and maintenance costs for the facility – when fully operational in 2020 – will be $36 million per year, Premier Sandy Silver told MLAs last week.
"So how do you balance that and still try to finance necessary health costs?" Frost asked. "It's a complicated process."
Spent more than $770,000
Last year, she said the government spent more than $770,000 on home and alternative care in the territory.
"We are looking at our partnerships," she said Tuesday.
"We are looking at working with the hospital corporation. We are working with Health and Social Services. We are working with non-profit organizations. We care about what is happening in Yukon.
"We care about Yukon people and we care about our patients," the minister added.
"We are taking the necessary supports and the necessary cues from our partners. We are working toward addressing the long-term needs of Yukoners."
Kate White, the NDP health and social services critic, told the Star this morning there are more timely and appropriate solutions to the hospital bed shortage than what the government has said it's doing.
"Waiting for Whistle Bend is not an adequate answer because that means that they are willing to continue to transfer seniors and elders out of Whitehorse into communities for at least the next year to 18 months," White said.
"And is that acceptable? No."
She suggested the government could look at borrowing money, adding 10 beds in space above the Whitehorse hospital emergency room that isn't being utilized, and dedicating more resources at the adjacent Thomson Centre to continuing care, rather than office space.
White is hoping to see the government cease what she said is a repeated pattern of blaming the previous government for the financial situation they've been left in, and offering "platitudes" in response to real issues.
"Move on. What I'm looking for is solutions, actual solutions."
McLeod has led opposition questioning of the government about this problem in the legislature over the past week.
"We haven't been getting any answers.... We're frustrated," she said.
"This government has been in place for a year. They've had, I think, ample opportunity to dig into this situation."
Add your comments or reply via Twitter @whitehorsestar
In order to encourage thoughtful and responsible discussion, website comments will not be visible until a moderator approves them. Please add comments judiciously and refrain from maligning any individual or institution. Read about our user comment and privacy policies.
Your name and email address are required before your comment is posted. Otherwise, your comment will not be posted.