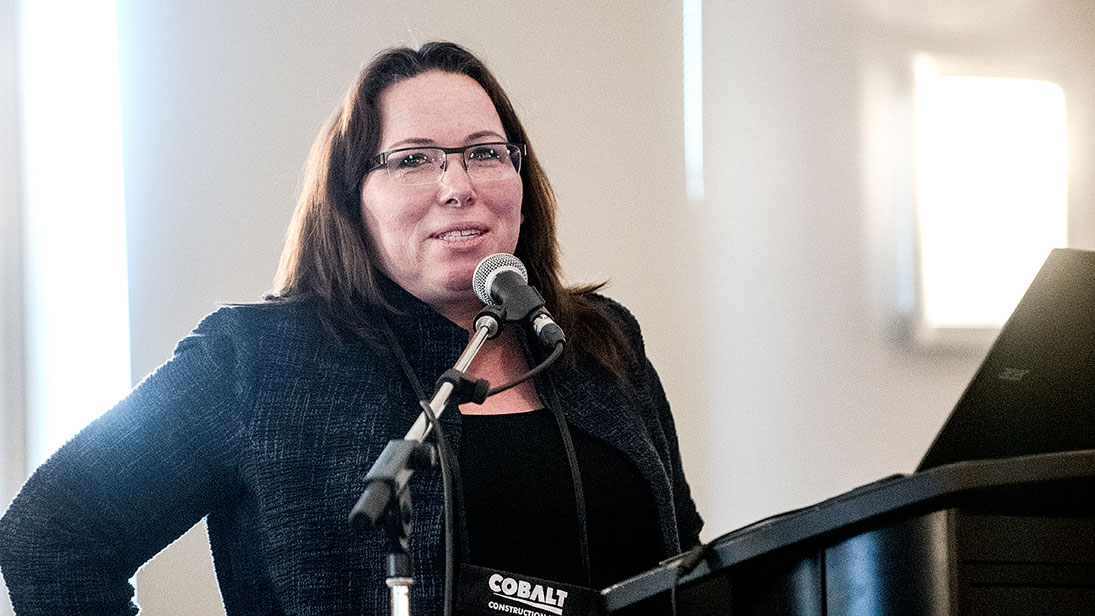 Photo by Whitehorse Star
Jennifer Byram
Golf course will remain as is, new owner vows
The Meadow Lakes Golf & Country Club will open as usual this spring, but with a new owner.
The Meadow Lakes Golf & Country Club will open as usual this spring, but with a new owner.
An offer to purchase the Whitehorse golf course from the Byram family, which owns Pelly Construction Ltd., was recently accepted.
The sale will be finalized in 2018 before the beginning of the golf season.
"We're really excited about it," Jennifer Byram told the Star this morning.
"Going from construction and mining to owning a golf course is pretty fun; it's something new."
Current owner Jeff Luehmann put Meadow Lakes up for sale in July 2016.
He said he was selling the 20 hectares (50 acres) of land and buildings on the property with no expectation that it would remain a golf course.
But it was important to the Byram family that the community recreational facility keep operating.
"The sole reason was to ensure that it would stay a golf course," Byram explained.
"The Meadow Lakes is a big part of the community, and a lot of time and effort has been spent by many community members on building the course. My father (Keith) thought it would be a terrible shame to see that dissolve."
Byram said she has played a few rounds on the nine-hole course, although she's not much of a golfer. She and her husband were married on the property.
"It's kind of a special spot," she said.
The amount of the offer is not being publicly revealed, but the property was originally listed at $1.6 million.
Despite ownership changing hands, general manager Johnny Enns will continue running the club house and take tournament and event bookings.
Byram said the same greens keeper will also be looking after things as usual.
In the summer of 2016, Luehmann said he was selling the property because he was tired of competing against the Mountain View Golf Club, which has received substantial government support and public lottery money.
In February 2011, a Yukon Party government paid $750,000 to Mountain View to buy back land it had originally leased to the non-profit club.
Concerns over the deal were highlighted in an Auditor General's report on government transfers to societies in March.
It revealed that the $750,000 transfer could not be audited because it was classified under "other expenses", which has no policy requirements.
Clarke LaPrairie from the Department of Finance explained it was "erroneously" marked as a transfer payment agreement when it should have been a contract.
It was later reclassified in the "other category, he said, "for the purpose of making sure the government's books are accurate."
Luehmann could not be reached for comment on the Meadow Lakes sale for this afternoon's press deadline.
Add your comments or reply via Twitter @whitehorsestar
In order to encourage thoughtful and responsible discussion, website comments will not be visible until a moderator approves them. Please add comments judiciously and refrain from maligning any individual or institution. Read about our user comment and privacy policies.
Your name and email address are required before your comment is posted. Otherwise, your comment will not be posted.