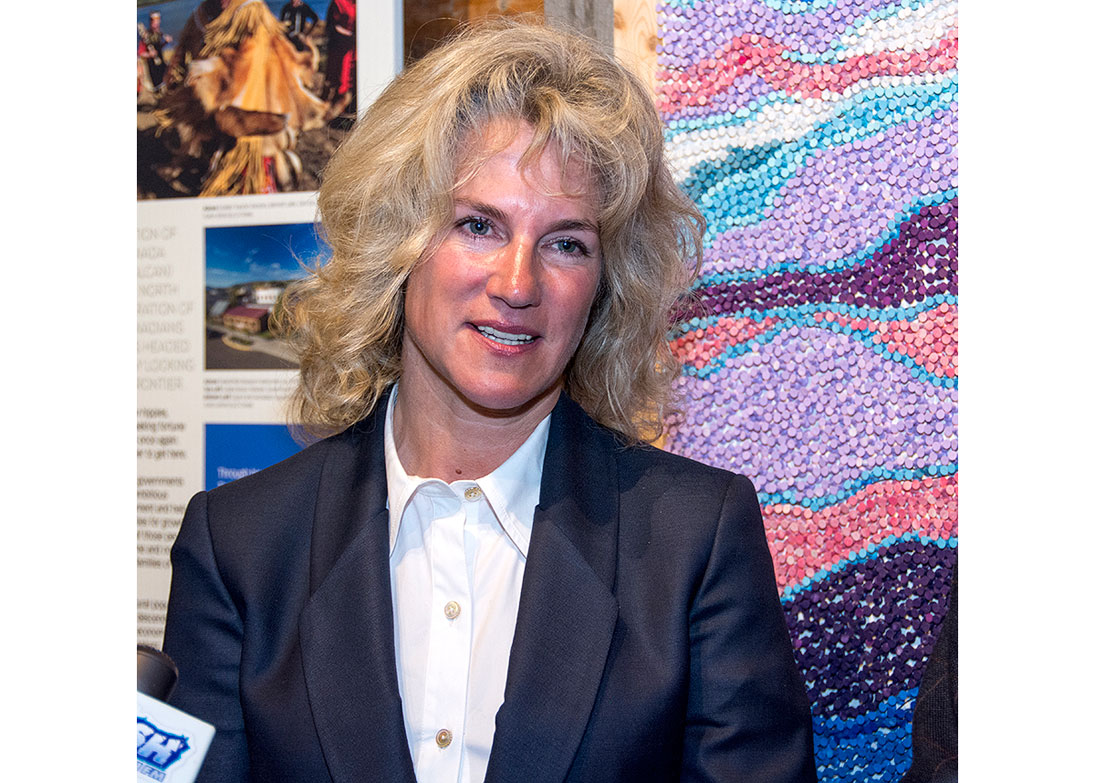 Photo by Whitehorse Star
Tamara Goeppel
Goeppel to 'rigorously' defend herself: lawyer
The RCMP have charged Tamara Goeppel,
The RCMP have charged Tamara Goeppel, a Yukon Liberal Party candidate in the November 2016 territorial election, with violating the Yukon Elections Act.
Goeppel faces two counts of "aiding or abetting persons in making proxy applications that were not in accordance with Section 106 of the (Yukon Elections) Act."
She also faces one count of "inducing persons to falsely declare on proxy application that they would be absent from the Yukon during the hours fixed for voting," the Whitehorse RCMP announced this morning.
The charges stem from an investigation into Goeppel's use of proxy ballots in 2016, while she running as the Liberal candidate in Whitehorse Centre.
Goeppel organized proxy votes for 10 homeless people in her downtown riding, the Liberal party said in a statement on Nov. 1.
Proxy votes are reserved for people who have reason to believe they won't be able to vote on election day, or at advanced polls, because of absence from the Yukon.
Police launched an investigation into Goeppel in early November, after the Yukon's Chief Electoral Officer alerted them to possible offences under the Yukon Elections Act relating to her use of proxy ballots.
Goppel is scheduled to appear in territorial court on Feb. 28, said the RCMP.
Goeppel declined the Star's request for an interview today.
Her lawyer, Richard Fowler, said Goeppel was served with summons Wednesday and that she has no comment at this time, as the case is before the courts.
"She intends to rigorously defend herself," Fowler told the Star from his office in Vancouver.
The charges against Goeppel are "very serious," Yukon Party interim leader Stacy Hassard said this morning.
"I would have hoped that the premier (Sandy Silver) would have taken action when the allegations first came about."
Neither Silver nor the Liberal party responded to the Star's requests for comment before this afternoon's press deadline.
The firestorm surrounding Goeppel's use of proxy ballots erupted one week before election day (Nov. 7).
At the time, Yukon NDP Leader Liz Hanson, the incumbent in Whitehorse Centre, called on Silver, as Liberal leader, to remove Goeppel from his team.
He did not.
Laura Cabott, his campaign chair, said Nov. 1:
"Tamara was well-intentioned and genuine in her desire to help everybody have a voice and everybody that's eligible to vote, to vote in the election.
"She made a mistake, and that is now being investigated."
Hanson ultimately won Whitehorse Centre, beating out Goeppel by 55 votes.
Goeppel defended her use of proxy votes during the campaign, saying only the voter herself can make a judgment about where she will be on polling days.
She added that street-involved people may feel intimidated by the voting process, and they aren't adequately accommodated.
She said the Salvation Army could have been a polling place, as it's "a location that is more comfortable for folks."
The penalty for an offence under the Elections Act is a fine of up to $5,000, a jail term of up to one year, or both.
In the fall of 2014, Goeppel unsuccessfully challenged Yukon MP Larry Bagnell for the territory's Liberal nomination for the October 2015 federal election.
Add your comments or reply via Twitter @whitehorsestar
In order to encourage thoughtful and responsible discussion, website comments will not be visible until a moderator approves them. Please add comments judiciously and refrain from maligning any individual or institution. Read about our user comment and privacy policies.
Your name and email address are required before your comment is posted. Otherwise, your comment will not be posted.