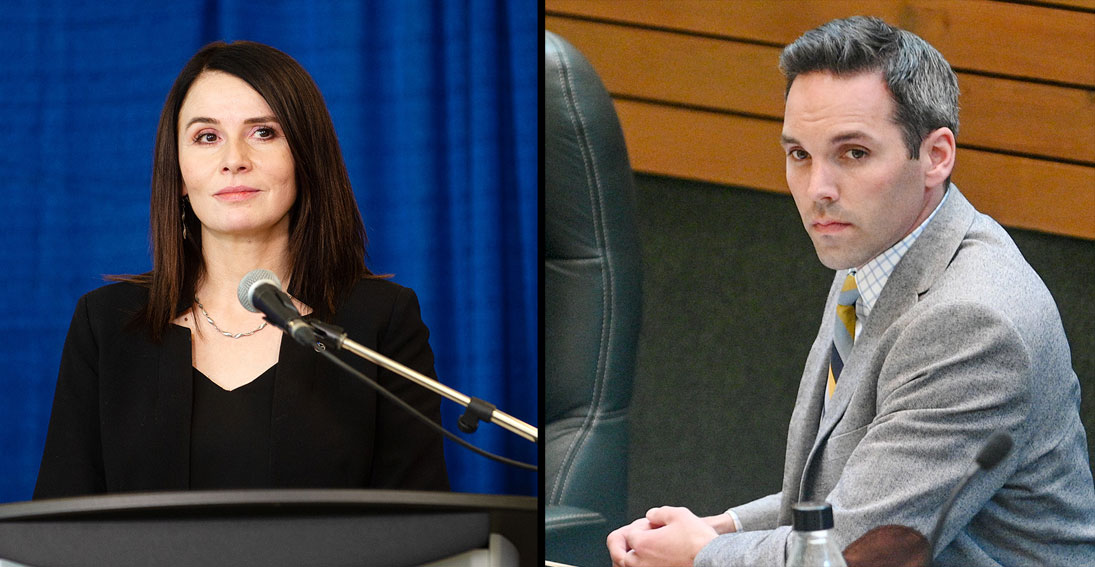 Photo by Whitehorse Star
Education Minister Jeanie McLean and Yukon Party leader Currie Dixon
Families to be refunded for July's child care expenses
The Yukon government is offering parents and families around the territory an olive branch after closing daycare centres for most of the last three weeks to help combat the COVID-19 outbreak.
The Yukon government is offering parents and families around the territory an olive branch after closing daycare centres for most of the last three weeks to help combat the COVID-19 outbreak.
"The Yukon Early Learning and Child Care (ELCC) funding program has been temporarily adjusted to support all families for the month of July, including those who voluntarily kept their children home from child care for two weeks to help reduce transmission of COVID-19," a news released from the government stated on Monday afternoon.
"Through the Department of Education, the Yukon ELCC contributes $700 per month, per child, as a direct subsidy to families with children attending licensed child care programs full-time.
"Funding will also be provided to the Watson Lake Daycare which currently subscribes to the Rural Sustainability program."
For July, the subsidy will be based on enrolment rather than attendance.
"The Government of Yukon is facilitating a full refund of all additional parent fees charged by child care operators above and beyond the usual subsidy for this month," the government said.
"This additional funding support will help to alleviate the financial pressures of child care for families. It also provides all licensed child care operators in the Yukon with the support they need to continue paying staff and providing critical and essential child care services."
With the outbreak in child care centres now under control and most people recovered, Dr. Brendan Hanley, the chief medical officer of health, has recommended child care centres and family day homes reopen on the past Monday to all children and not to just those of critical and essential workers.
"While Yukoners pulled together to help contain transmission of COVID-19 among children, our licensed child care centres continued to provide valued, high-quality services to our community and essential workers during this exceptionally challenging time," said Education Minister Jeanie McLean.
"We appreciate our early childhood educators and the families who were able to make extra efforts to keep their kids at home.
"The health and safety of children and families is always our first priority, and we want to support Yukoners by ensuring all costs for licensed child care are fully covered for the month of July."
The government is the legislated regulator for licensed child care centres in the Yukon and is not party to any agreements made or contracts signed between operators and parents, including any agreed-upon requirements for parent fees that exceed the $700 subsidy.
The total amount of additional funding support to families and licensed child care operators in the Yukon for July 1-31 will be calculated based on refunds to families facilitated by operators, who will in turn be fully reimbursed by the government.
The funding will support families who have children enrolled in licensed child care in July, as well as 72 licensed child care operators and up to 300 early childhood educators and staff.
The government's plan didn't sit well with the official Opposition Yukon Party.
Party leader Currie Dixon told the Star this morning the offer didn't come close to covering the stress caused to parents and families during the closure.
He said many parents had to make the difficult decision to either stay home and provide care for their children or to continue going to work so they could pay their bills.
Many parents, he suggested, took unpaid leave from their jobs during that period, and deserve to be better compensated.
"This comes nowhere close to covering the lost wages for those who had to take unpaid days off," Dixon said.
"This has put extra stress on parents who are wondering how they are going to make up for lost wages. There has been no indication from the Liberals they will adjust the paid sick leave program to accommodate these circumstances.
"The government should have provided more support," Dixon said.
He would have liked to see it create another program specifically tailored to the situation.
"It could have created a unique program to cover it," said the Yukon Party leader.
"Many families were forced to take unpaid time off work to follow this recommendation from the government," the party added in a news release.
"Families faced the dilemma of choosing between following health recommendations or showing up to work so that they could pay their bills and feed their families. This was an unfair choice for parents, and the government should have planned better to support Yukon families during the outbreak.
"Several reports throughout the pandemic have indicated that the burden of decisions affecting childcare and schooling are felt disproportionately by women," the party added.
"This is also likely the case with the Government of Yukon's decision to tell parents to keep their children home for three weeks without providing compensation or assistance to those parents who had to take time off work to follow this recommendation."
There were approximately 1,500 children registered in licensed child care this month.
Add your comments or reply via Twitter @whitehorsestar
In order to encourage thoughtful and responsible discussion, website comments will not be visible until a moderator approves them. Please add comments judiciously and refrain from maligning any individual or institution. Read about our user comment and privacy policies.
Your name and email address are required before your comment is posted. Otherwise, your comment will not be posted.