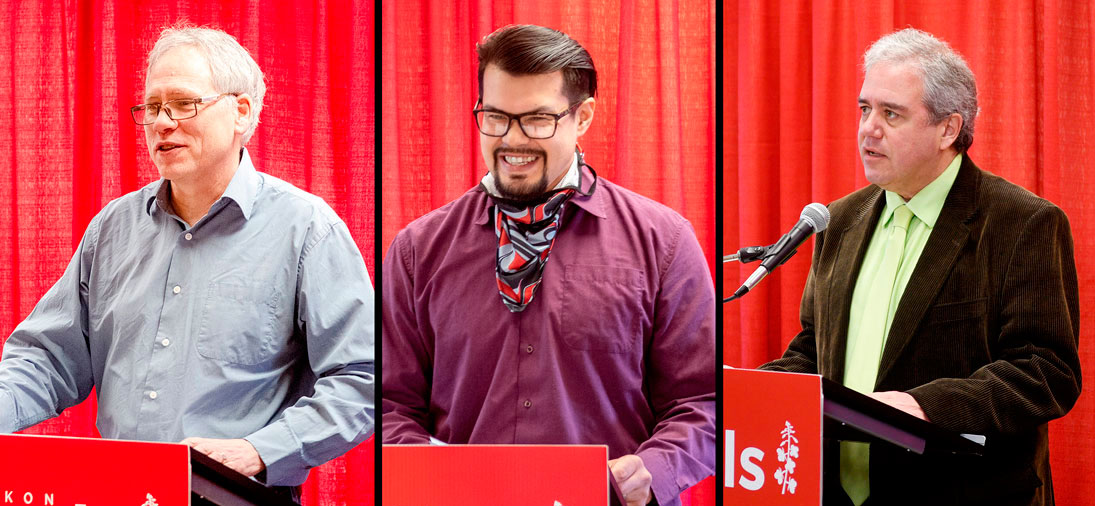 Photo by Whitehorse Star
John Streicker, Jeremy Harper and Dan Curtis
Photo by Whitehorse Star
Dan Curtis
Election sees Liberals held to a minority government
Liberal Premier Sandy Silver was re-elected Monday to his third term as MLA for the Klondike riding and second as premier.
Liberal Premier Sandy Silver was re-elected Monday to his third term as MLA for the Klondike riding and second as premier.
Silver, however, will be saddled with a minority government regardless of what happens in the Vuntut Gwitchin riding.
There, Liberal incumbent Pauline Frost and NDP candidate Annie Blake ended the night in 78-78 tie vote. The Yukon Party did not field a candidate in the riding.
The tie would force a recount overseen by a Yukon Supreme Court judge if it stands up when the results are confirmed after the official addition on Thursday.
If the votes remain tied, the riding would be decided by a draw.
The Liberals and the Yukon Party ended the night with eight seats each.
The NDP took two seats.
If the Liberals and Yukon Party remain tied after the Old Crow riding is decided, the common practice is to give the governing party the first opportunity to form the next government.
The premier won his riding handily, garnering 526 votes compared to 364 for Yukon Party candidate Charlie Dagostin and 224 for NDP hopeful Chris Clarke.
Silver said in a telephone interview after the results were in that he attributes his success in the Klondike to just being a people person and representing his constituents – all constituents – as best as he can. People trust him to work hard on their behalf, he said.
For this term in office, the premier said, he's going to be doing more work in his riding, even with his duties as premier.
"I always hope to have government that represents all walks of life, and I am proud of what we have done in that regard and we hope to continue that," he said.
Silver said he was proud of his Liberal team and the diversity it brought to the election.
The Liberals, he said, will carry forward with the work they've done over the previous 4 1/2 years while following through with the commitments they made in their party platform.
"I will make good on those commitments," he said.
With 19,001 Yukoners exercising their right, the voter turnout was 65.5 per cent of the 28,992 eligible voters.
The Yukon Party received the most votes at 6,897, or 36 per cent of the total votes cast.
The Liberals received 6,722 votes, or 35 per cent of the vote, while the NDP received 5,356 votes, or 28 per cent of the total vote.
The Liberal headquarters were quiet Monday evening as the results started rolling in.
Party communications manager Sunny Patch said they built their campaign around the work they have done since taking over the government in late 2016. And they focused on their commitment laid out in two guiding documents – Putting People First and Our Clean Future.
"We talked about work we have done and and we talked about the how the Liberal team would like to continue that work," she said in an interview at the headquarters. "There was great enthusiasm in this campaign. It was a really positive campaign."
Patch said the Liberals got to work in 2017 resetting the relationships between the government and First Nations.
They spoke about their promise to build more affordable housing and reducing greenhouse gas emissions 30 per cent by 2030, she said.
Liberal campaign manager Moira Lassen said it was real pleasure to work with all of the candidates.
"Everybody brought their life experiences to the team and the team really excelled," she said.
It was Liberal candidate Jeremy Harper running in the riding of Mayo Tatchun who was the first to be declared elected Monday night.
He finished with 238 votes compared to 208 for NDP candidate Patty Wallingham and 186 for Yukon Party candidate Peter Grundmanis.
A newcomer to politics, the 39-year-old Harper said he and his volunteers worked the riding extensively. He said they knocked on 480 doors over the course of the campaign.
Asked Monday night what attracted the voters to him, Harper simply said it was his reputation in the communities of Mayo, Pelly Crossing, Keno, Carmacks and Stewart Crossing.
"I have been a nice guy, and have always been willing to lend a helping hand," he said. "I am just so happy to have so many supporters out there going to the polls."
He will honour their votes by working hard, with his heart, over the next four years, he said.
"I feel this is such a privilege."
The first order of business, said Harper, will be to develop an action plan for each of the communities he represents.
While Liberal cabinet minister John Streicker was returned to his second term as the MLA for Mount Lorne-Southern Lake, it was not a decisive win.
Streicker pulled in 446 votes, or just 40 more than the 406 votes for Yukon Party candidate Eric Schroff. NDP candidate Erik Pinkerton drew 292 votes.
Streicker said the issues in the Mount Lorne-Southern Lakes riding are many, and varied.
COVID-19 was certainly on everybody's mind, even if they didn't raise it at the door, he said.
"As a territory, we still have to find our feet as we come out of this pandemic."
Streicker said the huge snowpack and the potential for flooding in the Southern Lakes were also major topics, as was renewable energy.
Streicker said he could not offer up anything specific when asked why the voters chose him over the other two.
"It's a difficult question to get into the hearts and minds of other folks," he said. "I have always run for this riding, and the people who live here. I think all three of us tried to do that."
He said he'll continue his work in the legislation in a respectful manner.
Mayor Dan Curtis, having failed to be elected in the NDP stronghold of Whitehorse Centre, will be back in the mayor's chair for Tuesday night's city council meeting.
During an interview Tuesday, he offered his congratulations to NDP candidate Emily Tredger.
Tredger won by a substantial margin, earning 498 votes compared to Curtis' 312 and 249 for Yukon Party candidate Eileen Melnychuk – who unsuccessfully ran as a Liberal in the 2016 election.
Curtis didn't make any specific observations about why he placed second, but did note he did hear some voters say they liked the job he was doing as mayor.
He said he put forward a solid effort in canvassing the riding, knocking on every door, but he just came up short.
Silver, meanwhile, said the Liberals will return to the legislature with a lot of civility and a lot of respect.
"It's not how well we agree," Silver said of the dynamics among the three parties. "It's how well we disagree."
A tie also resulted in the Vuntut Gwitchin riding in the 1996 election.
In a figurative draw from the hat, the NDP's Robert Bruce, who went on to become the Speaker of the legislature, won over the Yukon Party's Esau Schaffer.
Add your comments or reply via Twitter @whitehorsestar
In order to encourage thoughtful and responsible discussion, website comments will not be visible until a moderator approves them. Please add comments judiciously and refrain from maligning any individual or institution. Read about our user comment and privacy policies.
Your name and email address are required before your comment is posted. Otherwise, your comment will not be posted.