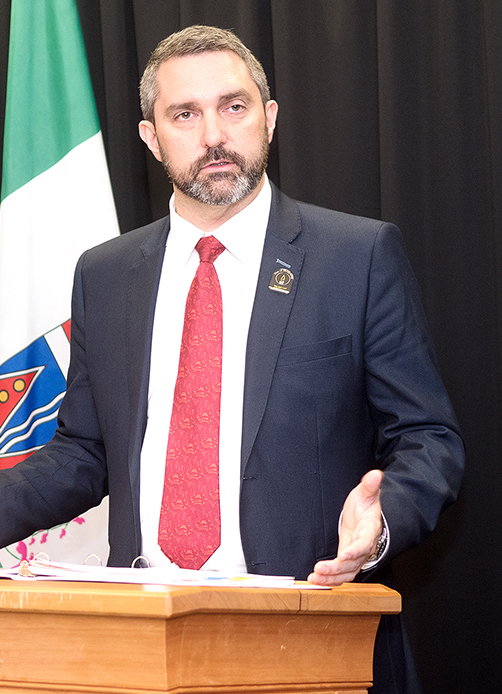 Photo by Whitehorse Star
Premier Sandy Silver
Details of carbon pricing rebates still pending
The territorial government is still awaiting details from Ottawa about how to get rebates from the carbon pricing mechanism into Yukoners' mailboxes.
The territorial government is still awaiting details from Ottawa about how to get rebates from the carbon pricing mechanism into Yukoners' mailboxes.
Meanwhile, the premier explained Wednesday that most of the particulars have already been revealed.
In fact, there is very little left to reveal ­– by his counts, about 10 per cent.
"Over 90 per cent of the information has already been shared," Silver said while speaking to reporters Wednesday afternoon.
His comments came after he was questioned in the legislature earlier by the opposition about the tax.
Among a number of motions brought forth by the Yukon Party on Wednesday was one that called on the premier to seek advice on how to negotiate an exemption for home heating fuel.
That's after the Yukon's neighbour to the east, the Northwest Territories, is set to begin rebating in full the tax for heating fuel for most residents, businesses and governments.
According to statistics from the N.W.T. government: heating a single detached dwelling will set you back about $7,000 per year in some communities, compared to about $2,000 in southern cities.
The rate for heating fuel in the N.W.T. will be about 5.5 per cent come 2019, steadily rising to just under 14 per cent come 2022.
The rebates from heating fuel are expected to provide on offset of more than $9 million per year from the levy once it's fully implemented.
The federal backstop is also set to result in about $435 in the direct cost for heating fuel, as per N.W.T. estimates shown on its webpage.
Meanwhile, the Yukon is exempting aviation fuel from the levy come the implementation date of July 2019 – the same time it is set to kick in in the N.W.T. and Nunavut. But there has been no announcement yet on home heating fuel.
As previously referenced, the territory did release some hard figures last April thanks to an analysis of possible impacts of the tax and a summary of the federal government's analysis (as a background).
Both those documents are on the Environment department's site. They note that the average cost to a Yukon household is pegged at about $260. That figure could of course jump each year until 2022, eventually reaching $50 a tonne.
(At that point, it was believed the tax would kick in during 2018 at $10 per tonne. Now that it has been pushed back to 2019, it will be $20 per tonne since the levy was to rise $10 per tonne each year. So the impacts are expected to double.)
That means the $260 estimated figure provided last spring will be $520 – which is closer to the figure the N.W.T. estimates at $435 per household, as referenced above.
That document also shows that about 75 per cent of the projected impacts on households in the territory for 2018 can be traced back to seven factors – one of those factors being home heating fuel.
It continues that these are also generally direct impacts, whereas indirect ones include those embedded in the purchase of foods, for example.
Meanwhile, the premier continued Wednesday that "there's more conversation when it comes to home fuel – and of course that's been something that we've been talking about with all three territories right across the North."
Still, it remains unclear whether that is something coming down the pipe.
"There are only a few different small little pieces that are left," Silver had said earlier in the house Wednesday, acknowledging that includes how to get cheques into mailboxes.
His government's intention, though, has been to administer those cheques without growing the bureaucracy and administration needed to do so.
"We have to make sure, as well, that we are not going to be adversely affected by growing the government."
He reiterated this later, saying "every time you put another step, every time you put another component to it, you have to consider whether or not we're going to grow government."
It comes after he had hinted there may not be any more announcements to come about rebates as the "lion's share" has already been made public.
"We have explained all of the rebates," he said partly in response to the Yukon Party in the house Wednesday.
Part of the information already shared, he reiterated, was an aviation fuel exemption, a rebate for placer miners, municipalities and First Nations governments.
However, as per his comments to reporters shortly after: even though dialogue may still be ongoing about home fuel, it remains unclear at this point whether those could include more exemptions or rebates.
"Some small details are left; that's it."
Thanks to the extended deadline announced last month, Yukoners will not see the carbon tax hit the territory until July 2019.
Add your comments or reply via Twitter @whitehorsestar
In order to encourage thoughtful and responsible discussion, website comments will not be visible until a moderator approves them. Please add comments judiciously and refrain from maligning any individual or institution. Read about our user comment and privacy policies.
Your name and email address are required before your comment is posted. Otherwise, your comment will not be posted.