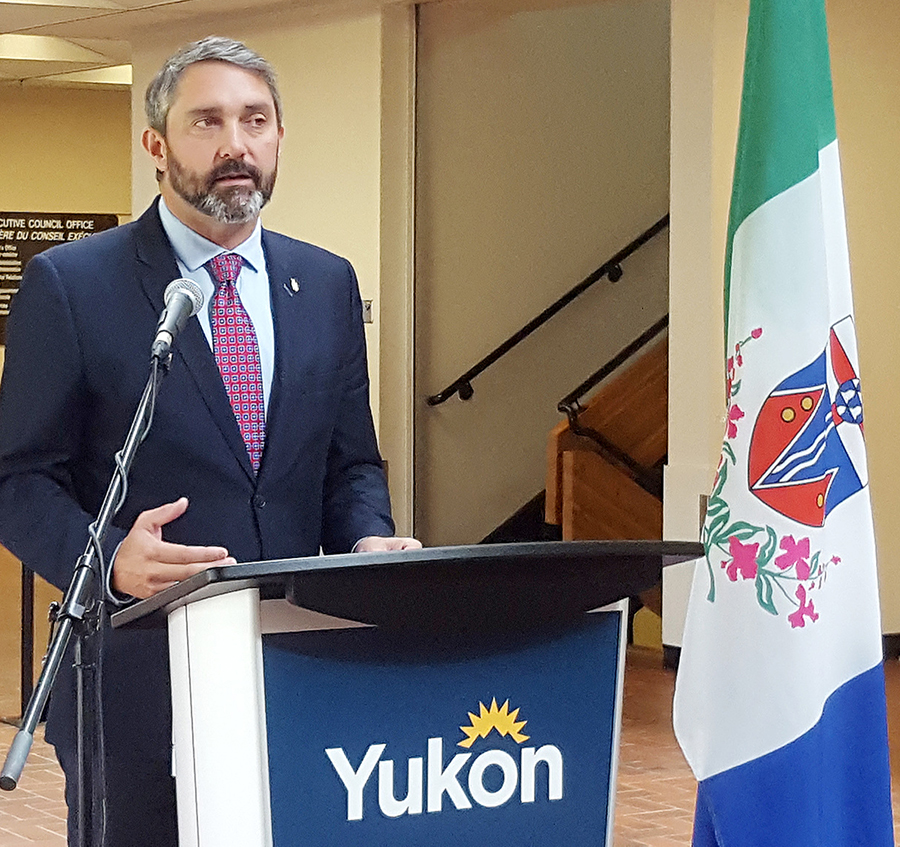 Photo by Whitehorse Star
Premier Sandy Silver
Department of Finance gets new DM
Premier Sandy Silver has appointed a career bureaucrat from Ontario as the new deputy minister for the Department of Finance.
Premier Sandy Silver has appointed a career bureaucrat from Ontario as the new deputy minister for the Department of Finance.
Scott Thompson will join the Yukon government on March 2 – a full year after Chris Mahar became the acting deputy minister.
She assumed that role after the resignation of Katherine White, who had been recruited by then-Yukon Party premier Darrell Pasloski in 2015.
Thompson worked for the Ontario government for 33 years.
He was the deputy minister for multiple ministries, including finance, transportation, and infrastructure.
Throughout his career, Thompson has maintained a strong commitment to improving public policy development and decision-making, the Yukon government said Wednesday, and helping to guide public servants into being the leaders of tomorrow's public sector.
He was a member of the Public Service Commission of Ontario and served as the board chair for the Ontario Financing Authority.
Thompson has a bachelor of environmental studies in urban and regional planning from Ontario's University of Waterloo, and did graduate studies in transportation planning at the University of Illinois before joining the Ontario government.
Most recently, he served as the chief executive officer of the Institute of Public Administration of Canada.
Mahar, meanwhile, will be retiring but will remain with the department until April to provide a smooth leadership transition.
"Scott Thompson brings a wealth of leadership experience and a deep knowledge of government finance," Silver said.
"Not only does he have the subject matter expertise, but he also has a track record as a leader who supports and develops others. We are excited to have him join the Yukon government," Silver added.
Deputy ministers are the most senior public servants in government departments. They are responsible for the department's budget, day-to-day operations and program development.
They serve at the pleasure of the premier and take direction from the minister responsible for their department.
"I am happy that Chris will join her partner in retirement, but am very sad to see her go," Silver said.
"With her decades of experience across government, her absence will be felt. In typical and true Chris fashion, she put the Finance department team's needs ahead of all else, and has agreed to stay on until April to ensure a smooth transition.
"It is this type of selfless action that has earned Ms. Mahar the respect of my cabinet colleagues as well as her peers in the public service. I am grateful for her tutelage and dedication to her role," Silver said.
Add your comments or reply via Twitter @whitehorsestar
In order to encourage thoughtful and responsible discussion, website comments will not be visible until a moderator approves them. Please add comments judiciously and refrain from maligning any individual or institution. Read about our user comment and privacy policies.
Your name and email address are required before your comment is posted. Otherwise, your comment will not be posted.