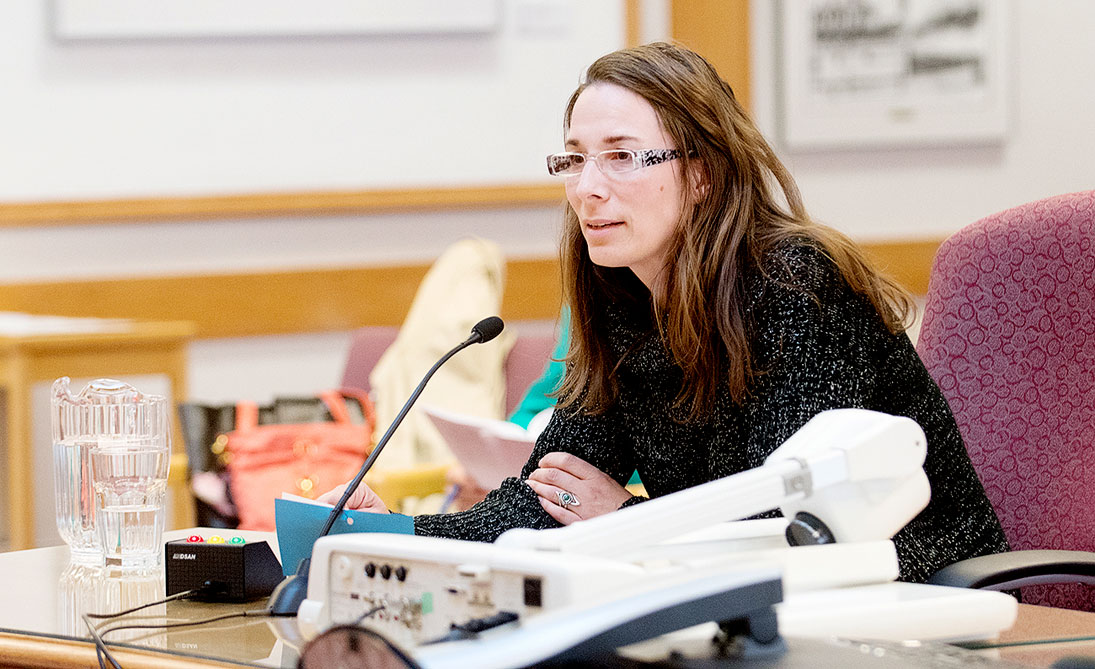 Photo by Whitehorse Star
Transit manager Cheri Malo
Dedicated transit lane deemed a success as experiment ends
Transit riders heading out of Riverdale will once again be back in the regular traffic mix next week.
Transit riders heading out of Riverdale will once again be back in the regular traffic mix next week. The city's week-long experiment with a dedicated bus lane reached the end of the line this morning.
Transit manager Cheri Malo told the Star she recognized there were fewer vehicles on Lewes Boulevard throughout the week.
Students at both F.H. Collins Secondary and Vanier Catholic Secondary schools had exams this week, and classes were not scheduled as usual.
Today was especially quiet, Malo noted. All schools – including the nearly half-dozen in Riverdale – are closed to students for a teachers' professional development day.
Despite the unusual circumstances impacting traffic, Malo said overall, the experimental lane proved to be successful. It used the boulevard's cycling lane, and was indicated with pylons during peak traffic hours – 7:30 a.m. to 9 a.m.
"It went really well," she said.
City staff were pleasantly surprised to hear from a number of transit passengers in Porter Creek who were happy to have their buses arrive as scheduled rather than being late.
Delays in other areas often ensue when buses in Riverdale have to move in and out of the congested traffic there in the morning.
The Riverdale North Porter Creek express route provides passengers with service during peak hours through the week with a schedule between that travels from Riverdale to Porter Creek in the early-morning hours.
Along with riders from Porter Creek, those getting on at other stops along the way told officials that knowing the bus would arrive on time meant not having to put on as many layers of clothing as they normally do when they don't know how long the bus will take to arrive.
The city also heard from cyclists, Malo said.
Many commented that they enjoyed the safety offered as drivers in personal vehicles stayed out of the dedicated cycling/transit lane, she said.
Malo said there also seemed to be an increase in the number of commuters travelling by bike from Riverdale from the first part of the week to the end.
A number of those commenting on the dedicated cycling/transit route told the city "they wished the lane would stay."
For now though, that's not to be. The city will be looking at ridership figures and such from this week's experiment along with the results of a survey that will close Monday.
That information will then be used to inform the city's master plan for transit, which is expected to be presented to council in March.
From there, the city would decide if it wants to proceed: whether that be a more permanent bus and cycling lane put in place, keeping things as they are, or perhaps other options that may arise.
Bus ridership figures for the week were not available this morning.
Malo said it's expected they'll be available by early next week.
Add your comments or reply via Twitter @whitehorsestar
In order to encourage thoughtful and responsible discussion, website comments will not be visible until a moderator approves them. Please add comments judiciously and refrain from maligning any individual or institution. Read about our user comment and privacy policies.
Your name and email address are required before your comment is posted. Otherwise, your comment will not be posted.