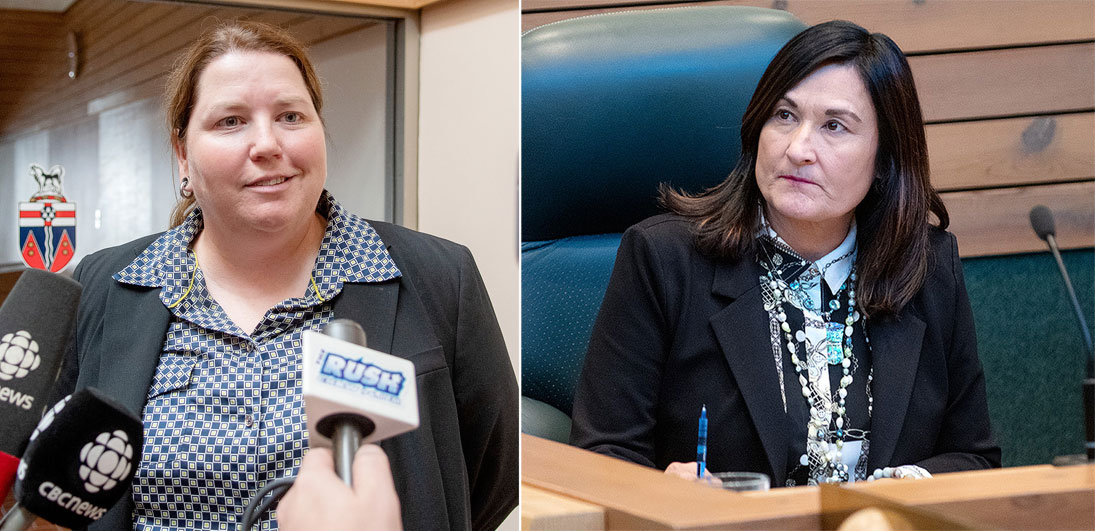 Photo by Whitehorse Star
NDP Leader Kate White and Environment Minister Pauline Frost
Declare climate emergency, MLAs urge government
The Yukon's MLAs unanimously approved a motion Thursday that urges the government to declare a climate emergency in the territory.
The Yukon's MLAs unanimously approved a motion Thursday that urges the government to declare a climate emergency in the territory.
The motion to recognize the impact of warming was brought to the legislature by Environment Minister Pauline Frost.
It urged the government to take action to achieve the reduction of greenhouse gas emissions; ensure Yukoners have access to reliable, affordable and renewable energy; adapt to the impacts of climate change; and build a green economy.
"Responding to and mitigating the impacts of climate change is not something that can be done by one government alone," Frost said.
"This is not a time when we can turn to our neighbours and expect them to take action while we continue with the status quo."
Frost said that "there is no question" that climate change is severely affecting the North, as warming is taking place at more than double the global rate – 2.3 degrees C between 1948 and 2016. Winter temperatures have risen 4.3 degrees.
She urged the government to follow in step with territorial First Nations governments, namely the Vuntut Gwitchin of Old Crow, which declared an emergency during the past summer.
A 10-year plan for addressing climate change is under development, she said, in partnership with Yukon First Nations and climate experts. It will include more than 130 actions toward a clean future.
They are focused on reducing greenhouse gas emissions, enhancing energy security, adapting to the effects of climate change and supporting Yukon businesses and individuals as they adapt alongside.
The plan will aim to reduce the climate change impact on the Yukon's ecosystems and work with a youth panel, which will directly advise the Liberal government.
Frost said the Liberal government supports the Paris Agreement stipulations and the carbon tax that kicked in last July, with plans for rebates to lessen the burden on Yukoners.
Environment Yukon will work in tandem with the Department of Energy, Mines and Resources to reduce energy consumption and emissions, she said.
The strategy also promises to assess all infrastructure projects costing $10 million or more with a climate lens in order to mitigate greenhouse gas emissions.
The government will invest $120 million with funds from the federal government for energy-efficient improvements to Yukon buildings, she said.
"We all have a role to play in addressing climate change," Frost said. "My commitment to Yukoners is that we will make progress and we will report back."
Opening Frost's motion to discussion, NDP Leader Kate White amended it to actually declare an emergency, rather than just recognize it.
"This is simple, as the house knows, compared to other things that I've tried to bring forward," White said.
"But this is the most powerful line that we will ever be judged on: declaring a climate emergency in Yukon."
White conceded the adjustment may be largely symbolic, but house business is often rooted in symbolism.
White cited Natural Resources Canada's 2019 "Canada in a Changing Climate" report. It claims the Yukon can escape "relatively unscathed" if carbon emissions are reduced immediately and dropped to near zero in the next 100 years.
She urged the house to commit entirely to the declaring of an emergency, an amendment that was unanimously agreed upon.
The government is falling in step with the House of Commons and the City of Whitehorse, both of which declared a climate emergency last June and last month respectively.
Last Monday, White tabled a motion calling for the Declaration of a Territorial Climate Emergency in the territory.
"It was encouraging that the Government of Yukon was willing to work with the opposition and support the NDP and the community in our efforts to declare a climate emergency," White said in a statement Thursday.
The declaration approved by the house is just another part of the process of tackling climate change, she added.
"It's amazing that Yukon will be declaring a climate emergency, but we can't lose sight of the ultimate goal of transitioning away from a fossil fuel-reliant society," said White.
"I look forward to continuing to work with my colleagues in the Yukon Legislative Assembly to achieve that goal."
Now that the motion to declare an emergency has been passed, White said, it's up to Premier Sandy Silver and his cabinet colleagues to choose the time and place to formally declare a climate emergency on behalf of the Yukon.
Add your comments or reply via Twitter @whitehorsestar
In order to encourage thoughtful and responsible discussion, website comments will not be visible until a moderator approves them. Please add comments judiciously and refrain from maligning any individual or institution. Read about our user comment and privacy policies.
Your name and email address are required before your comment is posted. Otherwise, your comment will not be posted.