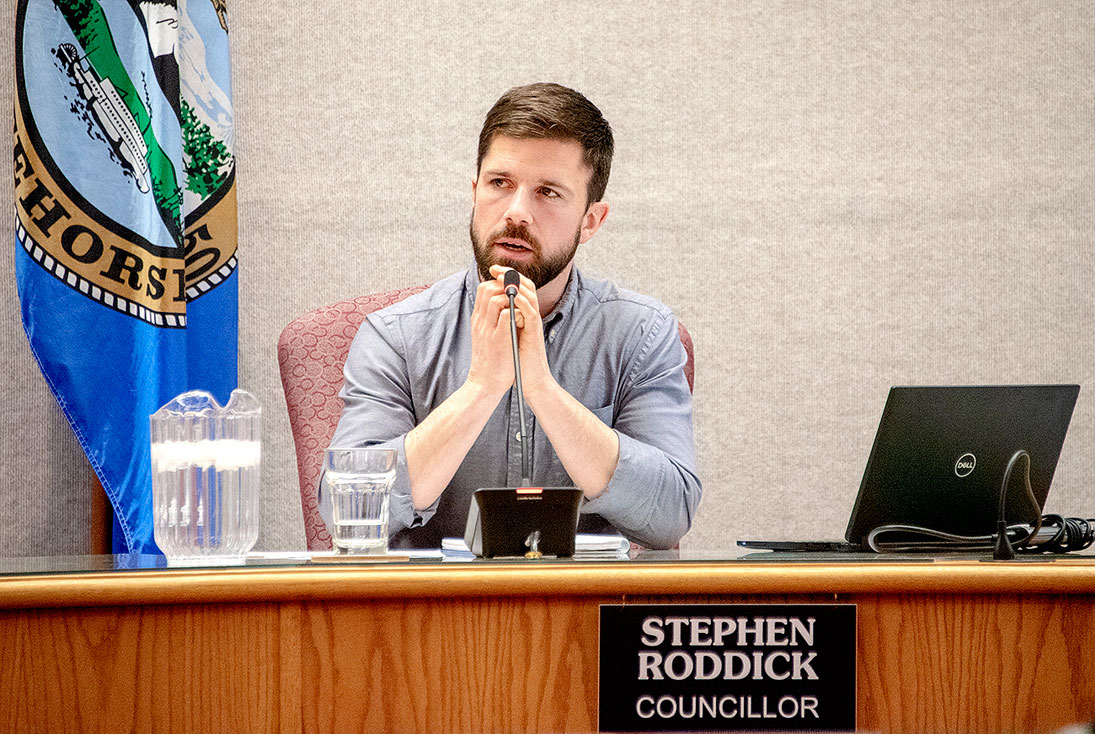 Photo by Whitehorse Star
Coun. Steve Roddick
Declare a climate emergency, councillor urges
Whitehorse city council is being asked to declare a climate change emergency.
Whitehorse city council is being asked to declare a climate change emergency.
Coun. Steve Roddick introduced the motion at Monday's council meeting, in keeping with the notice he provided during a session earlier this spring.
Discussion of Roddick's motion is scheduled for this coming Monday, with the vote to follow on June 24.
Roddick's motion goes beyond a declaration. It directs city administration to establish a climate change adaptation task force.
It seeks to identify how the city can accelerate its existing plans and actions to address climate change, along with a request for new budgetary proposals to be included in the next annual budget to conduct the work.
The motion seeks to have city administration enhance municipal efforts to strengthen energy efficiency and reduce carbon emissions.
The motion calls on the city to identify, "where applicable, the carbon emissions associated with each capital budget line item and the total relative impact of the capital budget on the city's emission reduction goals."
It also calls for continuing engagement with the Yukon government and the local business community "to explore opportunities for ambitious new collaborative actions through the forthcoming Yukon Climate Change, Energy and Green Economy Strategy."
In introducing the motion, Roddick thanked members of council and city administration for their advice in crafting it.
He gave recognition to the environmental activist community and the youth who've been so involved.
In the preamble to the motion, Roddick writes: "The North is experiencing unprecedented and accelerating climate change that contributes to wildfires, extreme weather events and long-term impacts that affect municipal infrastructure and threatens the health, well-being and property of Whitehorse residents...."
During last month's Caribou Days event in Old Crow, the Vuntut Gwitch'in First Nation declared a climate emergency.
As Monday's council meeting drew to a close, another meeting was beginning at the Whitehorse Public Library organized by Yukoners Concerned.
The organization is opposed to Yukon Energy's proposal for a new 20-megawatt generating station powered by fossil fuels.
Approximately 100 or so people attended the two-hour meeting, including experts in the field of renewable energy and Energy, Mines and Resources Minister Ranj Pillai.
Add your comments or reply via Twitter @whitehorsestar
In order to encourage thoughtful and responsible discussion, website comments will not be visible until a moderator approves them. Please add comments judiciously and refrain from maligning any individual or institution. Read about our user comment and privacy policies.
Your name and email address are required before your comment is posted. Otherwise, your comment will not be posted.