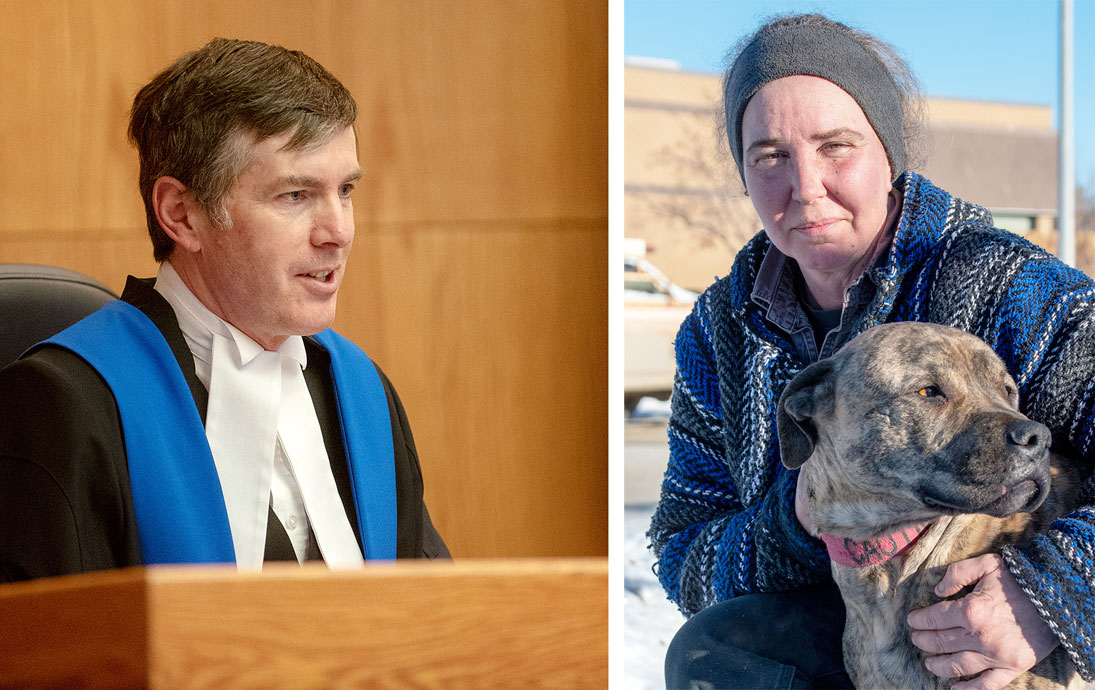 Photo by Whitehorse Star
Chief Judge Peter Chisholm and Shelley Cuthbert
Decision pending on kennel's former owner
The owner of the former Tagish kennel was in territorial court last Monday to defend herself against two charges related to the Environment Act.
The owner of the former Tagish kennel was in territorial court last Monday to defend herself against two charges related to the Environment Act.
Shelley Cuthbert appeared before chief Judge Peter Chisholm. The charges stem from waste left on a piece of public land near kilometer 30 of the Atlin Road near Tarfu Creek.
Cuthbert had set up a camper and other shelters for herself and her dogs, after they all had to leave her Tagish residence due to a court order.
Her neighbours in Tagish had taken her to court over noise complaints. She lost the case and the subsequent appeal.
Cuthbert was on the land in question from mid-2018 to early 2019.
The Yukon government sought a court order to have her removed from the Tarfu Creek land – a request the court granted in early 2019.
Territorial Crown prosecutor Megan Seiling called one witness, natural resource officer Jason Colbert.
He said the government obtained a court order demanding that Cuthbert vacate the land by March 1, 2019. The deadline was extended twice, with her having to be out of the area and the land reclaimed by May 27, 2019.
He explained that the extensions were granted due to weather conditions. Road access to the site was difficult, and items were frozen to the ground.
"It was land access to the site," Colbert told the court.
Colbert said he checked the site on May 28, 2019 and noted minimal progress. The government had to clean up the area in mid-July 2019.
He said a camper, numerous pallets, wire fencing, dog crates, tarps, tents and debris remained at the scene. He recognized all items as belonging to Cuthbert.
He added that he only saw Cuthbert and another person, who was helping her, using the land during that time.
Colbert estimated that the affected area was approximately 0.5 to one ha. He told the court he never once indicated, in any of their face-to-face meetings, letters or email correspondences that Cuthbert could just leave these items on the land.
Cuthbert, who represented herself, posed some questions to Colbert. She asked if he did an inspection to determine what belonged to her.
Colbert said there was no inspection of that nature before the court order. He clarified that he walked through the site with her in August 2018. He said a full inspection was done at that time.
Cuthbert asked Colbert if he ever told her she would have to complete a land reclamation. He said he did. She asked when that conversation happened. He could not remember.
She did not call any evidence in her defence.
Seiling argued that the Crown had met its burden; thus Cuthbert must be found guilty.
She said Cuthbert was clearly ordered to move all her items from the site. She added there is no evidence that someone else had left the items.
"Any suggestions that these items were not hers is unattainable and should not be taken seriously," Seiling said.
She indicated that there is nothing in the record to demonstrate that the government would clean up the area. She pointed out that the government was patient in dealing with Cuthbert.
She argued that Cuthbert has to show that she took all reasonable steps to avoid committing the offence. This is as per case law regarding the defence on a strict liability offence.
She concluded that Cuthbert cannot claim she'd had a mistaken, honest belief that she did not have to clean up the site, as there is no evidence.
Cuthbert told the court she first arrived on the Tarfu Creek land on June 3, 2018. She said she felt there were holes in Colbert's testimony.
"We have gaps," Cuthbert said. "There are big gaps in this inspection report."
She argued that Colbert never detailed what items belonged to her.
She took issue with the officer stating that either she or one other person was ever at the site. She felt he did not have enough information to make that conclusion.
"He hasn't proven anything," Cuthbert said.
It's a public area, she added, and people are there all the time.
She alleges that no one in a position of authority ever told her she had to reclaim the land.
She argued that the court order instructed her to leave and vacate, not to clean up and return the land to a natural state.
She added that reclamation was not referenced in the court order either. She felt that she should have been informed of this to avoid going to court.
Responding, Seiling argued that the court order was irrelevant, as the charges are related to something else. She maintained that Cuthbert was liable for leaving these items, and that ignorance is not a defence.
Chisholm reserved his decision until Tuesday.
Add your comments or reply via Twitter @whitehorsestar
In order to encourage thoughtful and responsible discussion, website comments will not be visible until a moderator approves them. Please add comments judiciously and refrain from maligning any individual or institution. Read about our user comment and privacy policies.
Your name and email address are required before your comment is posted. Otherwise, your comment will not be posted.