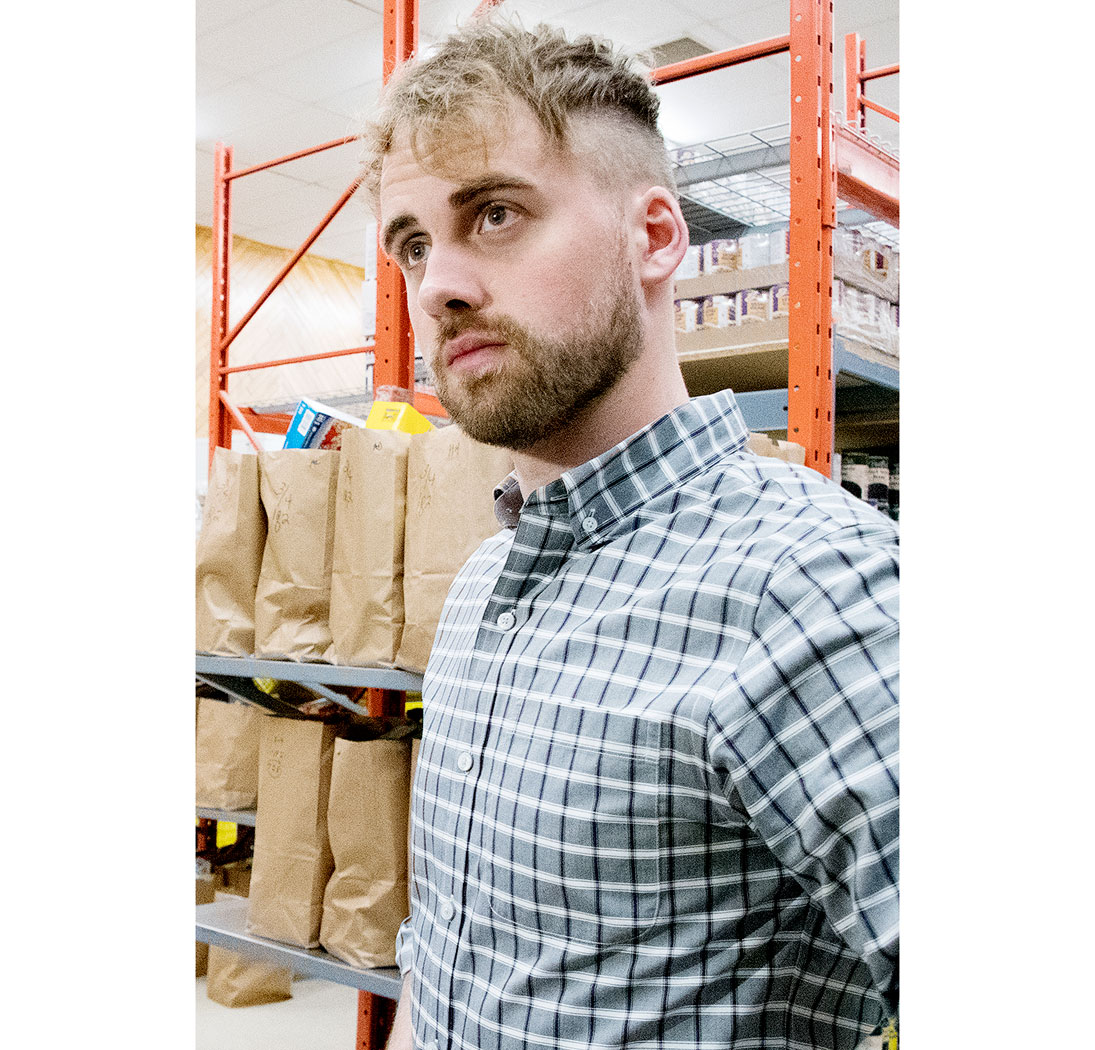 Photo by Whitehorse Star
Tristan Newsome
Data confirm significant hunger numbers evident in Whitehorse
The number of households needing to use the Whitehorse Food Bank rose by 44 per cent from 2011 to 2016.
The number of households needing to use the Whitehorse Food Bank rose by 44 per cent from 2011 to 2016. 
This is one of the findings in the recently released report on client usage prepared for the bank by Vector Research.
"This report clearly outlines the demographics of households receiving hampers and the extent to which Whitehorse Food Bank services are needed," Stu Mackay, who chairs the bank's board, said Friday.
"It will be very helpful in planning our future program directions," stated Mackay.
Other findings include:
• The bank issued a total of 8,209 food hampers to 1,894 households in 2016. Each household served by the bank received, on average, 4.3 hampers over the year.
• In 2016, most households (75 per cent) receiving hampers from the bank were led by single people.
• Children were present in households receiving hampers from the bank 31 per cent of the time in 2016.
• Social assistance was the primary source of income for half (49 per cent) of households served by the bank 2016.
• Between 2011 and 2016, the number of households served by the bank living in private rental accommodation more than doubled, increasing by 109 per cent.
• Household leaders younger than age 51 are more likely to be female (57 per cent) than male (43 per cent). Household leaders older than 50 years of age are more likely to be male (66 per cent) than female (34 per cent).
• While most (91 per cent) of the households served by the bank were located in Whitehorse, nine per cent were located in communities outside of Whitehorse.
 "We are very pleased with this report, and we believe it will help ourselves as well as other governments and organizations who are working on poverty issues to review their services," said Tristan Newsome, the bank's executive director.
Over the past six years, the data from every client visit to the bank have been tracked. 
The data are stored in a database along with information on the client's age, household type and size, income source and housing situation. 
"The data yield a variety of insights about the uptake patterns and demographic profile of Whitehorse Food Bank clients, and can be represented in a number of ways using visualization software," said Paul Kishchuk of Vector Research.
The report will also assist in raising the public's awareness of hunger in our community along with other activities such as the National Hunger Awareness Week and Poverty and Homelessness Action Week.
The food bank is a community-based organization that provides emergency food to people in need.
It's supported by many individuals, families, schools, churches, businesses and other organizations throughout the year. 
"Together, we all help feed hungry people in our community," the bank said.
Add your comments or reply via Twitter @whitehorsestar
In order to encourage thoughtful and responsible discussion, website comments will not be visible until a moderator approves them. Please add comments judiciously and refrain from maligning any individual or institution. Read about our user comment and privacy policies.
Your name and email address are required before your comment is posted. Otherwise, your comment will not be posted.