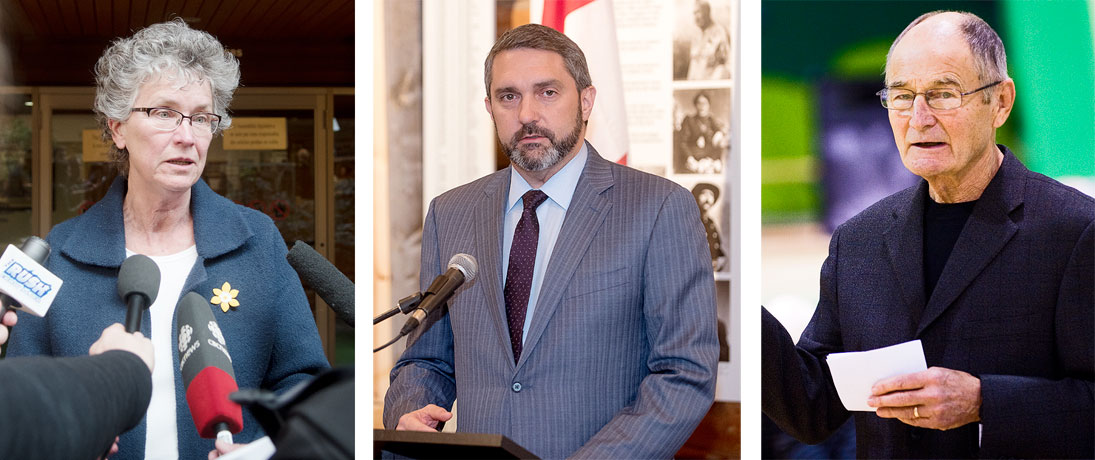 Photo by Whitehorse Star
NDP Leader Liz Hanson, Premier Sandy Silver and Dave Brekke
Current system has its merits, premier says
Democracy in the Yukon appears slated to go under an official microscope in the near future.
Democracy in the Yukon appears slated to go under an official microscope in the near future.
The Yukon Legislative Assembly unanimously passed a motion last Wednesday calling for the territorial government to appoint an independent commission.
It would be tasked with examining electoral reform, fixed election dates and other electoral system changes in collaboration with Yukoners.
"Election reform is a very important issue to Yukoners — we heard that," Premier Sandy Silver told the house.
He confirmed his government's intention to follow through on a campaign commitment to strike an electoral reform commission and legislate fixed election dates.
The premier acknowledged the federal Liberal government's flawed handling of its own, now-abandoned, electoral reform promise – that 2015 would be the last federal election conducted by way of the first-past-the-post voting system.
"I think what we saw on a federal basis was a real faux pas on that, saying that they are going to change the system," Silver said.
While the commission will examine and the Yukon government will consider potential changes to the way Yukoners vote in their elected representatives, the premier didn't commit to following through on those changes.
"I'm still not convinced that the current model isn't the best system. Let's get a non-partisan commission to get together and look at all options."
Silver's stance on fixed election dates was more determined.
Left unfixed, calling an election can become "a political tool," he said.
The motion that passed was amended from its original version.
When moved by NDP Leader Liz Hanson, it also suggested that based on the commission's feedback, the government:
• propose the best system to replace first-past-the-post;
• consider legislative amendments to allow voters the final say in an MLA's ability to cross the floor and change partisan affiliation; and
• consider a prohibition on corporate, union, and Outside donations to Yukon political parties.
"We know that Yukoners love to discuss things and they love to discuss things that mean something to them. Politics means a lot to Yukon citizens," Hanson told house.
The scope of the commission should not be restricted to electoral system reform, she added.
"We should not be saying that an independent commission is limited and cannot engage in conversations that citizens may want to raise, because I can foresee that the commission would hear opinions from Yukoners on a range of topics that are central to our democracy."
While Hanson said she isn't advocating for a particular system to replace first-past-the-post, the current system "has revealed serious weaknesses," she said.
Changes to that system "should provide a more accurate representation of the popular vote and interests."
The federal NDP champions a proportional representation voting system.
Hanson also said Yukon voters have consistently raised issues with political financing.
There are currently no limits on corporate nor union donations to political parties, she reminded the house, and election spending by those parties is similarly uninhibited.
Yukoners also feel betrayed when their political representatives decide to leave the party they were elected in, "cross the floor and change colours," Hanson said. A reassessment of the practice could be part of the commission's work.
Silver proposed the amendment that pared down Hanson's original motion. He said he did so to allow all three political parties to agree on its contents and move forward where past governments had stalled on electoral reform.
The premier also said he wanted to avoid being too prescriptive with the motion.
"That's political parties getting out front of something," he told the legislature.
"What I would rather do is have the commission have a robust process without setting other things that may be perceived as a list of priorities."
The Yukon Party abstained from significant debate on the motion.
Party leader Stacey Hassard did propose a small amendment calling for government co-operation with the other parties in the house to appoint the electoral reform commission. All MLAs agreed to the amendment.
Yukon Party house leader Scott Kent also voiced the Opposition's position that any change to the Yukon electoral system should be passed through a territorial referendum.
While it's clear that the government plans to appoint an independent commission to investigate democratic reform in the territory, the timeline for doing so remains obscure.
Hanson moved to add to her motion a deadline for the commission to report to the house by Nov. 22, 2018.
The Liberals did not support this amendment.
The premier said he could not "in good faith" set a date for the commission's report to the house, as the cabinet office is currently doing the necessary preparatory work.
"I don't want to commit to that (date) today, but I do want to commit to the two opposition leaders that we are working on this.
"This is important, and it was a (2016 election) campaign promise. To have this ready a week before the next election is not our goal. We need to make sure that we get this done in a timely fashion."
Dave Brekke is a former federal returning officer for the Yukon and a member of Fair Vote Yukon.
He told the Star this morning he was "extremely pleased" to see the motion passed, particularly by unanimous vote.
"We don't have truly representative democracy in the Yukon at this time," he said.
Brekke expressed optimism about the upcoming commission, and its potential to propose a replacement for the first-past-the-post system.
Fair Vote Yukon wrote to the territory's political leaders Nov. 8, urging action on the formation of an electoral reform commission as discussed in the legislature last spring.
Add your comments or reply via Twitter @whitehorsestar
In order to encourage thoughtful and responsible discussion, website comments will not be visible until a moderator approves them. Please add comments judiciously and refrain from maligning any individual or institution. Read about our user comment and privacy policies.
Your name and email address are required before your comment is posted. Otherwise, your comment will not be posted.