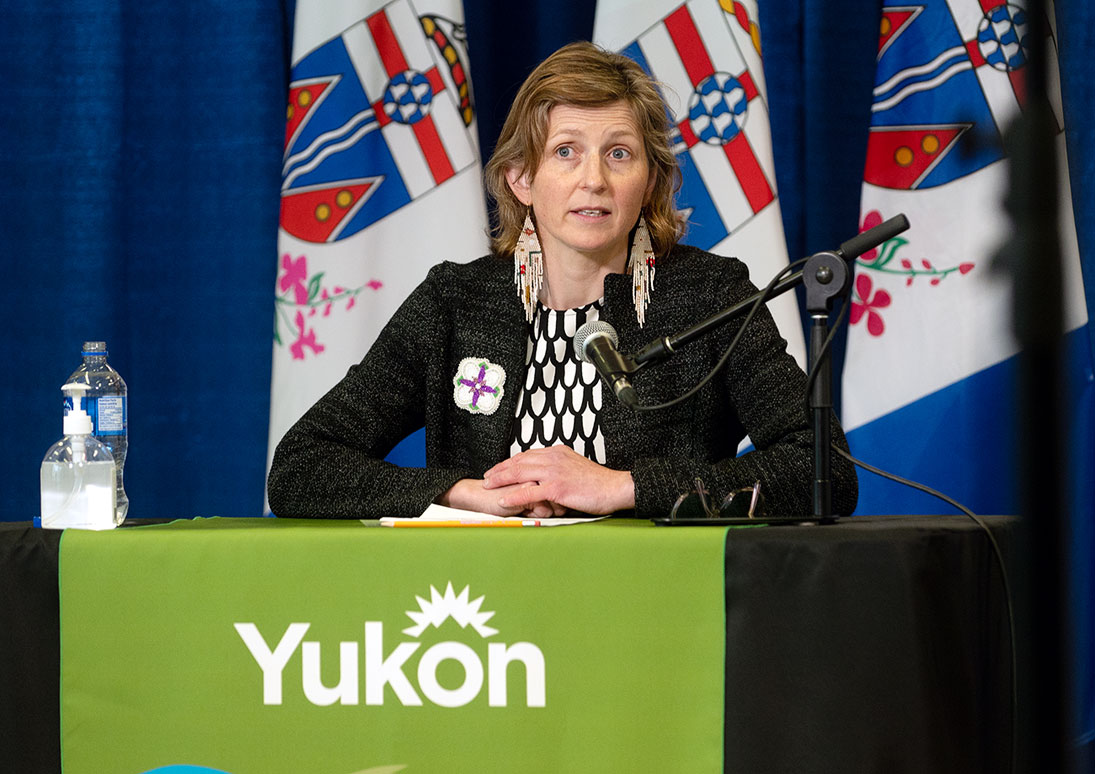 Photo by Photo Submitted
Dr. Catherine Elliott
COVID-19 claims third Yukoner's life
Details are sparse, but a third Yukoner has succumbed to a COVID-19 infection.
Details are sparse, but a third Yukoner has succumbed to a COVID-19 infection.
Dr. Catherine Elliott, the Yukon's acting chief medical officer of health announced the death late Monday afternoon.
According to a news release, the Whitehorse resident was linked to a previous case and was unvaccinated.
"Our deepest sympathies go out to the family of this individual," Elliott said.
"Out of respect, we will not be releasing any additional information."
The release stated that since Sunday, there are five new confirmed cases of COVID-19 in the Yukon. The territory's total case count is 107.
Cases 105 to 107 are linked to the current outbreak.
Of the five cases most recently announced, three are in Whitehorse and two in communities.
One is a student at Elijah Smith Elementary School in Whitehorse. Parents are being informed by Elliott and the Department of Education. The school year ended last Friday.
Two of these cases are out-of-territory residents who tested positive for COVID-19 in the Yukon. They are included in the territory's active case count, but not the total case count.
The release said it's expected that all cases will be the Gamma variant of concern.
All cases are self-isolating and recovering. Three previous cases have recovered.
There are no public exposure notices; however, any person who is unvaccinated and not following the Safe 6 plus 1 is considered to be at risk of contracting COVID-19 and should monitor for symptoms.
With the current active cases in Yukon, testing for COVID-19 infection is more important than ever to identify possible community spread, health officials point out.
People who are vaccinated may acquire COVID-19 in rare circumstances and should seek testing if symptoms develop.
Anyone experiencing symptoms in Whitehorse should call the COVID-19 Testing and Assessment Centre at 393-3083 or book online to arrange for testing at https://book-covid-19-test.service.yukon.ca/en/.
People in communities should contact their rural community health centre.
Everyone should follow the Safe 6 plus 1 (plus 1 means wear a mask) at: http://practisesafe6.ca
Anyone experiencing any of the following symptoms should self-isolate and arrange to be tested immediately:
fever
chills
cough
difficulty breathing
shortness of breath
runny nose
sore throat
loss of sense of taste or smell
headache
fatigue
loss of appetite
nausea and vomiting
diarrhea
muscle aches.
Add your comments or reply via Twitter @whitehorsestar
In order to encourage thoughtful and responsible discussion, website comments will not be visible until a moderator approves them. Please add comments judiciously and refrain from maligning any individual or institution. Read about our user comment and privacy policies.
Your name and email address are required before your comment is posted. Otherwise, your comment will not be posted.